Image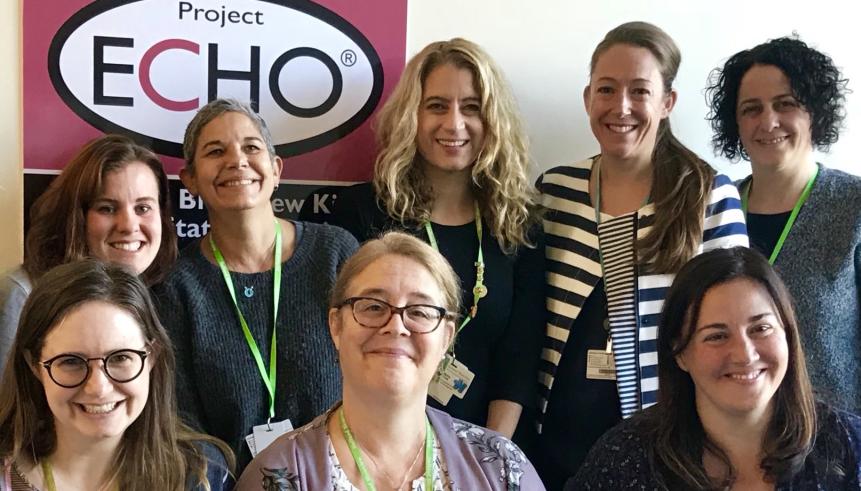 ECHO Ontario Autism for Physicians and NPs 
This program is fully funded by theOntario Ministry of Health and is specifically designed for physicians and nurse practitioners (NPs) practicing in Ontario. Our aim is to build province-wide community capacity and ability to screen, diagnose, and care for children and youth with autism spectrum disorder (ASD) in Ontario. One of our goals is to reduce wait times for autism diagnosis by increasing community provider diagnostic capacity, thereby reserving specialized diagnostic hub diagnoses for more complex cases. We also aim to improve provider understanding of of autism and available therapies and supports, as well as the use of medications for co-occurring diagnoses (ADHD, Anxiety, etc.)
ECHO Ontario Autism is a self-approved group learning activity (Section 1) as defined by the Maintenance of Certification program of The Royal College of Physicians and Surgeons of Canada
ECHO Ontario Autism for Physicians and NPs runs one cycle each year beginning in the Fall. Each cycle is 18-20 sessions in total, and occurs every second Tuesday from 11:30 am-1:30 pm. A combination of didactic presentations and participant generated case discussions provide ongoing opportunities for learning and the development of a community of practice. You may join as many sessions as you wish, and register for ECHO each year.
Although the focus of this ECHO Autism is on medical/healthcare needs of children and youth and is geared towards paediatricians, family physicians, psychiatrists and nurse practitioners, allied health professionals may also register and will be added as observers.
Why join?
Free to participate
ECHO Autism  is fully funded by the Ontario Ministry of Health and is free for participants.
Virtual
ECHO Ontario Autism uses an internet-based video technology called Zoom. Participants can easily connect to the video sessions (via a link that will be provided prior to each session) through their phone, tablet, laptop, or a computer with a webcam.
Build a community of practice
Connect with primary care providers across the province to develop a supportive community of practice that fosters ongoing knowledge exchange and the dissemination of best practices in the diagnosis and treatment of ASD.
MOC credits
Project ECHO Ontario Autism is a self-approved group learning activity (Section 1) as defined by the Maintenance of Certification Program of the Royal College of Physicians and Surgeons of Canada.
Benefits to you and the system of care
ECHO provides the opportunity to improve individual knowledge of ASD and increase the capacity to diagnose and manage this complex condition in rural and underserved areas.
2-Day In-Person Diagnostic Boot Camp
Each Year ECHO Autism for Physicians and NPs offers a 2 day interactive, experiential workshop on diagnosis of autism, to participants of the ECHO Autism program. This is also fully funded by the Ontario Ministry of Health and is free to attend. 
Registration and Schedule

cycle 6 (2023-24) ScheduleECHO Ontario Autism_0.pdf
Expectation of Participant Generated Case Discussions
The ECHO model uses primarily case-based learning. Participants present de-identified cases from their own practice where there is a question of Autism (diagnosis) or a question about management of symptoms. Participants and Hub Specialists discuss the cases, ask clarifying questions, and provide recommendations. All participants receive a copy of the cases prior to each session, as well as the written recommendations which are sent out following the each session. All participants are encouraged to present at least one case for discussion during an ECHO Autism cycle.