There has been overwhelming participation in the strategic planning process, and a deep commitment within the Holland Bloorview community to take our work to the next level. Some of the participants shared their engagement experiences and their expectations of the next strategic plan:
Gunjan Seth, family leader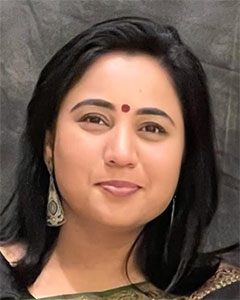 How have you engaged in the strategic planning process? 
I participated in many touchpoints, as a parent receiving services for my son, and as a family leader. I actively raised awareness about the strategic planning process in various networks through social media. As a co-leader, I co-facilitated the strategic planning in family advisory committee (FAC) meetings every month. Through FAC and our youth advisory committee (YAC), we engaged family leaders and youth leaders and I participated in inpatient roundings where I shared the strategic planning processes with families. In addition, I raised awareness of the strategic planning survey in a parent support network event and in coffee chats with parents and caregivers. 
         
Lastly, I participated in various "Campfires" and "Sparks" discussions where I shared my experiences and insights, not just with staff but also with other key stakeholders. 
Overall, it was a great meaningful experience.
What did you like most about the strategic planning process?
I loved that we invited so many diverse voices. We encouraged different people to share their authentic experiences, their hopes, their challenges and successes. It was impressive to see a lot of diversity and inclusion in these strategic planning spaces. They were safe spaces where, as a parent and a family leader, I felt included in the conversation and we acknowledged the opinions of each one who came to these spaces. 
Did the engagement process feel authentic?
Yes. I only go to spaces where I feel comfortable to share my authentic voice. The process enabled us to share authentic and meaningful contributions that will have a positive impact and improve the lives of many families.
What are you most excited to see in the next strategic plan?
I want to see a system that is easily accessible and requires less waiting time to receive services and support. I want a system that supports the needs of everyone.
We have had many challenges, and we are hoping for a system that can address the needs of families and help them lead a good, quality life. This is not an easy process; we have to take multiple steps to identify the barriers and gaps in the system, then find the unique needs of families and caregivers. For example, caregivers need mental health and self-care supports. What mental health support works for one caregiver may not work for others, thus we need to create a pool of supports that can meet their unique needs. 
These supports are vital for the well-being of parents and entire communities. It is a big struggle to find respite for caregivers. We need a system that enables deep one-to-one conversations. Since Holland Bloorview believes in family-centred care, we need to listen carefully, with compassion, and explore the common and unique needs of families. Currently, navigation of the system is not easy. It is too complex. We need simple ways to navigate the system and we need clarity of information.
Also, I expect to see support in terms of advocacy in the school system included in the strategic plan. We desperately need a coach or support specialist that can advocate in the school system on behalf of families, along with a specialist that can coordinate the services inside and outside Holland Bloorview for families and clients.
And most important, we need a system which includes everyone irrespective of their diagnosis, their race, their culture, their age, or any other inter-sectionalities we have. We want a system that can build on the strengths of everyone and work towards the unique needs of clients and families including our healthcare workers, our healthcare leaders and all stakeholders.
Julie Chiba Branson, interim director, client and family integrated care, transitions and community partnerships
How did you engage in the strategic planning process?
I was a co-lead for the "Campfires" and "Sparks" discussions regarding individualized experiences and population impact.  In this role, I was pleased to facilitate discussions with those that attended and have an opportunity to attend various team meetings to pose questions, listen deeply and gather the perspectives of clinical staff, non- clinical staff, clients and families. 
What did you think of the engagement process?
I feel it was a thoughtful process in terms of making it as easy and as comfortable as possible for everyone to participate. For example, some people felt more comfortable writing their insights, others felt comfortable participating in in-person discussions. 
Also, the technology used to allow participation in different ways was really great. I think that it helped people to feel safe and share suggestions freely. I don't think people would have contributed the way they did if they didn't feel safe and empowered to do so.  
Do you think the engagement process was inclusive enough?
Yes, that was always the intent. Creating strategies to engage everyone was at the forefront of the process, and different potential barriers were considered; for example, language - translation was offered for those for whom English is not a first language.  There were touchpoints that were personal, in groups, and could be accessed in ways that made the most sense for those that wished to contribute. 
What are you most excited to see in the new strategic plan? 
I am happy to see the value of addressing health equity and social determinants, as this is something we need to be aware of in order to get the best engagement partnership with families. I think the awareness and commitment to address these topics in order to achieve better outcomes is truly essential.
 
I am also excited about recognizing the need to address employee health and wellness in order to be our best selves so that we can best support our clients and families, especially considering the effects of the pandemic over the last three years. The acknowledgement that we need to embed more support in our teams allowing them to be their best and do their best work is essential.   
Also, I'm excited to see different models of care in the communities where our clients and families live, so that they can access the care and services they need close to home.  In addition, I'm excited to see the relationships and partnerships with external agencies highlighted.   
What stood out most for you throughout the process?
There was genuine desire to engage as many voices as possible. The strategic planning team did an outstanding job in asking the right questions, listening deeply for responses, collating them, sharing them and integrating feedback.  As a long-time employee at Holland Bloorview, I was very particularly pleased and grateful to be a part of this strategic planning process.
Lorraine Thomas, interim manager, inclusion, diversity, equity, accessibility and anti-racism (IDEAA); co-lead equity and inclusion, strategic planning task force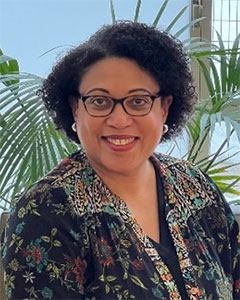 How have you engaged in the strategic planning process? 
I was a co-lead for the "Campfire" question about "Advancing equity, inclusion and belonging at Holland Bloorview." I facilitated a "Campfire" session on this topic and also acted as a contact person for receiving staff feedback. The nature of my office means that I am constantly reviewing ideas of this alignment and thinking of ways to support and advance this critical initiative.
What did you like about the engagement process?  
I appreciated that there were multiple opportunities to provide feedback formally and informally. The IDEAA office, which has been in existence since 2018, helped to enable this conversation. It creates a safe, central place to share ideas and appoints a contact person for staff to connect with. The involvement of IDEAA task force members also helped to generate trust and ensure that feedback received would be incorporated or amplified in the strategic plan as needed.  
What will be most important for you to see in the next strategic plan? 
In my time here, I have seen at least four strategic plans rolled out.  We do well in developing strategies and action points as directed by clients and families and staff. However, we need to be stronger in building understanding on a basic level of why we are implementing the identified strategies. In other words, the strategy needs to be achievable, relatable and have value for all, regardless of their status within the system – whether it be a staff, client, volunteer or student.
What are you most excited about in the new strategic plan? 
I think for the first time, we are actually seeing the embedding of the key IDEAA words, namely:  inclusion, diversity, equity, accessibility and anti-racism, as opposed to it being a stand-alone item. This leads to the creation of a holistic vision for the organization.
Sharin Maknojia, registered nurse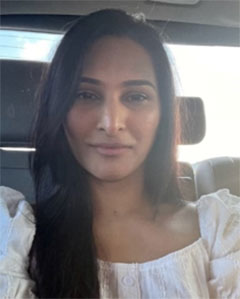 How have you engaged in the strategic planning process? 
I engaged through "Sparks" conversations at nursing practice council and one-on-one interactions with Nadia (director of strategy).
What did you like about the engagement process?
The in-person engagement with the planning committee and the flexibility to reschedule.
Did the engagement process feel authentic? 
Yes, as the concerns and suggestions were accurately reflected back.
What will be most important for you to see in the next strategic plan? 
Seeing the organization prioritize staff and client mental health needs.
What are you most excited about the new strategic plan?
To learn what the organization will do to address significant gaps in mental health support.
Clara Ho, manager, client and family-centred care & partnerships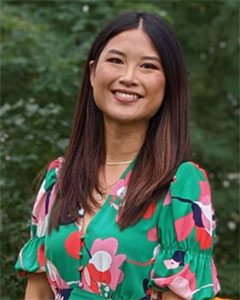 How have you engaged in the strategic planning process? 
As one of several co-leads of the family and youth subcommittee of the strategy taskforce, I partner closely with family and youth leaders to ensure that the lived experience perspective is integrated in the strategic planning process. There are a few ways this has been accomplished. 
Firstly, five Family as Faculty are embedded in the thematic subcommittees as co-leads, working with staff and clinicians to co-facilitate and host campfires and sparks discussions. Secondly, the family advisory committee's (FAC) goal this year was focused on ensuring that more under-represented family perspectives are integrated in the new strategy through family-centred public engagement approaches.
In partnership with the strategy team, they co-designed a new family-friendly survey that asks what matters most to our community. This survey was translated into multiple languages. FAC members have collectively engaged the broader family voice through in-person conversations, coffee chats, onsite survey rounding, and sharing the survey via their social media channels. We received so much valuable feedback and ideas through these channels, and over 60% of our respondents were part of the broader family community. 
Finally, we have already started to implement some of the family feedback "low hanging fruit" ideas such as supporting inpatient families with regular coffee chats and offering caregiver-led tours.  
Did engagement feel authentic?
Our family and youth leaders were a pivotal part of ensuring that the design and implementation of the broader family engagement approaches were authentic. I heard from family leaders that Holland Bloorview caregivers felt more comfortable and at ease to share their experiences, feedback, and challenges, knowing that another family was listening and holding space for their feelings. 
What will be most important for you to see in the next strategic plan?
Many clients and families face barriers to timely and efficient access to pediatric rehabilitation services as well as resources and supports related to a child's disability and/or complex medical needs. I believe it will be crucial for the next strategic plan to embed principles and practices of health equity throughout the design and implementation of programs and services. This means we take a social determinants of health lens to all of the work we do, in addition to supporting the medical needs of the child and family, and we identify ways to structurally create more accessible and equitable hospital spaces and programs.  
What are you most excited about the new strategic plan?
Harnessing all of the client and family feedback received throughout the engagement process, I'm looking forward to initiatives that will reduce barriers to health care access for our families, that will address more of our families' social determinants of health, and create more culturally safe spaces throughout healthcare delivery.