CONNECT Lab-Values and Aims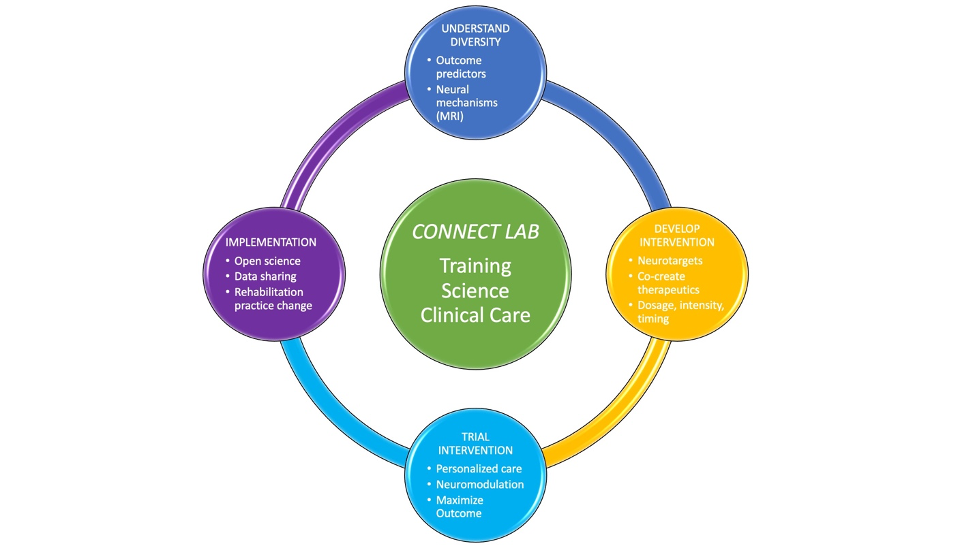 The CONNECT LAB research aims and objectives are grounded in our shared values: Training high quality personnel, Significant contributions to science, and Advancing clinical care for neurodiverse children with special emphasis on autism spectrum disorder, brain injury due to stroke or trauma, spinal cord injury and persistent disorders such as long-term pain.
Our aims are to Understand Diversity, Develop and Trial Interventions, and to Implement our Findings in the scientific and healthcare communities. We are accomplishing our aim of understanding developmental diversity by identifying predictors of functional outcome and associated neural mechanisms in children with ABI. We are then using this evidence to inform our development of novel interventions, specifically appropriate neurotargets for neuromodulation based on our established neural mechanisms. Our novel therapeutics are co-created with families and clients to determine feasibility, dosage, intensity and timing of the neuromodulation therapy with traditional rehabilitative care.
Once a new therapeutic regime that is satisfactory to families and clients is developed, we then trial the intervention. Best practice in neuromodulation is to inform the treatment target with personalized MRI data, accounting for an individual's own anatomy, physiology and dose tolerances to ultimately maximize outcome. Finally, we accomplish our final objective of implementation via gold standard open science practices, presenting our findings at academic conferences and in peer-reviewed journals as well as sharing de-identified data according to institutional best practices. If our trials prove efficacious and/or superior to current care we work with policy makers and local clinical champions to plan for rehabilitation practice change and improved care. The lessons of the process are used to inform our next stages of understanding developmental diversity and the cycle of research continues.