Education and training
The Holland Bloorview Concussion Centre is committed to providing the community with the latest education surrounding concussion prevention, identification, and management. We believe that having the proper information about concussion can empower children, parents, coaches and teachers to help foster a safe sport environment.
Our team of clinicians and researchers provide formal educational talks and training to sports organizations, schools, camps, medical professionals and community partners.
To find out how your organization can receive concussion education with the Holland Bloorview Concussion Centre email concussion@hollandbloorview.ca
Consultation and policy development
Image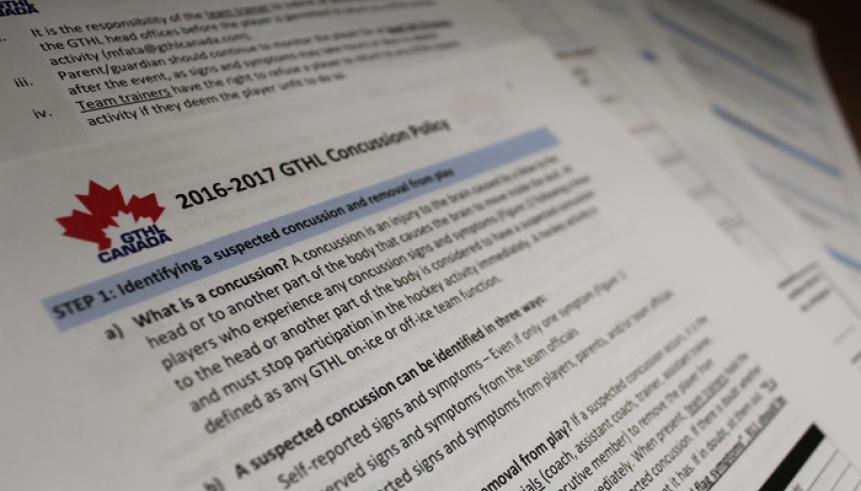 The Holland Bloorview Concussion Centre provides consultation to community organizations focused on the development, implementation and evaluation of evidence-informed concussion policies and protocols.

In 2018, the Ontario government is expected to pass legislation, known as Rowan's Law, that would protect amateur athletes by improving concussion safety in sports and at school. The Rowan's Law Advisory Committee's report made 21 recommendations directed at all organized amateur sports, both school-based and non-school-based, in Ontario. If passed, the proposed legislation would make mandatory requirements for:
Concussion awareness resources that athletes, coaches, educators, and parents would be required to review before registering in a sport
Protocols for removal-from-sport and return-to-sport, to ensure that an athlete is immediately removed from play if they are suspected to have a concussion and to give them the time required to heal properly
A concussion code of conduct that would include rules of behaviour to minimize concussions while playing sport.
We work with many schools and sports organizations to help them develop and implement evidence-informed concussion policies and return-to-school and return-to-play guidelines. We have experience supporting organizations in building the foundation to implement a concussion policy, and continue to partner with these organizations to support training, surveillance, compliance and evaluation of their concussion policy and protocol. 
Greater Toronto Hockey League (GTHL) Concussion Policy
Toronto Soccer Association (TSA) Concussion Policy

See more information about Rowan's Law.
For more information or questions about consultation and policy development with the Concussion Centre, please contact: concussion@hollandbloorview.ca
Partners
The Holland Bloorview Concussion Centre is grateful for the generous contributions from government and non-government funding sources as well as community and corporate partnerships that help support children and youth with concussions.  
The support of our funders and partners has a direct impact on advancing pediatric concussion care, research, education and awareness.  As a result of their generosity, we are able to achieve our goal and help children and youth get back to the activities that they need, want, and love to do.
Make a donation to the Holland Bloorview Concussion Centre.