eLearning modules
These open access eLearning modules are designed to provide a general introduction to the Toolbox, highlight the tools in use at Holland Bloorview and end with a case study showcasing the use of the Toolbox in practice. We hope that you will access these eLearning modules to support use of the Chronic Pain Toolbox!
Click on the images below to play the modules (currently unavailable).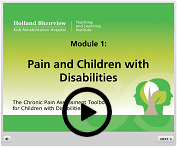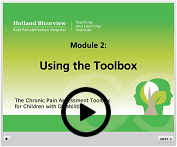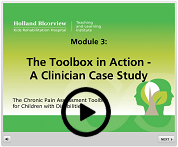 Contact Us!
Please note the PDF documents below are available for free download.