Welcome
Welcome to the ACCEPT Lab (Autism Community Capacity and Evaluation of Programs and Training) led by Dr. Melanie Penner
Our team
Meet the staff and students
Scientist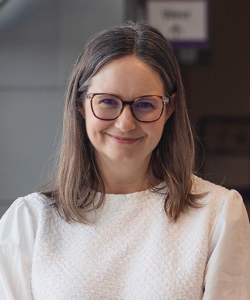 Research overview: As a clinician scientist, Dr. Penner's clinical and research interests are in autism. In particular, she is interested in service delivery for this population, including evaluating the impact of new care models. Dr. Penner has done research and educational work to expand Ontario's diagnostic capacity for Autism diagnoses in the community setting, decreasing wait times and facilitating earlier access to essential therapy programs.
Links:
---
Research Staff
Salina Eldon, Project Manager
Genevieve Ferguson, Research Manager
Lisa Kanigsberg, Research Coordinator
Lili Senman, Research Coordinator
Victoria Rombos, Research Coordinator
Anmol Patel, Research Assistant
Zainab Salami, Research Assistant
Isabelle Caven, Research Assistant
---
Current Trainees
Carly Cermak, Post-Doctoral Fellow
Josie Kearney, Medical Student
Danielle Pearlston, Medical Student
Mays Alhellawi, Undergrad Student
Publications
Below are some of our publications.
Find more of our published work with Dr. Penner on PubMed and Google Scholar.
* denotes trainees.
Support and funding
Project: Project ECHO Autism Diagnosis and Integrated care Opportunities (ECHO AuDIO).
Researchers: Co-PI Applicants: Penner, M, Robeson P, Flynn R, Ip A.
Co-Applicants: Anagnostou E, Brian J, Christian E, Dever M, Hartling L, Khilji M, Kubow A, Lai J, Lai M, Munce S, Richardson A, Scorah J, Singal D, Smith I, Wijekoon S, Zwaigenbaum L.
Agency: Canadian Institutes of Health Research (CIHR) - Transforming Health with Integrated Care Implementation Science Team Grant ($1,992,331, 2022 - 2027