Community Event
Print the page
Holland Bloorview's 7th Annual Virtual Recreation, Respite & Life Skills Fair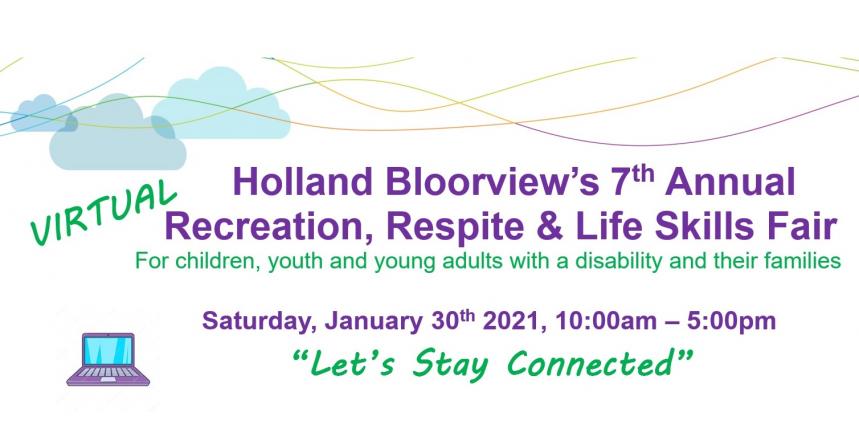 Let's Stay Connected
Learn about recreation, respite and life skills programs across the GTA.
Talk to representatives from Holland Bloorview and external community organizations.
Find out what's being offered for you or your family member's needs.
Connect with other clients and families.
Exhibitor Videos and Profiles - available now!
Participants are strongly encouraged to view videos and profiles prior to joining open house. Drop-in to the open house, no registration required.
"Virtual" Open House
Saturday January 30th | 10:00am - 5:00pm
Join the Zoom sessions you are interested in and bring your questions:
Sessions
Session 1

10:00am-11:15am

Funding and family support resources

Meeting ID: 619 2843 9210 | Passcode: 5382114

Dial by your location

+1 438 809 7799 Canada

+1 587 328 1099 Canada

Session 2

11:30am-12:45pm

Inclusive and specialized community programs, recreation, summer and seasonal camps

Meeting ID: 658 7192 5447 | Passcode: 5832735

Dial by your location

+1 778 907 2071 Canada
+1 438 809 7799 Canada

Session 3

1:00pm-2:00pm

Adapted equipment & vendors: recreation, sensory, daily living

Meeting ID: 621 1121 6926 | Passcode: 7396389

Dial by your location

+1 778 907 2071 Canada
+1 438 809 7799 Canada

Session 4

2:15pm-3:30pm

Holland Bloorview transitions, recreation, life skills, music, arts and respite

Meeting ID: 666 5942 2212 | Passcode: 1204713

Dial by your location

+1 778 907 2071 Canada
+1 438 809 7799 Canada

Session 5

3:45pm-5:00pm

Community respite services

Meeting ID: 684 8717 5488 | Passcode: 0003305

Dial by your location

+1 778 907 2071 Canada
+1 438 809 7799 Canada