Community Event
Print the page
Playground Launch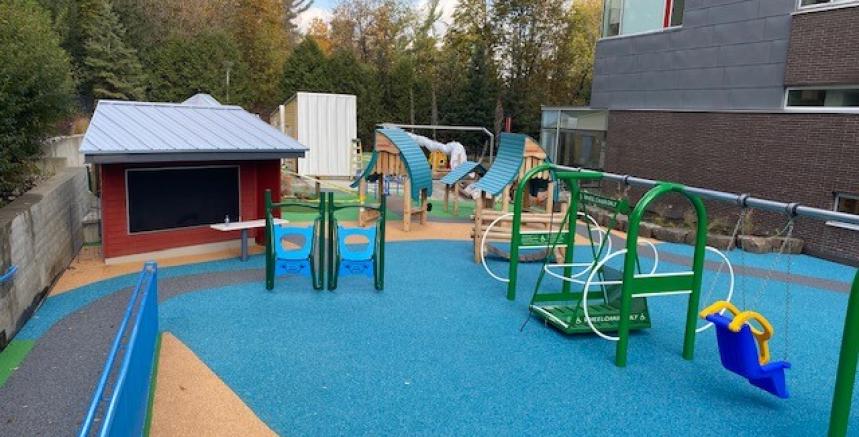 In partnership with the Bloorview School Authority and Kindercircle Daycare, Holland Bloorview is delighted to invite our staff, clients and families to a virtual celebration on Monday, November 23,6 to 7 p.m. to celebrate the official launch of our new, accessible, state-of-the-art playground for our students and clients to enjoy. The playground redevelopment was co-created by a dedicated playground committee comprising clinicians, teachers, clients and families, volunteers and staff.
Located on the west side of the building, the accessible playground features many play elements for children, both with and without disabilities, to explore in a natural environment. Great care and planning has been taken to fully integrate universal design principles so that accessibility features blend in naturally.
Children will be able to express their creativity through play, whether they're playing with friends in accessible colourful play huts, drawing on an outdoor chalkboard, or creating their own music on musical instruments and play panels scattered throughout the playground. They can also play on fully accessible swings and slides, including a special wheel chair swing.
The play scape will also encourage them to explore nature as well. Kids can see their outdoor environment up close by exploring the many types of plants growing in outdoor planting beds. The rubberized surface of the playground has also been coloured to mimic beaches, rivers, mountains and meadows for children to explore safely.
The construction of the new accessible playground is the first phase of the hospital's largest research expansion in its 120-year history to support ground-breaking research in childhood disability. By expanding our research capabilities, we will have the highest concentration of childhood disability research in the world. This means we will have the potential to impact the future of children with disabilities – everywhere.
Learn more about the accessible playground and Grow Holland Bloorview Research: