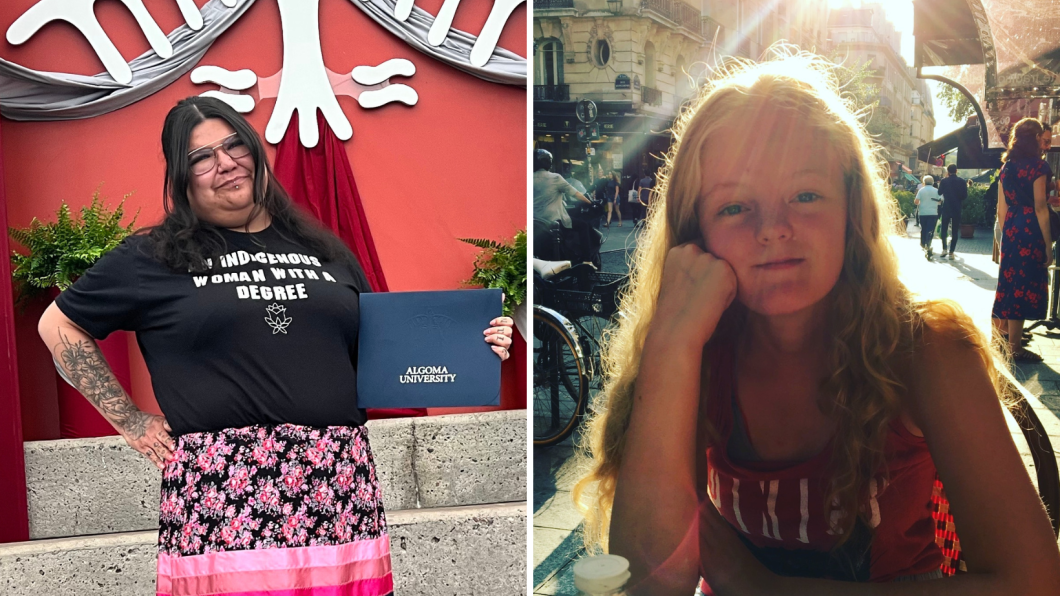 Story
Shaping the future of childhood disability research
For 16 years, post-secondary students have had career-shaping opportunities to work with scientists and mentors at the Bloorview Research Institute (BRI) through the prestigious Ward Family Summer Student Research program.
In recent years, two specialized streams were created to enhance the inclusion of all young peoples in pediatric research. Generously supported by CIBC, the streams provide training and career mentorship to undergraduate students with disabilities and to students who are of First Nations, Métis, and/or Inuit descent.
"CIBC is proud to be helping increase access to opportunities for persons with disabilities and Indigenous peoples through this unique summer program," says Ronan Ryan, Senior Director, Community Relationships & Executive Director, CIBC Foundation. "We're excited to see students gain valuable experience through these dedicated streams, and look forward to seeing the impact they have on our communities in making ambitions a reality."
Through these unique opportunities, students gain vital early work and networking experience, all while bringing energy, passion, and new ideas to the BRI, says Dr. Tom Chau, vice president of the BRI.
"Given our area of research, it is pivotal to engage students with lived experience. Their life experience adds rich perspective and unique insights," says Dr. Chau. "We recognize that the Indigenous voice has been missing from a lot of research in the past and thus this newest stream is particularly meaningful."
Recent students Mallory and Hannah share a behind-the-scenes look at their research, and what impact they hope it will have:
Meet Mallory
At just 25 years old, Mallory has already made strides in Indigenous health and wellbeing research. Working alongside Dr. Chau in the PRISM lab, Mallory helped bring an Indigenous framework to the BCI, an assistive technology that helps people with disabilities interact with their environment using their thoughts.
Mallory, whose pronouns are she/they, is Oji-Cree and from Constance Lake First Nation. They recently earned their honours psychology degree from Algoma University and will begin their master's in clinical psychology in September.
Why is it important to include an Indigenous representation in research?
Mallory: I think it's important to have Indigenous representation within research—specifically within health research—because that's where we need to find ways to look for solutions to Indigenous health. Cultural approaches to harm reduction, cultural approaches to treatment and not forgetting Indigenous voices within research [are all important].
How are you helping to build an Indigenous framework around BCI and assistive technology?
Mallory: We're wondering what the perspective is from an Indigenous point of view. Without hearing their voices, we might not be thinking about our unique needs as Indigenous people. Development with BCI technology has come a long way, but it's important to include and to amplify Indigenous voices within health, health research and development specifically to state of the art technology like this.
We have been talking to Indigenous community members. I'm making sure that it's done in a proper way and I'm reaching out to communities first. I'm also talking to a friend who is also an Indigenous student and Indigenous scholars, so that it's not just me thinking of questions.
Has part of your research explored how Indigenous families can use the BCI outside of the hospital setting?
Mallory: It could actually be used at home. It doesn't have to be in the lab. Indigenous families wouldn't have to go to Toronto or into a lab to use the BCI technology. There's still further development in that field. A lot of Indigenous communities are remote. There are fly-in communities further up North to think about. How is [internet access] going to impact how BCI is up North? Thinking about those kind of needs.
What kind of impact do you hope that this research will have?
Mallory: I'm hoping that it will show people within Holland Bloorview and across health research how to do research with Indigenous communities and Indigenous participants. Make sure that it's more strength-based and there is a balance with looking into the issues.
What are your goals for your future?
Mallory: While I'm completing my masters and Ph.D., I hope to do a lot of research in Indigenous health, wellbeing and addictions. I also want to collaborate one day with the university in New Zealand; collaborate with Indigenous people and scholars. After I get my master's and Ph.D., my long term goal is to become a clinical psychologist and to service communities up North and Northern Ontario. I mostly want to focus on children and youth and open up a healing lodge, not just for Indigenous youth, but for all youth up North.
Meet Hannah
Hannah has always had a passion for music. Now 19 years old, the University of Toronto student is pursuing a Bachelor of Arts and Science with hopes of a career in music education or music therapy.
As a former Holland Bloorview client, Hannah accessed therapy services, summer camps and job training programs. Hannah later became a volunteer at the hospital and entertained summer campers through singing and playing guitar. As a Ward summer student, Hannah worked alongside Dr. Elaine Biddiss in the PEARL Lab to find ways make music more accessible to kids with disabilities.
What is your research focus at the PEARL Lab?
Hannah: I'm helping to implement a project called Virtual Music Teacher. We're creating a digital app called Bootle Pop. It will help kids with disabilities learn music in a creative way. I'm working behind the scenes focusing on the design of the project. That includes analyzing various music education curriculum from each province in Canada to identify the common characteristics and expectations. My goal is to prove that you can enrich the lives of children with disabilities by making music more accessible and finding creative ways for them to get involved.
What has your experience as a Ward summer student been like?
Hannah: I think it's a unique approach to using online gaming concepts combined with real musicians and music teachers to deliver these concepts to kids. I've been amazingly lucky to work with my PEARL Lab colleagues including Dr. Biddiss, Alexander Hodge and Ajmal Khan. They've been taking a personal interest in my success at the job and really value my unique perspective on things.
How will this experience help you in your career goal to become a music therapist?
Hannah: This has given me a really meaningful, hands-on working experience in a field that is similar to what I'm hoping to pursue, namely music therapy or music education. This is possibly one of the best opportunities I've had so far!
Where do you see yourself in the future?
Hannah: I'd like to see myself completing my undergraduate degree and possibly pursuing my master's in music therapy so that I can build a career in the field. I also hope to work in a hospital one day as a music therapist.
Call to action Text
Help shape the future of childhood disability research.
Donate today.