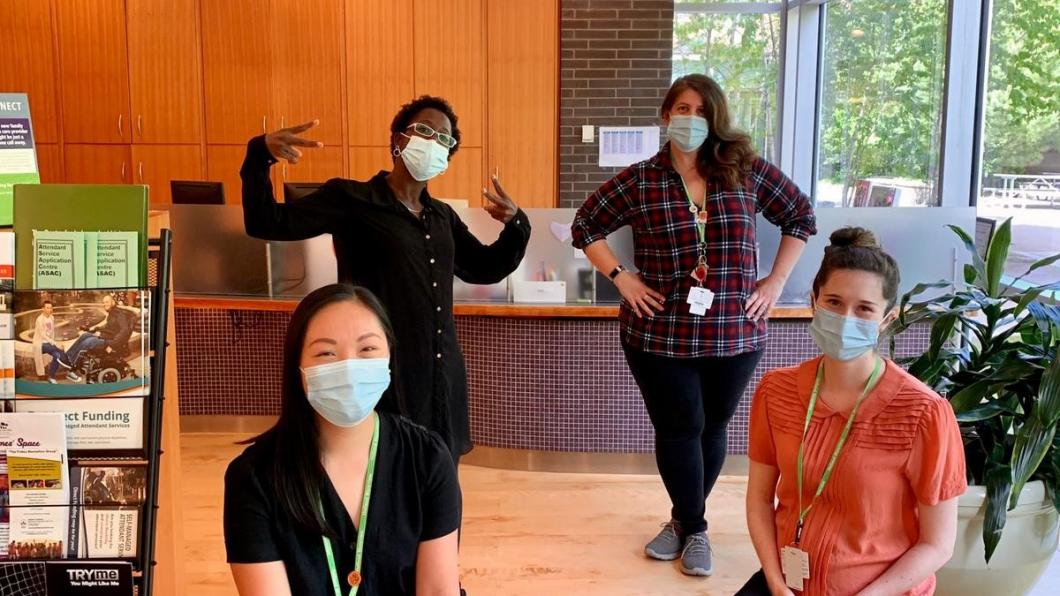 Story
Easing families' financial concerns during COVID-19
In times of pandemic, funding and other resources become scarce. Holland Bloorview's Family Support Fund is needed now more than ever before.
In times of pandemic, funding and other resources become scarce. Many of the families at Holland Bloorview already feel this scarcity on a daily basis, and have become some of the hardest hit by COVID-19 – both physically and financially.
Created over 15 years ago, the Fund was meant to help inpatient families transition back to their communities; but, over time, it has evolved to also provide outpatients the financial aid they need to pay for care, medication, and medical equipment.
"We recognize that [our clients' needs] do not stop once they are discharged. Equipment is integral to our kids' ability to access transportation and education and interact with their peers but it is also very expensive," says Adva, Holland Bloorview's Client and Family Funding Coordinator.
At the onset of the COVID-19 pandemic, the Family Support Fund team launched the Emergent Needs Fund, which helps families cover the cost of more expenses like food, clothes, and rent.
And with more and more families requesting financial aid in the wake of the pandemic, the Family Support Fund team put out a call for help among Holland Bloorview's redeployed staff. Three staff members from fields like dentistry, prosthetics and orthotics, and concussion joined the team in April.
Beatrice, who regularly works as an orthotics resident, had referred clients and families to the Family Support Fund before, but this redeployment showed her a new side of clinical care.
"Working on the Family Support Fund team was a nice step back in the sense that I could be more in touch with families," says Beatrice. "We all brought different aspects to our new team because we all have clinical backgrounds that help us understand where the funds are going and what they are used for."
Thanks to the redeployed staff members, wait times have decreased from 6 to 8 weeks to seven business days for families applying to the Emergent Needs Fund.
All thanks to the community
When the pandemic started to unfold in Toronto, some parents were having to forego work and income to stay home and care for their immunocompromised kids. And thanks to the economic challenges, many families urgently needed financial support.
To ensure they could get the help they needed Holland Bloorview put out a request to our community to support the fund. And what a response we received! Our donors came together and helped double the amount of the Family Support Fund so that we can help more families than ever.
"More money went to applicants in the past three months than ever before in the Fund's history," says Adva.
And like many programs and services throughout the hospital, the Family Support Fund now operates with a virtual option. Together the team, along with social workers and clinicians, has kept the application process moving efficiently by creating new systems to ensure families have a decreased wait-time, assistance in giving consent, as well as while filling out the online forms.
"It is dearly appreciated that during even very hard times [there] are people like [the Family Support Fund team] helping others. Your help gave our family hope and financial relief," says one family, who requested anonymity.
And Adva hopes they can provide even more hope to families in need.
"I think we're learning from these past few months to see how we can do this for a long time," says Adva.
Call to action Text
Families need your help more than ever. Support them today.
Donate Now