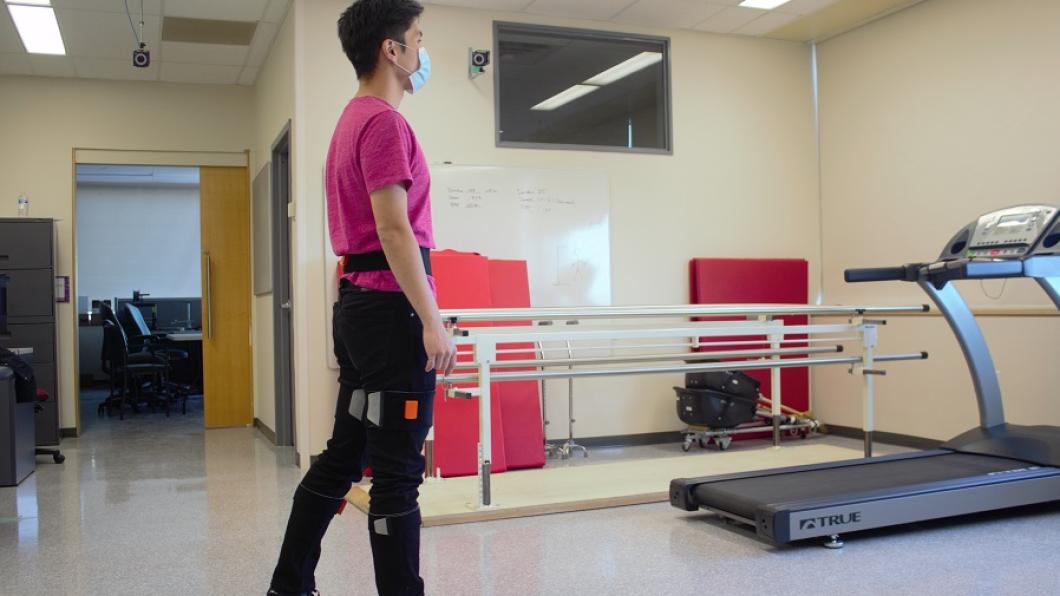 Leading the way in personalized, equitable care using smart textiles
Partnership is levelling the playing field in rehabilitation
Pictured above: Traditional gait analysis requires expensive equipment and a controlled laboratory environment. With Myant's smart textiles, gait analysis can be taken out of the lab and into the community. Understanding gait and activity in natural walking environments can help monitor and guide rehabilitation practices.
In the wake of the COVID-19 pandemic, healthcare organizations worldwide turned to telehealth and virtual solutions to continue providing critical care to patients while staying socially distant.
Telerehabilitation became a viable alternative to traditional care, but adopting this technology has been hampered by the availability of technologies that can unobtrusively and reliably measure and monitor a patient's health status.
Enter smart textiles. Developed by Toronto-based company Myant Inc., these are wearable pieces of clothing that can interact with their environment and the user through sensors knitted, woven or embroidered into the fabric structure.
A multidisciplinary group comprising researchers, clinicians and practitioners, and a globally recognized company producing textile-embedded medical devices have teamed up on a novel research project to provide personalized care using this technology.
Drs. Jan Andrysek and Virginia Wright, senior scientists at Bloorview Research Institute (BRI), are leading this partnership with the University of Toronto and Myant Inc. to develop a smart textile that can help children and adults using lower limb prosthetics walk more confidently while reducing the risk of falling. Dr. Azadeh Kushki, a co-investigator and a senior scientist at the BRI, is also part of this project.
 As children grow, their prosthetic device may become too small for them, or it may not work as well, says Dr. Andrysek, one of Canada's leading experts in developing gait technologies for individuals with severe physical disabilities to be physically active.
"A prosthesis that is not working or fitting well can cause injury to a child's limb, or in the long-term, develop musculoskeletal problems such as back pain," says Dr. Andrysek, who leads the PROPEL research lab.  "By monitoring a child's gait, smart textiles created by Myant combined with algorithms developed by our research team can detect when the prosthesis is no longer optimal for them. The family or clinician who is following the child can then have an updated prosthetic device made in a more timely fashion."
In addition to using the Myant textile-based wearables that can be comfortably worn by the user to monitor changes in a person's condition by healthcare providers, the research team is also exploring the use of the Myant smart textiles in gait training.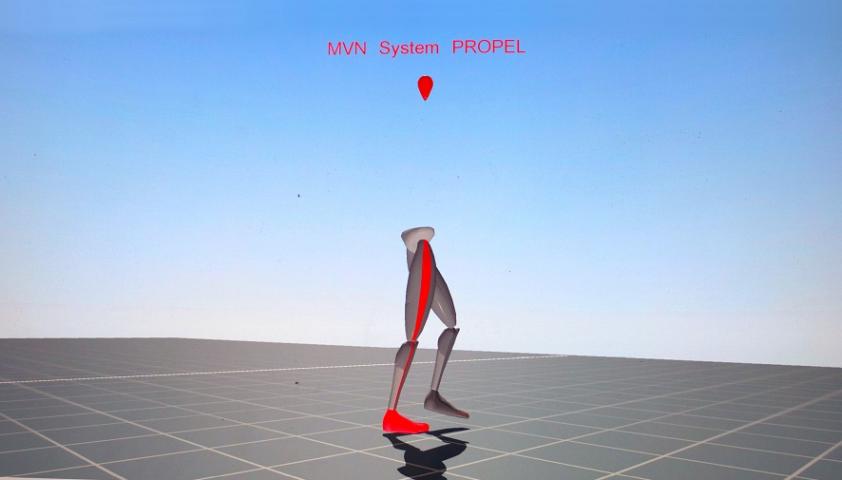 Pictured above: Wearable motion capture systems can be used to produce a skeleton model of the body to visualize and record gait patterns. 
How does this work? The smart textile can pick up a person's natural walking patterns and provide immediate feedback through audible instructions on how they can improve their gait. The gait-training tool can be used in conjunction with a person's physiotherapy so they can constantly refine their movements in real-time with their therapist. Dr. Wright and her team at the SPARK Lab will assist in the measurement validation part of this project to ensure that the walking data generated by the smart textiles are accurate and sensitive to measuring a child's walking abilities.
Smart textiles can be a game-changer in rehabilitation care, the senior scientists explain.
"Wearables have the potential to modernize healthcare delivery," says Dr. Wright. "For children and adults with lower-limb impairments resulting in mobility challenges, telerehabilitation makes it possible for aspects of clinical care to be provided outside of the hospital."
Dr. Wright adds these smart textiles can also greatly improve access to care, especially when families live in rural areas and hundreds of kilometres from a treatment facility.  Data obtained via smart wearables can also inform clinicians about how well a treatment or device is working, without the need for the child to come to the hospital.
"We're thrilled to partner with Holland Bloorview and the University of Toronto on this new partnership that can help people proactively manage their health through textile wearables," says Milad Alizadeh-Meghrazi, vice president of research and development at Myant Inc. "We're proud to be part of a solution that provides more equitable, accessible and personalized care for Canadians coast to coast."
The project is funded by a Natural Sciences and Engineering Research Council of Canada – Alliance Missions Grant.