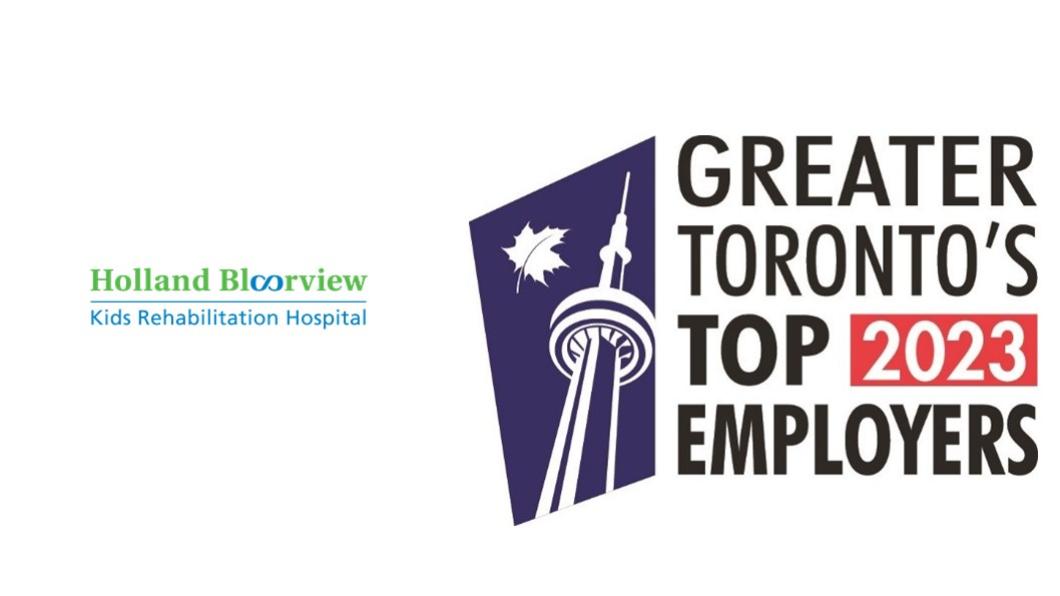 Holland Bloorview named one of Greater Toronto's Top Employers
Celebrating 13 years of being recognized
Holland Bloorview Kids Rehabilitation Hospital has been named one of Greater Toronto's Top Employers for the 13th consecutive year. This recognition underscores how the remarkable teams at Holland Bloorview have come together as a community to advance meaningful and healthy futures for children, youth and their families.
 
"At Holland Bloorview we recognize that people are our most valuable asset. They fuel compassion, innovation and are at the heart of the care we provide to our clients," says Tracey Millar, chief people and culture officer. "We are honoured to be receiving this award for the thirteenth time in a row – a prestigious recognition that celebrates and acknowledges our continuous efforts to make Holland Bloorview the best place it can be for our staff and the clients and families we serve."
 
With more than 1,000 dedicated employees, volunteers, family leaders and students, Holland Bloorview, is dedicated to maintaining an exceptional work environment and barrier-free world where opportunities are available for all. Holland Bloorview is the only children's rehabilitation hospital in Canada focused on combining world-class care, transformational research and academic leadership in the field of pediatric disability. The hospital provides compassionate care and services to over 8,500 kids and youth with disabilities and complex medical needs access care that focuses on their physical, mental and emotional well-being.
Some of the reasons for Holland Bloorview's recognition include supporting the wellness, professional and personal growth of employers through educational and development, awards and recognition and fitness and wellness programming. Among them this year:
The Spotlight Awards give employees, clients and families the opportunity to nominate staff who exhibit one of Holland Bloorview's five core values—courage and resilience, compassion, excellence, equity and innovation. The hospital also hosts an annual Salute and Celebrate event which is a service recognition celebration acknowledging major milestones for employees, volunteers, family leaders and retirees. Holland Bloorview also manages STAR awards to recognize clinicians for their hard work.
Holland Bloorview launched a dedicated No Boundaries Support Fund to enable employees to receive up to $5,000 in funding to implement unique projects. Some examples of approved initiatives include virtual concerts for in-patients, a laptop loaning program for clients and gift bags as a token of appreciation for front-line workers.
Holland Bloorview encourages lifelong learning with paid professional development days (for attending courses, workshops, conferences, writing examinations, studying and writing papers) as well as tuition assistance of up to $3,000 per year. The organization offers a number of unique opportunities for those early in their career, including a summer research student internship.
If you're interested in joining the Holland Bloorview team, visit www.hollandbloorview.ca/careers or follow us on LinkedIn.
Learn about Greater Toronto's Top Employers in The Globe and Mail, and read up on why Holland Bloorview was selected.
About the Greater Toronto's Top Employers Award
The Greater Toronto's Top Employers competition is an editorial project that recognizes employers with exceptional human resources programs and forward-thinking workplace policies. Editors at MediaCorp review employers on eight criteria, which have remained consistent since the project's inception: (1) Workplace; (2) Work Atmosphere & Social; (3) Health, Financial & Family Benefits; (4) Vacation & Time Off; (5) Employee Communications; (6) Performance Management; (7) Training & Skills Development; and (8) Community Involvement.