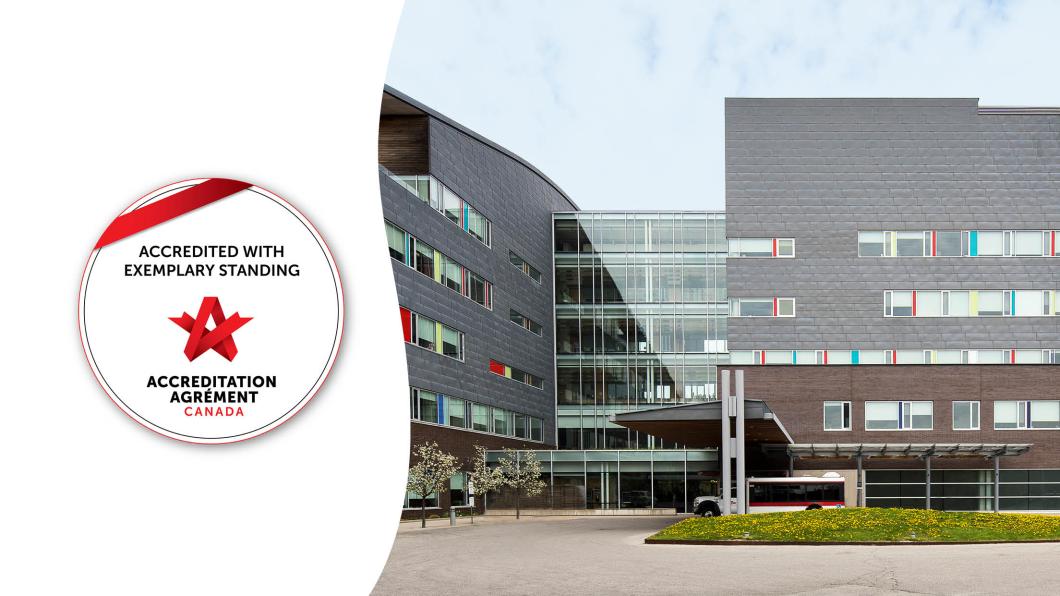 Holland Bloorview achieves "three-peat" after receiving perfect marks on third consecutive Accreditation Canada survey
Hospital evaluated against 746 national quality and safety standards
After a comprehensive evaluation of our quality and safety practices, Accreditation Canada has determined that Holland Bloorview Kids Rehabilitation (Holland Bloorview) has met 100 per cent of the over 700 standards against which we were measured.  This is Holland Bloorview's third perfect score in a row, an unprecedented result that no other hospital in Canada has achieved.
"Providing the best and safest client-centred care for children, youth and families and a safe environment for our team are our top priorities," said Julia Hanigsberg, president and CEO of Holland Bloorview. "We owe our outstanding survey result to the client and families we partner with each day, and our dedicated leadership, staff, students, and volunteers. I couldn't be prouder."
An important part of the review is an onsite survey during which healthcare peers representing Accreditation Canada examine our care in action and speak directly with staff, students, volunteers, clients and families, community partners, and members of our board of trustees. Accreditation surveyors visited the hospital from October 17 -20, 2021 to observe quality and safety practices in person and engage people they meet. Unlike past surveys at the hospital, the 2021 survey was delivered in a hybrid in-person and virtual format.
"We thought we couldn't be prouder of the whole Holland Bloorview team. But this amazing result moves our pride metric even further. What a privilege to be a part of Team HB!" said Marg Rappolt, chair of Holland Bloorview's board of trustees. "The team has gone above and beyond since its last evaluation and worked tirelessly to maintain exceptional standards for clients and families during a particularly challenging time."
As a continuation of our internationally-recognized partnership with clients and families, Holland Bloorview created the Family Leaders Accreditation Group (FLAG). FLAG, our family engagement partnership model enables clients and families to be full and equal partners in quality improvement initiatives. Our FLAG co-chairs, Adrienne Zarem and Alifa Kahn also serve as patient/family surveyors at Accreditation Canada, leveraging their expertise and knowledge of the evaluation process to help improve health care across the country.
"It's clear that Holland Bloorview truly values the voices of clients and families, ensuring our voices and experiences are embedded into all safety and quality improvement work," said FLAG co-chair and family leader Adrienne Zarem. "I am proud to work alongside my fellow family leaders and the whole Holland Bloorview team to keep clients at the centre of all the hospital's work."
During an October 20th virtual event where surveyors presented their findings to the hospital, lead surveyor Dr. Susan Gilliam, highlighted many of the ways Holland Bloorview is a leader in our health care system. A few of the many successes noted by the surveyors: 
 
Embedding people and family-centered care through the organization
Research and evidence-based practice
Advancement of inclusion, diversity, equity and accessibility (IDEA) initiatives
Our Dear Everybody campaign to eliminate disability stigma
Pandemic planning and communications
Board of trustees' commitment to quality and safety
Strategic partnerships across the health system
 
Holland Bloorview undergoes a comprehensive accreditation process with Accreditation Canada every four years to help evaluate current practices and ultimately improve quality and safety for clients and families.  The COVID-19 pandemic has only served to underscore the importance of keeping quality and safety top of mind, and accreditation is one of the ways Holland Bloorview does this as an organization.
For more information about our safe, high-quality, client-centred care, please visit our website's quality page.