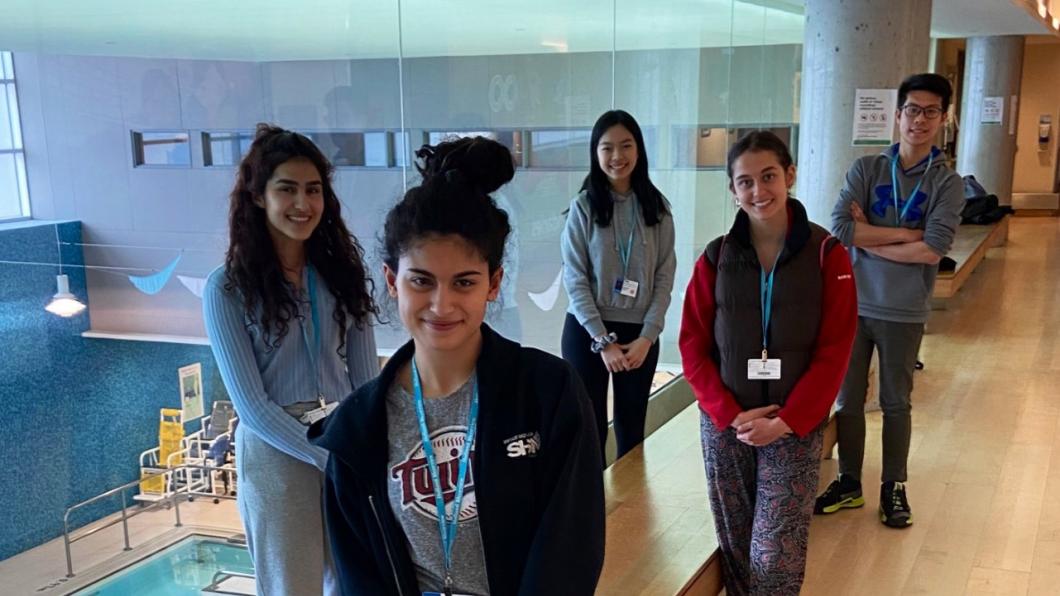 Story
Volunteering at the start of COVID-19
When Lauren first decided to volunteer over March Break, she had no idea she'd be faced with the rapidly changing protocols amid the COVID-19 pandemic.
"The first wave of the initial preventative measures started two days into my volunteering," she says.
But while some people may worry at the thought of going into a hospital full-time during a health pandemic, Lauren had no qualms, thanks to the precautions the hospital had in place.
"The hospital's screening policy, sanitation protocols and increased hand-washing practices made me feel secure when I was volunteering," she says. "My interactions with the kids on a day-to-day basis outweighed any worries."
For Lauren, the journey to Holland Bloorview began after hearing about the hospital's mission and values from another school where she volunteered.
So, equipped with a passion for working with kids and kids with disabilities, she decided to volunteer on a full-time basis while on break from school.
"I was so impressed by the passion that all the nurses and therapeutic recreation assistants had: their genuine enthusiasm, the warmth of the space, everyone I met was immediately very friendly and open."
Prior to the temporary suspension of volunteer program, as part of the hospital's social distancing measures, Lauren spent much of her time in the Brain Injury Rehabilitation Team (BIRT) and the Specialized Orthopedic and Developmental Rehab (SODR) units.
While most of her tasks involved helping the kids with their occupational therapy activities, she found navigating a pandemic also meant having to field various questions from the kids.
"[COVID-19] definitely impacted the older kids in a sense that they were more aware of what was happening," she says. "But for a lot of the younger kids, we would explain that there was an illness outside; that we were sanitizing everything and asking them to wash their hands a bit more often."
And although her time with Holland Bloorview was cut short, Lauren admits she's already created such lasting, heartwarming memories.
Two of her favourite memories, in particular, involved helping one client wash dishes independently and helping another bake cinnamon rolls.
"One of the girls I was helping, was having a bit of trouble cutting butter for the recipe. Balancing a bowl on my knee, with her permission I helped guide her hand to cut the butter." she says.
"When you can help one of the kids do a task that they didn't think they could do and you can sense the pride they feel when doing it, that brings me so much joy."
And Larissa, Holland Bloorview's volunteer resources coordinator, has seen the impact Lauren made even in such a short time.
"She joined at a very challenging time and definitely didn't have the volunteer experience that she may have been expecting when she submitted her initial application! But she showed exceptional dedication to Holland Bloorview," says Larissa. "One of her therapeutic recreation supervisors just recently told me that a client told her, 'I miss Lauren.'"
For Lauren, it's not the first time she's worked with kids with disabilities but she understands for many people looking to volunteer working with a medically complex population can be a completely new experience. Her advice: spend more time listening.  
"Sometimes the child may be non-verbal, or experience seizures, and these experiences can sometimes be shocking and difficult if you're not sure how to help. Never be afraid to ask for guidance from others who know the child, and their disability, better than you. Take the time to observe how to interact with them. You don't need to rush the relationships or communication," she says.
"At the end of the day, as a volunteer, you aren't there to provide medical care, but you can provide them with comfort, friend, or simply someone they can to talk to and interact with."
Call to action Text
Help kids with disabilities. They need our support now more than ever.
Donate Now