Story
There's no one in this world quite as special as Penelope
Four-year-old Penelope is often identified with the code 10q23.31-24.2. No, it's not a barcode or some sort of math equation.
This code is a fancy way of saying she has a rare genetic disorder – she's missing part of her tenth chromosome to be exact. It's such a rare condition that it doesn't even have a name. It's so rare, that as far as her family and her doctors can tell, she's one of the few reported cases with this particular deletion in the entire world.
So what does that mean and how does it affect her? Her mom and dad, Julie and Mark, along with a team of specialists, are still trying to figure that out. However, as a result of her chromosomal abnormality, Penelope has microcephaly (small brain/small head) and difficulty swallowing which has led to eating challenges.
"Parts of her brain are underdeveloped which has led to learning disabilities and developmental disabilities," added Julie. "She's delayed in her gross motor skills, fine motor skills, speech, and learning."
And doctors have let her know that heart problems, vision problems and epilepsy may develop in Penelope's future. She's recently developed intense headaches which might point to seizures down the road.
But because Penelope's case is so rare, it's all a bit of a mystery. "We don't really know," said Julie. "Because she's the only known case with this particular deletion, doctors aren't able to really tell us what exactly to expect."
That makes finding support from other parents next to impossible. "There are Down syndrome support groups and cerebral palsy support groups, but there's no support group for someone with her disability," said Julie. "We don't really know what her future is going to hold," she added. "Anything could happen at any time and that's hard to deal with on a daily basis when you think about the future. We just have to live in the moment and enjoy the fact that she's doing well right now."
Penelope positively shines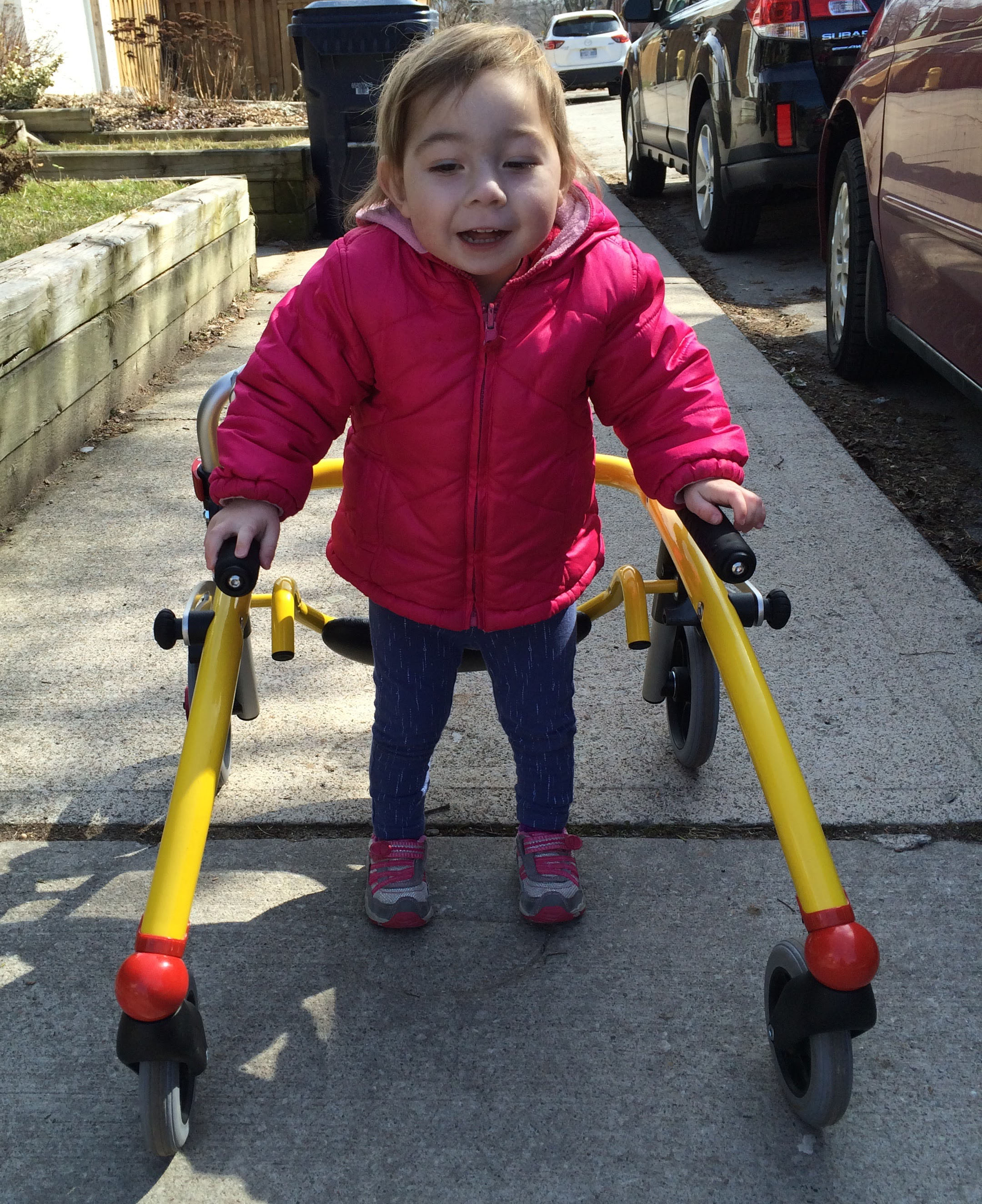 Thankfully, Penelope isn't just doing well, she's doing amazing.
Over the past three years, Penelope has benefited from the hospital's Feeding Clinic, physiotherapy, occupational therapy and speech therapy. She also continues to see a neurodevelopmental pediatrician.
For Julie, one moment she will never forget is watching Penelope take her very first steps in the summer of 2014. "I was holding my breath with tears streaming down my face," said Julie. "It was the first time I dared to hope that she would walk independently."
Now walking totally unassisted, Penelope has also made great strides in her motor skills and her speech has improved so much, she's starting to talk in small sentences.
"Now everyone she meets is a friend," said Julie. "She sees somebody walking across the street she'll want to go over and give them a hug and talk to them."
Young advocate and fundraiser
That friendly nature is what led Penelope to becoming a Holland Bloorview Ambassador.
"She just has that warm personality, and people are drawn to her," said Julie. "And we're just so grateful to Holland Bloorview for everything they've given us. I want people to see this is what happens. The therapies work. You get results and they give families hope."
On top of this, Julie, Penelope, and the rest of their immediate family are also actively fundraising for Capes for Kids and have already raised nearly $2,500.
"People have really responded to this because everyone in our community has seen how much Penelope has benefited from Holland Bloorview," said Julie who's looking ahead with newfound optimism.
"We don't know what Penelope is going to need or what she's going to be able to do as she gets older, but our goal is to get her to be as independent as possible," she said.
"Whether that means she will be able to have a job one day, or be able to live on her own, thanks to Holland Bloorview, we're hopeful and we're going to do everything we can to get her there."