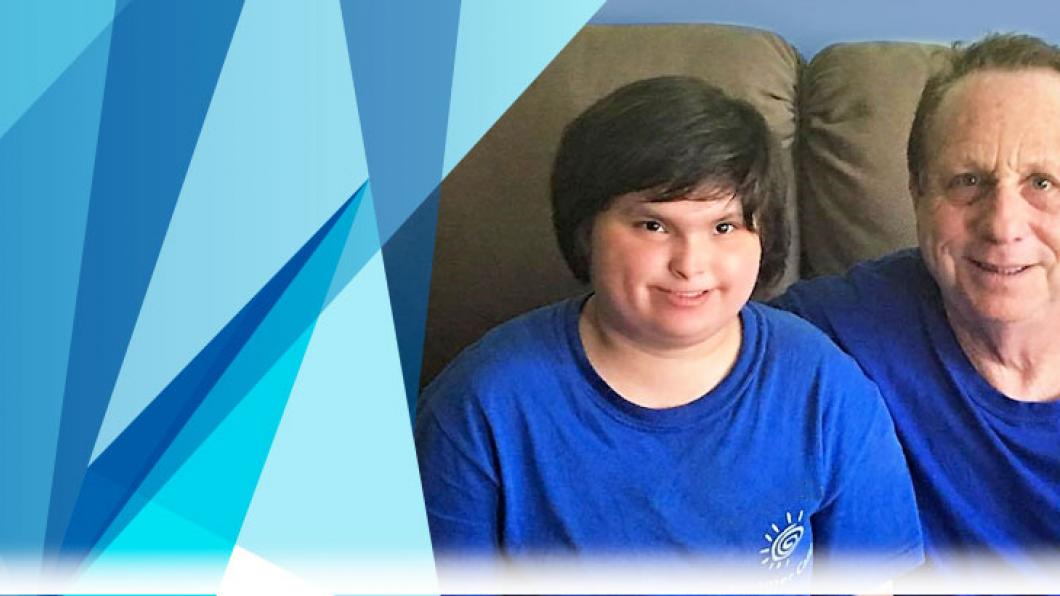 Story
Teen finds joy through Family Support Fund
Geoff Feldman is 76 years old, semi-retired and a single parent to a daughter with a disability.
"Basically my whole life revolves around trying to help her," he said. "It's extremely tiring, especially as you get older."
His daughter, Isabelle, was born with what he calls, "multiple exceptionalities." Though she's never had an official diagnosis, Geoff refers to her condition as "Isabelle syndrome."
"She has multiple medical, mobility and mental issues which includes being developmentally delayed," he said, adding a serious hearing deficit had also led to a limited vocabulary of about 50 words. "She requires assistance around the clock."
Now 15, she has been coming to Holland Bloorview for various programs and services since she was three years old.
"We have both benefitted from physiotherapy, occupational therapy, speech pathology, nutrition advice as well from the use of mobility devices," said Geoff.
Today, Isabelle can get around without those devices, and can walk short distances by herself. But traveling across any surfaces that are not flat can easily lead to falls.
"She can't go up or down a one-inch step without a railing or support from another person," said Geoff.
A safe haven
One experience that's always painless for both father and daughter is coming to Holland Bloorview.
"It's the only place where I feel safe in letting my daughter run around where she wants," he said. "We just feel comfortable there…I feel so secure and so does she."
Geoff has also found another kind of security through the hospital's Family Support Fund – a fund he has been using since 2011 when he first learned of this service.
The Family Support Fund gives financial aid to families, offsetting the emotional and financial strain of raising a child with a disability.
(The cost of raising a child with a disability is estimated at almost four times the amount it costs to raise a typically-developing child.)
The Fund is used for accommodations at Holland Bloorview, equipment, recreation and life skills programs, modifications to home or car, medications or respite services, to a maximum of $1,000 per year.
In 2016, over 500 families were supported through the Family Support Fund, including Geoff's.
Aid for character-building activities
He used the Fund to enroll Isabelle in swimming lessons, dance classes and other hospital arts programs at Holland Bloorview.
"Without the Family Support Fund, these activities would be out of my reach," he said. "I'm 76, so the government does give me some support, but my income is not that healthy. It's given her opportunities she wouldn't have had otherwise."
Those opportunities have done wonders for her self-confidence and self-esteem, he believes. Most importantly, they've given her outlets to experience pure happiness.
"She loves showing me what she can do in the water," said Geoff. "Her excitement is infectious. Swimming is her most loved activity…maybe it's because she feels free in the water, free from pain and stiffness."
Geoff is also amazed at how much she enjoys the dance classes, considering her severe hearing deficiency.
"She's having fun by telling a story through dance," he said. "I'm surprised that she enjoys dance so much. It's hard for me to understand but maybe she can feel the music."
She also loves painting and sculpting with clay, and once again, Geoff is seeing steady gradual improvement, as she strengthens her hands that have arthrogryposis (joint contractures and limited joint movement).
"The objects she is forming with clay are beginning to take on recognizable forms," said Geoff. "She's so proud when she shows me what she can do."
Through these activities, Geoff has watched Isabelle's personality take shape, as she's become more social, more communicative and just plan happier.
Thanks to the Family Support Fund, "she's finding strength in her own abilities," he said.
For more information about the Family Support Fund, click here or contact the Family Support Fund Administrator at 416-425-6220 ext. 6303.