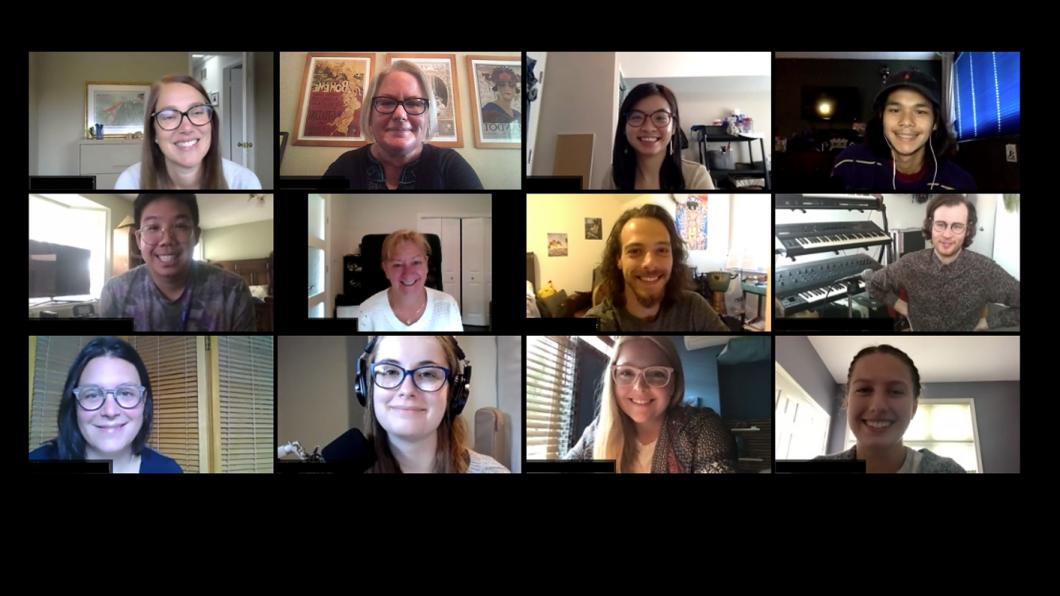 Story
Student-led virtual music therapy clinic launches
A new partnership between Wilfrid Laurier University and Holland Bloorview Kids Rehabilitation Hospital is hitting all the right notes.
Thanks to the first-of-its-kind Harmony OnTrack virtual music therapy clinic, music therapy students have the opportunity to connect with parents and caregivers of Holland Bloorview clients. The clinic gives the students a chance to offer individual music therapy sessions, weekly music therapy groups and drop-in music therapy groups.
Created to fill what the students see as a hole in services, the clinic provides virtual care that is easily accessible and catered specifically to participants. Potential benefits include relief of symptoms and issues associated with daily stress.
"What made me interested in this project was the population that we were hoping to target, as caregivers and parents often face a gap within the healthcare system, specifically in mental health," says Andrew Chin, one of the student music therapists at Laurier spearheading the effort.
"I hope people who access the service of our clinic find new ways to relax, and perhaps stay grounded during these uncertain times. In addition, I hope they feel supported in their work as caregivers or parents," Andrew says.
"Caregivers and parents are always doing the most to ensure the needs of the individual they are caring for are met. I hope to use my ability as a student music therapist at this clinic to care and support their needs, and to do my best to help them find their own ways of reflecting and acting upon those needs."
Andrea Lamont, a certified music therapist and registered psychotherapist at Holland Bloorview, is the subject matter expert and primary clinical supervisor to the eight Laurier students involved in the clinic.
"I love being in projects that value creativity and innovation," she says.
"This project offers the opportunity to bring virtual music therapy services to parents and caregivers—the strength and foundation of the clients we serve—through a partnership with the music therapy clinic at Wilfrid Laurier University. This project also supports the many Laurier students who are looking for opportunities to practice their craft at a time when student placements are hard to come by with so many pandemic restrictions."
Andrea also touches on the importance of providing parents and caregivers the chance to explore the connection between music and health. "Putting our children first is important and so natural; however, taking time to restore and refresh oneself within a musical relationship can offer an opportunity to strengthen and deepen personal resources and resilience—the very things we need to not just survive, but thrive."
The program is designed around Holland Bloorview's four principles of family-centred care: respect and dignity, information sharing, quality of care and partnership. In addition to Andrea, the students are supported by Holland Bloorview family leaders in formal teaching roles, including Beth Dangerfield and Susan Jorisch. Sessions are free and take place via Zoom, and a background in music is not required.
Developed in 2016, the OnTrack framework began in Holland Bloorview's concussion clinic and is generously funded by donors. Last year's OnTrack-Transition program was built to support youth with disability in their transition to adulthood and adult care.
The "Track" in OnTrack stands for teaching, research, assessment, care and knowledge. These words are a nod to the collaborative and interprofessional approach taken to supporting clients and their families, while also encouraging an environment of teaching, learning and scholarship.
 
---

If you're a parent or caregiver of a Holland Bloorview client and would like to participate in a music therapy session, please complete the registration form or contact the clinic directly.
Call to action Text
Support our therapy clinics today.
Donate Now