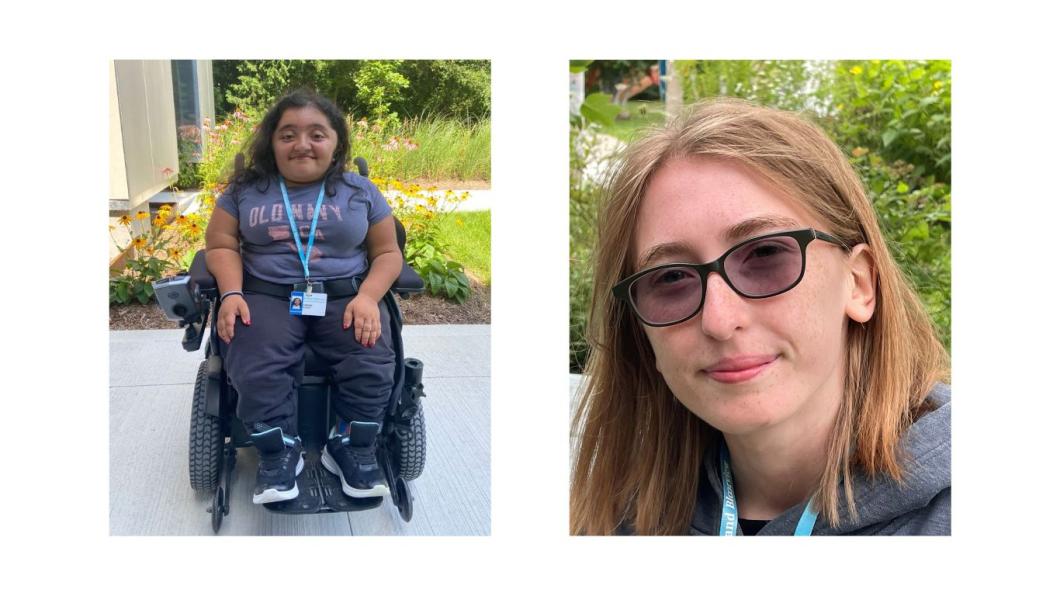 Story
From Spiral Garden Campers to Volunteers!
This summer, the garden was filled with alumni volunteers who are not only passionate about Spiral Garden but also about disability inclusion, self-led creativity, and play.
The Daphne Cockwell Spiral Garden is an exceptionally magical place. Every summer, the garden transforms into a memorable camp experience for kids, both with and without disabilities. The artist-run programming inspires kids' imagination to expand far and wide, which is why it holds such a special place in the hearts of many!
So many children have had a wonderful and transformative camp experience at Spiral Garden, and often want to give back as they grow older. This summer, the garden was filled with alumni volunteers who are not only passionate about Spiral Garden but also about disability inclusion, self-led creativity, and play.
Simone and Ally are two Holland Bloorview youth leaders who couldn't have imagined spending their summer anywhere else but the garden. Whether they were sculpting clay, painting, or leading the music circle, these two had an absolute blast providing campers with lasting memories, similar to their own.
On an average day, they would arrive and meet up with other volunteers, then proceed to their stations to help facilitate the activities. Both Simone and Ally had moments this summer when they truly bonded with the campers. They both said it made them feel incredibly fulfilled to be making such a positive impact on the kids.
Ally has spent most of her summers at Spiral Garden since she was 5. Now 19, she is gearing up for her first year in Centennial College's Performing Arts program, focusing on music fundamentals and singing. Ally loves writing songs and hopes her music is relatable and joyful. She said Holland Bloorview gave her the confidence to pursue her dreams, and she plans to continue volunteering at the hospital throughout her studies.
Similarly, Simone has been coming to Holland Bloorview since she was young. She says that Spiral Garden was a special place for her growing up because it allowed her to explore different artistic mediums. Now that she's older, she enjoys sketching and painting in her spare time and is hoping to start crocheting soon. This fall, Simone will begin her undergraduate degree at the University of Toronto, where she'll be studying Life Science with aspirations of becoming a doctor.
---
As these two youth gear up for the next chapter in their lives, they took a moment to reflect on the significance of their time at Spiral Garden.
What's so special about Spiral Garden?
Ally: You can just be yourself. There is no judgment. At the end of the day, the fact that this program is so non-judgmental, that if you want to be, you can be wacky and be weird. That's the beauty of camp! Whatever you make is so unique and your own, and that is the beauty of Spiral Garden.
Simone: The way the camp is set up is more so that the kids are leading all the activities. Whereas at other camps, there is a lot more structure, so the kids don't have the opportunity to explore and see what they like. [At Spiral Garden], there are so many ways to express yourself, and so kids get to voice their own opinions. They can think about how they want to facilitate an activity and create the art as well.
Why did you decide to volunteer this summer?
Simone: I was a volunteer with the Youth Advisory Council since grade 10. I really did like Spiral Garden as a kid, and I wanted to come back again. It was a really fun time in my own life, [and] I really missed the art as well.
Ally: Growing up coming here, I kind of wanted to give back to the Holland Bloorview community. I have been going to Holland Bloorview activities since I was really little. And the hospital has given me so much, as someone who has a visual impairment, and just so much in my life.
What's your favourite part of camp?
Ally: The morning music circle… which is when we sing songs to the kids. Basically all, if not all, of the songs are written in Spiral Garden, and honestly, that's my probably favourite part of the job because that was also my favourite part as a kid. So getting to do that with the kids is just so fun!
Simone: During the painting station, we worked on making a rainbow collage. It was nice seeing how the clients used different textures and items throughout the garden to fill out the collage with leaves or stamps. This summer I made a flower wand, which was really nice. We took a branch and wrapped thread around it and stuck flowers onto it. It looked really magical.
Do you have a favourite memory of being a camper?
Simone: I remember vividly using the clay station, painting, and doing artwork. I was a shy kid, so being at Spiral Garden allowed me to make friends who liked the same things as me. I enjoyed coming everyday because I started feeling a lot more confident and social.
Ally: I would come with my sister, and I just remember going around to all the different stations. Doing play and drama, I think we spent a lot of time at the puppetry and drama station.
Spiral Garden is a donor-funded program. To support the garden and other art-based therapeutic and community programming, you can donate today!
Call to action Text
Support another magical summer in the garden.
Donate Today