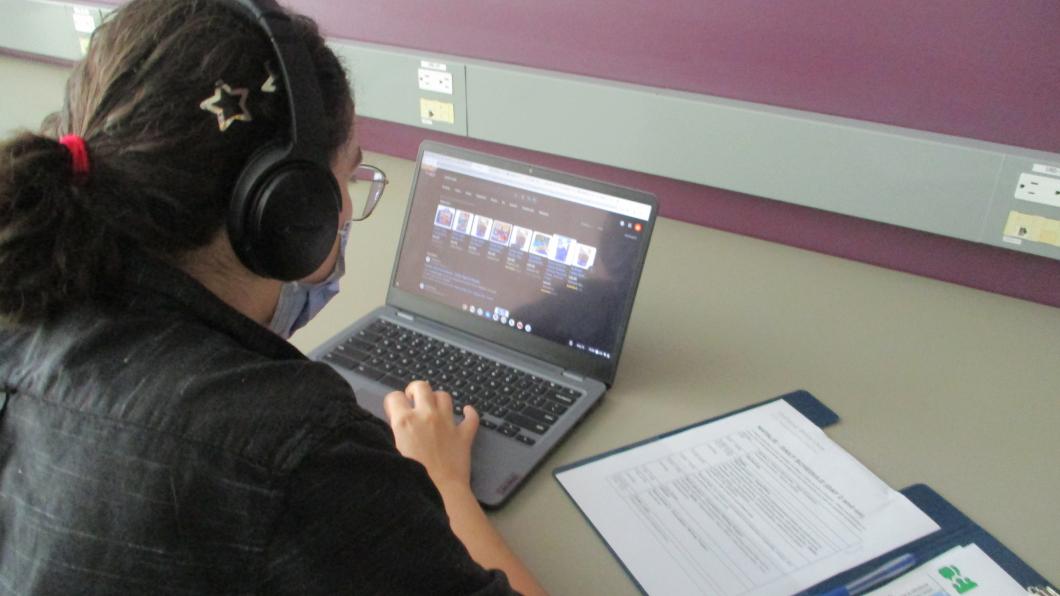 Story
Finding Workplace Confidence with a Disability
Holland Bloorview's Youth@Work program offers teenage participants real-world job experience to ease their transition to adulthood.
Written by Nat Mikaelian
As children grow into teens, they naturally seek more independence. They learn to adapt to change, and their environment grows to accommodate them. However, for youth with disabilities, it is difficult to gain the same level of independence. Unfortunately, this is often due to a lack of accessibility, not a lack of ability. 
"I realized I had a disability, so I was really worried about being able to hold down a job."
Access to places such as playgrounds and parks, where many children find independence with ease, is often out of the question for kids with disabilities. This pattern often continues into the teen years, when it can be hard to find a job that is accommodating and accepting of the youth's differences. This inequality causes many teens to feel discouraged about their futures, and to fear that they may never be able to lead independent lives. 
Mathias Castaldo, a Youth Facilitator at Holland Bloorview Kids Rehabilitation Hospital, shares a bit about his experiences finding work and growing up while living with disabilities. "When I started to think about work, I was obviously a little bit nervous. I didn't know if I was going to be able to have a job. I realized that I had a disability, so I was definitely really worried about being able to hold down and adapt to a job." 
Teens with disabilities need accessible volunteer and work opportunities, and this is where Holland Bloorview comes in. Youth@Work is one of Holland Bloorview's programs which opens the door to the workplace for teens with disabilities. Led by experienced mentors who have been in their shoes, the two-week program includes daily workshops to develop teens' skills in the working world, and offers a variety of volunteer job placement options within the hospital. Based on their interests, participants will be assigned 3-4 job tasks, ranging from coffee and snack delivery to producing a promotional video to writing this very article! 
"Had I not attended Youth@Work, I would not be where I am in my career today."
One of the most important parts of developing youths' confidence in entering the workplace is fostering an environment that is supportive and accepting of everyone's needs. Mathias also shared a bit about that, saying, "When I started volunteering, I was in a very positive environment--everyone was supporting each other. I realized that it was okay to make mistakes, because everyone was making mistakes. That helped me feel better and more relaxed about volunteering and working."
That positive environment is the exact goal of the Youth@Work program (and the rest of Holland Bloorview's work experience programs). Julia Kowal, a Family Engagement Coordinator at Holland Bloorview, noted, "By the end of the placement, they're able to ask for support. They're comfortable. They know themselves as workers better. It's always lovely to see young people grow in their skills and in their confidence." 
Julia, who's also an alumna of Youth@Work, shared some personal experiences as a participant. 
"From that first job placement in Youth@Work, I was able to apply for further opportunities because I was involved. I was able to keep building on those experiences. It is no exaggeration to say that, had I not attended Youth@Work, I would not be where I am in my career today." 
Future Pathways & Opportunities
After finishing the Youth@Work program, participants may want to move on to Holland Bloorview's next levels of work placement: Employment Action Coaching and Ready to Work. These programs offer job opportunities and connections outside the hospital, as well as job coaching that builds on the participants' experiences. 
Others may feel ready to transition to a job right after finishing Youth@Work. Regardless, all participants come out of the program equipped with confidence, advocacy skills, and workplace experience. Youth are empowered, and the future opportunities for them are endless!
Nat Mikaelian is a high school student from Toronto and a Youth@Work 2023 participant who loves art, music, writing, and urban planning. More of her work is on her website: http://natmikaelian.ca/