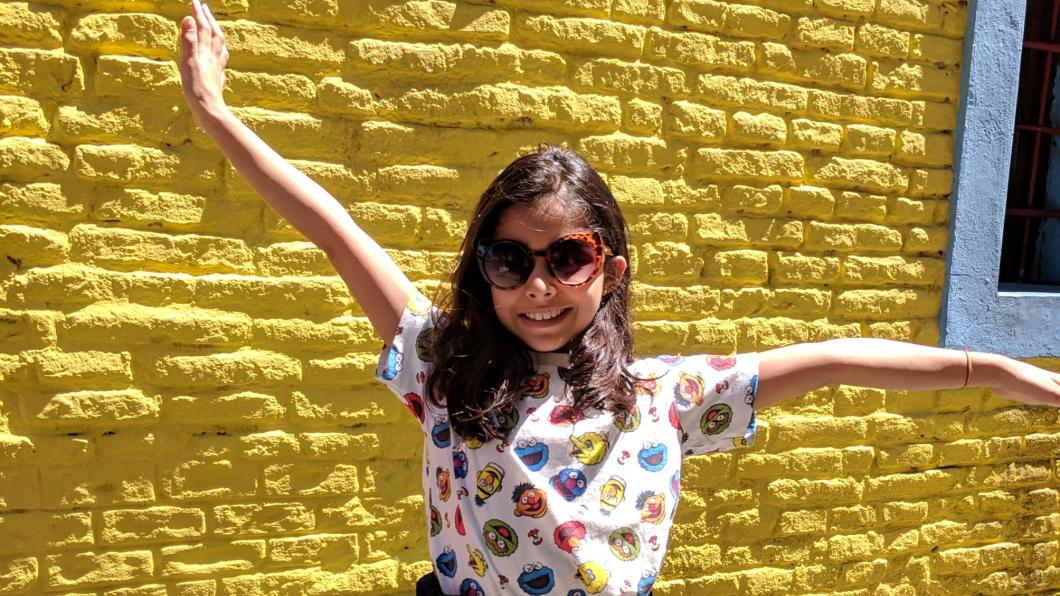 Story
Rhea's reveling in her recovery
When Rhea was four, she came down with a flu…a flu that almost killed her.
A healthy, energetic pre-schooler, Rhea's seemingly harmless flu caused her to develop acute necrotizing encephalitis (ANE), a rare condition that causes severe brain damage. She entered a coma, and her doctors gave Rhea little chance of surviving.
Her mom, Anshu, and dad, Mohit, were in a state of shock, as you can imagine. But Rhea woke up, showing a fighting spirit that surprised everyone, and that's when her journey with Holland Bloorview began.
When she arrived, she could barely move and couldn't speak. Rhea spent almost half a year learning how to walk and talk again with Holland Bloorview's Brain Injury Rehabilitation Team (BIRT).
Rhea's days were filled with physiotherapy, speech therapy, and music therapy. "Three or four sessions every day, five days a week," said Anshu. Slowly, gradually, Rhea started making progress. "She's a pretty tenacious young thing…she's tough for sure," said Anshu.
You should see her now. Showing boundless determination, Rhea has made remarkable progress and exceeded everyone's expectations. You are very much a part of her success, because it's supporters like you who create a world of possibilities for kids like Rhea every day.
Today, Rhea has a lot more mobility and strength, and she's taking full advantage. With a little support, she is skiing and loves carving through the snow. In the warmer months she loves swimming and has recently started riding a bicycle. And year-round she likes to show off her dance moves and lip sync to all of the coolest pop songs.
Rhea continues to deal with challenges with speech and physical movement, but they don't stop this Grade 3 student from being active, social, and happy.
She continues to come to Holland Bloorview as an outpatient for physiotherapy and speech therapy. She also continues to inspire with "her tenacity, her confidence and her never giving up," said Anshu, who added, "I don't think we'd be here without the help and support of Holland Bloorview."
Rhea's favourite medical team
When Rhea was an inpatient, she saw plenty of doctors, but there was one with a big red nose she was always thrilled to see.
Rhea was visited by Holland Bloorview's therapeutic clowns – or specifically, Dr. Flap, and her colleague, Nurse Flutter. They would visit Rhea and her parents, and spread a little happiness and laughter.
Anshu remembers that Rhea wasn't able to visibly react to their first visits but she was sure that inside, Rhea was laughing and smiling. Anshu also remembers laughing out loud – a much-needed break from the stress and worry.
Supported by donors like you, the therapeutic clowns use music, movement, and physical comedy to inject a much-needed dose of laughter and levity for clients, families, and staff.
The clowns work alongside medical care teams to determine who should be visited and the kind of interaction that's needed. They may also accompany clients to therapy sessions and treatments.
"Our job is to find a way to connect in a very authentic way, offering opportunities for lightness and joy," said Helen Donnelly, who dons that big red nose. "We're guided by our clients – we go where they want to go. We find ways to allow them to feel in control and powerful again."
"For me it was joy and light during sometimes very difficult points," said Anshu. "Watching them play with her was such a beautiful thing."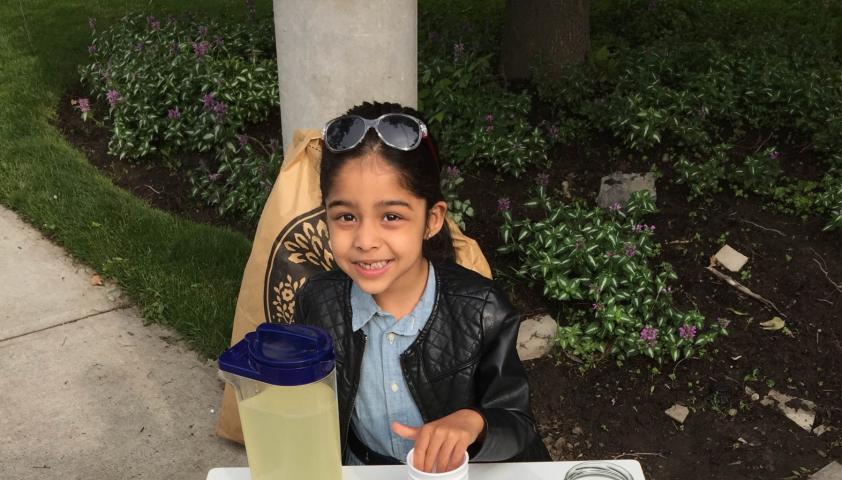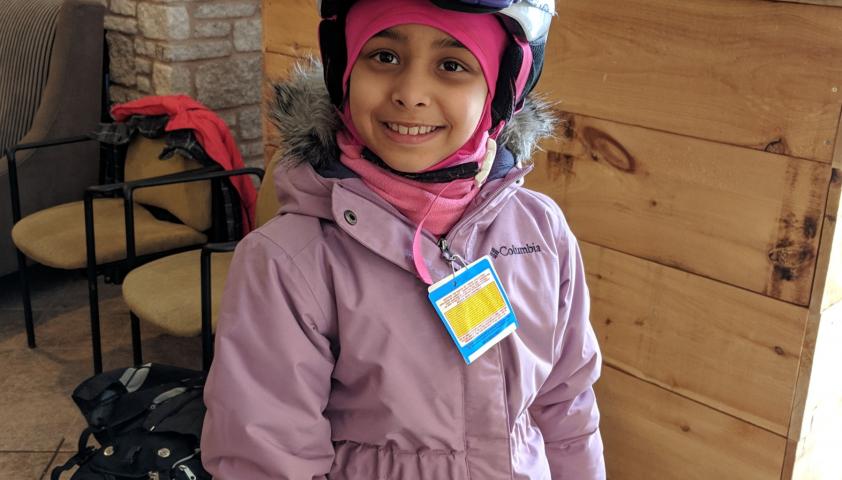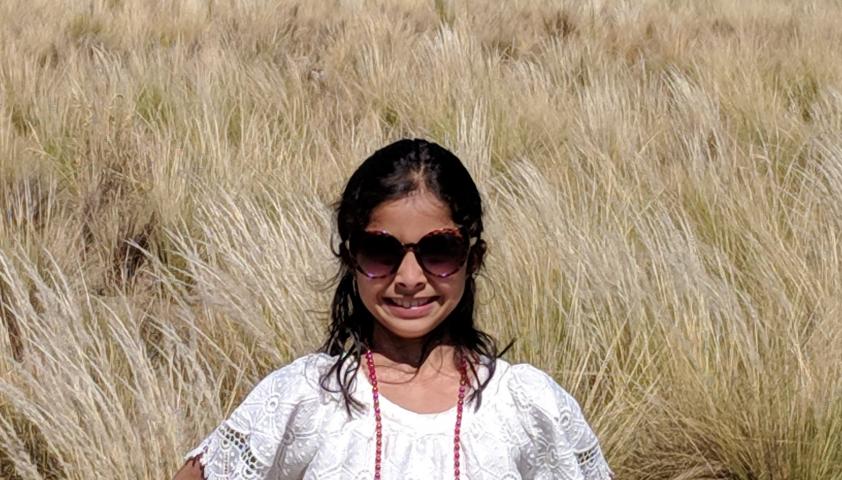 A (very) young fundraising prodigy
Though just eight years old, you might be surprised to learn that Rhea is already an experienced and savvy fundraiser who has raised thousands for Holland Bloorview's programs and services!
Soon after she returned home from the hospital, Rhea showed a keen interest in fundraising. She first sold some odds and ends at a community garage sale, but it was through a lemonade stand that Rhea did her best work. That's where her incredible charm, charisma, and light-up-the-room smile were on full display.
"She told everybody she was raising money for Holland Bloorview and people opened up their wallets and their hearts," said Anshu.
At the same time, Anshu quickly noticed how fundraising helps with her recovery.
"It helps her speech because she has to speak to people who don't know her well, and handing out items and collecting money helps her fine motor skills," she said. "Even at such a young age, she understands she's doing something meaningful."
Remarkably, over the past few years, Rhea has personally raised close to $10,000! She has also inspired her parents to raise even more through their personal connections and professional relationships.
"We are extremely proud of her," said Anshu. "We love that she's proud of what she is doing."
And she's far from finished. This year, Rhea is exchanging cups for capes and taking part in Holland Bloorview's Capes for Kids campaign – and she hopes you will too.
Stimulating" research could help brain recovery
As Rhea's brain continues to recover, Dr. Deryk Beal is using cutting-edge technology to better understand how kids' brains can heal and learn.
He's a clinician scientist and neuroscientist at the Bloorview Research Institute (BRI) that's currently undergoing a massive $25 million transformation, thanks to the incredible generosity of our donors.
Part of that transformation includes Dr. Beal using cognitive neuro-imaging. That's a fancy way of saying he looks at images of the brain to better understand how it develops in kids with disabilities and injuries.
He's also exploring the field of neuromodulation. That involves administering very small electric or magnetic energy pulses to stimulate specific parts of the brain to trigger brain pathways that facilitate learning.
While brain stimulation has great potential for kids' rehabilitation, most of the research in this field has been done with adults. Dr. Beal intends to change that. His 'Neuromodulation Lab' is the first of its kind in Ontario to study this new therapy on children.
"We're extremely excited about this," said Dr. Beal. "We can use this technology in combination with traditional rehabilitation therapies such as occupational therapy, physiotherapy and speech therapy," he said. "Our thinking is that when used in the right way, it can help kids learn more and learn faster."