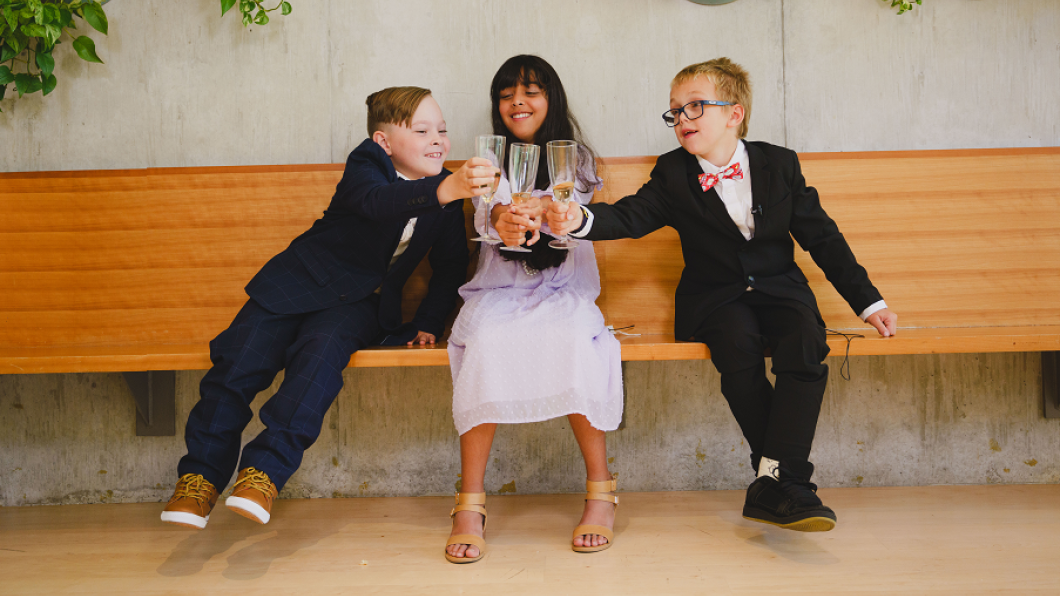 Story
Our biggest year yet
From surpassing our $1 million Capes for Kids goal, to amplifying supports for child and youth mental health, this was our biggest year yet.
We couldn't have done it with you, the amazing supporters who show up each day to empower kids with disabilities to live full and joyful lives.
We asked a few of our many incredible partners to share their reflections on this record-breaking year:
BMO
At Holland Bloorview, we strive to create a world where kids and youth with disabilities have support to thrive and grow—and our amazing partners at BMO have helped pave the way alongside Holland Bloorview kids and families for 37 years. This year, BMO was the presenting sponsor for Capes for Kids and Evening of Possibility, two of our biggest fundraising events. Catherine Roche, Chief Marketing Officer, shares how it feels to see BMO employees proudly support kids and youth at Holland Bloorview:
Why does BMO support Holland Bloorview?
"BMO has been a proud supporter of Holland Bloorview since 1984. Whether it's conducting top tier research or enhancing the lives of kids who need care, the team at Holland Bloorview shares our passion for delivering new and sustainable solutions to ever-evolving challenges and to creating a world with zero barriers to inclusion."
BMO employees have proudly supported Holland Bloorview through volunteering, participating in events, and raising funds and awareness through Capes for Kids. How does it feel to see employees embracing a cause that is important to you?
"BMO employees feel a really strong sense of connection to our company's purpose to boldly grow the good in business and in life – and they're energized by opportunities to put it into practice in support of our local communities. It's inspiring for me see so many of them rally around an organization like Holland Bloorview to create a world of inclusive possibilities for kids and youth with disabilities. I'm so proud of all of their efforts!"
Spirit Halloween
Through the Spirit of Children program, participating Spirit Halloween stores have raised $750,000 since 2013 to support kids and youth with disabilities at Holland Bloorview—an incredible feat considering the stores are only open seasonally. In 2021, stores in Woodbridge, Newmarket and Barrie raised a record-breaking $145,000 with cash asks. Greg Dobson, consignment operator, shares what motivates his team:
Why do you support Holland Bloorview through your Spirit Halloween stores?
"I support this fabulous hospital because of what Holland Bloorview and the dedicated people that work there do. I originally came in contact with Holland Bloorview when taking a mother and daughter to the rehab hospital. What I love most about Holland Bloorview is all the people that work there. They are so dedicated, and I don't just mean the people that are involved with the kids on a daily basis, but also the ones that work in the offices. Everyone just seems to have so much positive energy."
This was a record-breaking fundraising year for your stores! What motivated you and your team?
"What motivates the managers and the staff is the experience they've had doing the Halloween parties at Holland Bloorview in a non-pandemic year. In addition to raising funds, each year we also donate costumes and activities for the kids to enjoy. You cannot leave that event without feeling energized to support kids in their journey. It's an incredible perspective which I always try to share with my employees."  
The Slaight Family Foundation
With overwhelming feelings of isolation, stress and anxiety, COVID-19 has exacerbated the child and youth mental health crisis. Only one year into the pandemic, The Slaight Family Foundation made a $30 million commitment to support 19 Canadian organizations offering mental health services—and that included Holland Bloorview. Their generous donation is helping to expand and create new mental health supports and meet the unique needs of kids and youth with disabilities. Gary Slaight, president and CEO, sheds light on why it's crucial to advocate for child and youth mental health:
Why do you support the mental health of kids and youth with disabilities?
"Often the mental health needs of children with disabilities are neglected, yet they are one of the groups whose mental health needs are far greater and more complex than others. The Slaight Family Foundation partnered with Holland Bloorview to assist in the implementation of their multi-year mental health strategy given all the negative impacts on children and youth with disabilities during the pandemic."
Why do you feel it is important to continue to support mental health hospitals, programs and organizations?
"Mental health traditionally has not been an area that many people readily support, yet it affects such a large portion of our population. It is important to show how support in this area can provide the help people need to manage their mental illness and pave the way for more longer-term support from governments and hospitals."
Call to action Text
Make a difference in the lives of kids and youth with disabilities.
Donate today.