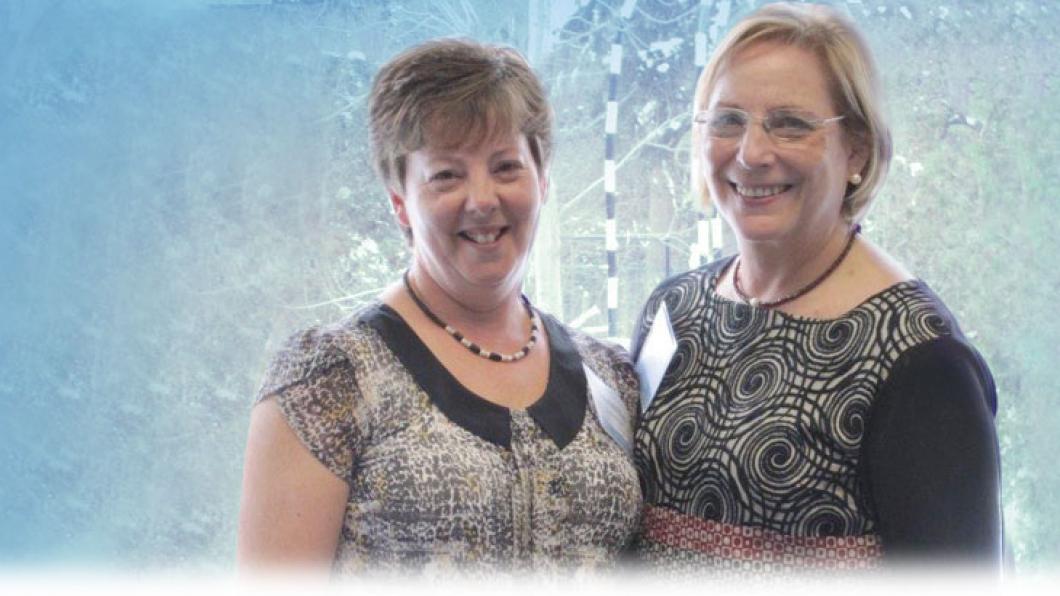 Story
New nursing approach stresses strengths
Have you ever done something in a certain way, and then discovered what you were doing was perfectly captured in a book?
Jenette Schoon was amazed to find her approach to nursing in a book called Strengths-Based Nursing Care, by Dr. Laurie Gottlieb.
"I could never articulate the way I nursed, and now here it was," said Jenette. "It gave me the words and the language to say what I do."
Jenette has been with Holland Bloorview for 34 years. She's seen a lot, caring for countless kids while moving through different hospital names as well as locations.
Today, she's part of a new chapter of nursing at Holland Bloorview – a growing culture of strengths-based nursing that's helping families feel less anxious and even empowered.
Strengths-based nursing examined
What is strengths-based nursing? No surprise, it focuses on the strengths of a patient and families, not on the illness, limitations or barriers.
"It's looking at what's behind what parents and patients are saying, digging deep to what that strength is, acknowledging that strength, and then partnering with that family to set them up for success," explained Jenette.
Her interest in this field began a few years ago when she wanted to better engage families in initial family team meetings.
That's when the book came out and she read it cover to cover. She then took part in an advanced nursing fellowship and asked Dr. Gottlieb to be her mentor.
Family first
For Jenette, strengths-based nursing means making efforts to better understand a family's state when they first come to the hospital.
"Families come to us very differently," she said. "Some are ready to make decisions, while others have no idea. And some are in between. As a nurse, you need to gauge where families and patients are at."
Take admission day, for example. So many families arrive feeling incredibly overwhelmed.
"As a strengths-based nurse you recognize that and look for the cues: this family just needs to get a coffee, they need to relax for a few minutes.
"I would acknowledge that and phone the family team and say, "We're going to be a half an hour behind schedule because this family needs a break."
(A non-strengths-based approach would involve plowing through the admission process without taking this into account.)
Jenette joins the club
Strengths-based nursing was officially introduced about three years ago, but Jenette believes nurses at Holland Bloorview have been practicing elements of this approach for many years.
To spread the word, she and other nurses started a strengths-based nursing book club.
In the club's first year, Jenette and other nurses poured through the book, and Dr. Gottlieb attended several meetings so she could expand on what she had written.
That club has since morphed into a "strengths-based learning club.
"My child has strengths!"
"Now, we start each meeting talking about the strengths of the patient with the family, and from there we go into a synopsis of where we're at, and where we want to go.
"We used to do an hour long discourse about all the things that were wrong with a child and families would come out feeling down," she said.
Jenette recalls one mother's reaction to this more positive approach.
"She had tears in her eyes and said, 'My child has strengths! I've never heard that before!'" said Jenette.
With reactions like this, it's no wonder Jenette is excited about the future of nursing at Holland Bloorview.
"Now we're looking at getting whiteboards in all the rooms, so that nurses can really have a conversation with families around who their family is, and what their goals are," she said.