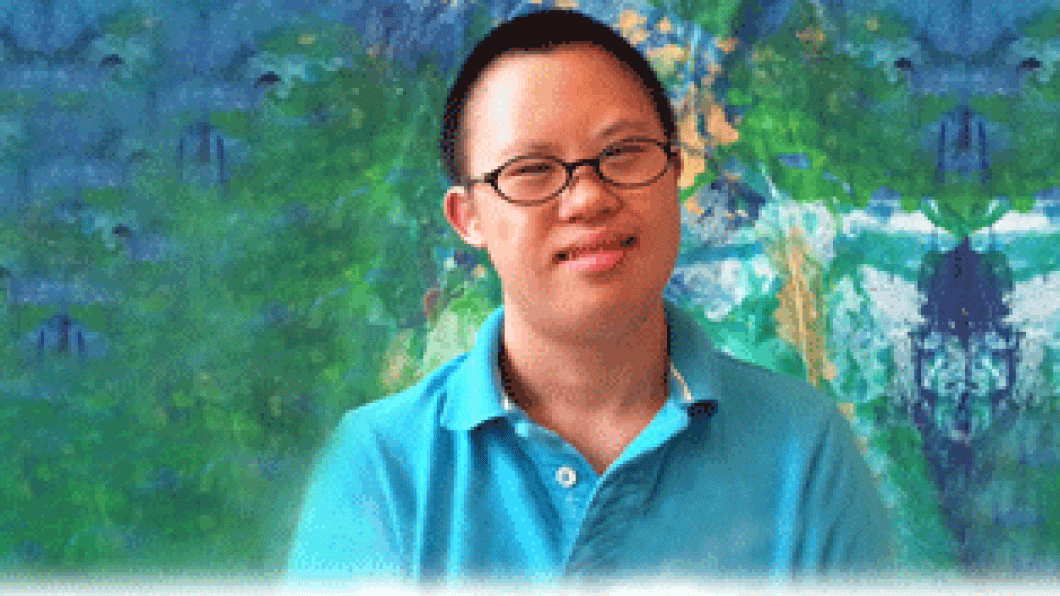 Story
Musical Transformation – Fei's story
Last fall, Fei took a deep breath and stepped on stage.
A little anxious and tentative, he made his way to the piano bench and sat down.
Putting any fears aside, Fei played with his bandmates for Holland Bloorview Rocks – a fun fundraising event that let Holland Bloorview clients become rock stars for a day.
Fei and his fellow musicians brought the house down, and in the process, raised more than $15,000 for Holland Bloorview's music therapy and education programs.
On November 6, Fei will take the stage again – this time more confident, more sure of himself and happier, thanks in large part to Holland Bloorview's Adapted Music Education program.
Fei has Down syndrome and has been coming to Holland Bloorview since 2009.
The 16-year-old has benefitted from Holland Bloorview's summer camp programs and recently took part in a life skills program called Making it Happen. His mom, Lilly, has also enjoyed the hospital's weekend respite program.
Mom marvels at music's impact
While grateful for these services, Lilly believes music has helped Fei the most, and touched him the most.
For years he's been involved in music education, playing piano every week. Lilly marvels at how much music has helped her son's development and well-being.
"Music has turned Fei from a little shy boy into a confident young man," she said.
Fei showed interest in music when he was very young, leading his parents to search for music education programs for kids with disabilities. They felt Holland Bloorview was a perfect fit.
But despite Fei's interest, his first lessons were far from harmonious.
"Fei used to be very quiet and often had stubborn moments when he wouldn't do anything or say anything," said Lilly. "At first he was frustrated with his limited physical abilities and as a result, showed a lot of resistance to learning music."
But he was always captivated when listening to his teacher playing piano, so Lilly stuck with the sessions.
Practice, that's the key
Over time, and with lots of practice, Fei's ability to play started to improve. So did his confidence. And for the first time, Lilly noticed that Fei was beginning to feel proud of himself.
"Fei's been making tremendous progress, especially in fine motor function," said Lilly. "We never thought he would be able to play cords or move his fingers along the keyboard so quickly."
His improved hand-eye coordination has also led to stronger finger dexterity, which has helped him learn to do up zippers and buttons.
And after years of music lessons, Lilly feels Fei is more upbeat and positive. "He is also more willing to communicate when moments of frustration or anxiety come up," she added.
With such promising progress, Lilly felt Holland Bloorview Rocks, and the opportunity to work with other young musicians, would help him further by giving him the chance to develop his social skills.
Fei ready to return to the stage
Building on last year's success, Fei is now rehearsing with 18 other Holland Bloorview clients in preparation for the 2nd Annual Holland Bloorview Rocks fundraiser.
Fei and his bandmates will perform a number of songs from popular pop artists like Justin Timberlake and Adele.
"I think this year Fei is really stepping out," said Matthew Wan, a Holland Bloorview music therapist who is helping the kids get ready for the big night.
For the rehearsals, Matthew is encouraging all participants to try different instruments, and Fei has really taken to the drums.
I see Fei really expressing himself through drums…you can tell by his smile," said Matthew.
And I can see music is really important to Fei. It's important for him to share his feelings inside, and music is a good way for him to do that in a safe way."
Regardless of the song or instrument, Lilly can't wait for the curtain to lift.
Special thanks to members of The Jam for their vision behind Holland Bloorview Rocks and dedication in rehearsing with our musicians.
To purchase tickets online for Holland Bloorview Rocks, visit www.hollandbloorview.ca/rocks