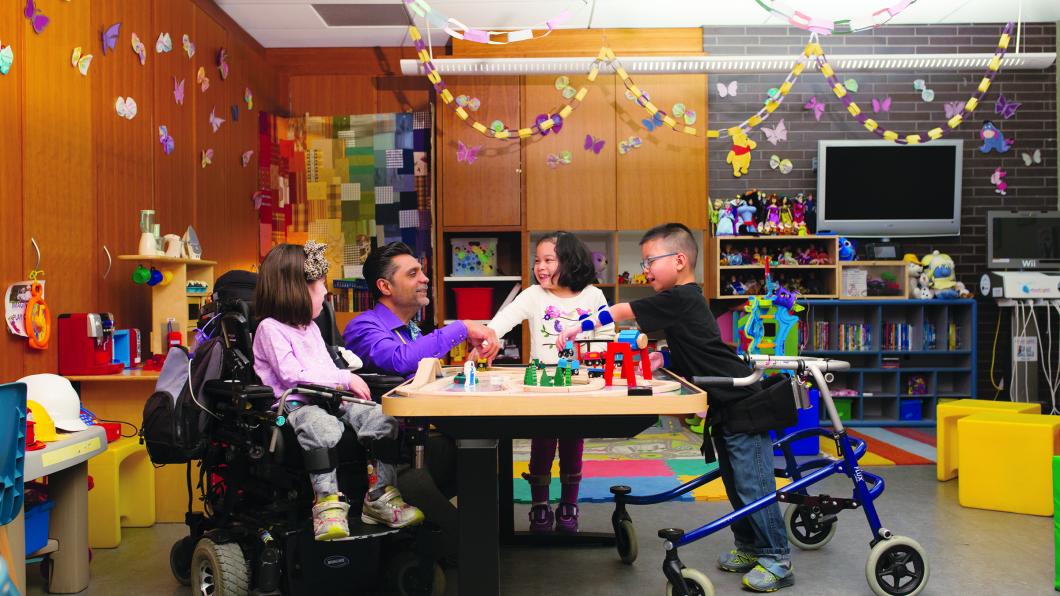 Story
Lots of first day jitters for this student who loves to learn
When the bell rings for school this September, one student in particular will be a little nervous, but very, very excited.
That bell will mark the beginning of a new grade, a new school and a brand new experience for six-year-old Gavi.
For the first time, Gavi will attend a community school. She's starting Grade 2 at Deer Park Public School in Toronto.
"This is a big new school community and we want her to feel like she's part of it," said her father, Josh.
Gavi was born with nemaline myopathy, a rare genetic muscle disorder that affects her muscles. She uses an electric wheelchair to get around. A tracheostomy tube (often called a "trach") helps her breathe, and a gastrostomy tube (G-tube) helps her eat.
And though she can speak and is quite articulate, her speech is impaired so she often uses a communication app on her iPad to express herself.
"She's super sweet, funny, smart, creative and emotionally sophisticated," said Josh. "She can also be sassy, and a pain in the butt if she wants to be," he joked.
One beautiful brain
Gavi has been coming to Holland Bloorview for the past four years, including three years at the onsite Bloorview School Authority and it was such a positive experience.
"Everything is adapted, everything is accessible, and everyone is learning together and learning from each other," said Josh.
During school, Gavi also received services like physiotherapy and speech therapy that have really helped her development.
She was outstanding academically (especially strong in literacy and math) leading her to announce to her parents that "my brain is amazing!"
Gavi and her amazing brain graduated from school at Holland Bloorview this year and it was clear to her parents that integrating into a traditional school was best.
"But leaving such a safe and supportive environment at Holland Bloorview feels like falling off a cliff," said Josh.

Kids with disabilities can face so many challenges in a classroom – especially kids using communication devices like Gavi.
Thankfully, Josh and his wife, Alison, found a school that's really eager to help Gavi make a smooth transition.
In fact, Gavi has already met the school's vice principal and her teacher and has toured the school grounds that have been recently renovated to be more accessible.
And when that first day comes, Gavi will see a familiar face – a friend from Holland Bloorview will be in the same class.
All kids have differences
To introduce herself to the rest of her classmates, Gavi plans on giving them a short presentation about herself.
Thanks to her Holland Bloorview teachers, in addition to math and spelling, Gavi learned about self-advocacy and was shown how to explain to others how she does things a little differently.
"That helps other kids understand," said Josh. "Sometimes other kids have sincere questions, but they can be overwhelming. They don't know what a trach is, or they may ask if they can drive her wheelchair."
"You want to normalize those things very quickly and move on to having fun together in the class," said Josh.
Gavi isn't the only one who's nervous about starting school.
"Our biggest worry isn't the school work, it's that she be able to full participate and connect with her classmates," said Josh.
When Gavi is home, she's outgoing and full of life. But in some social situations, she is aware of her differences and feels self-conscious.
Regardless of the situation, Gavi's parents just want her to be herself.
"She has to be brave and put herself out there, even if it's hard," said Josh. "Her new class is lucky to have her."