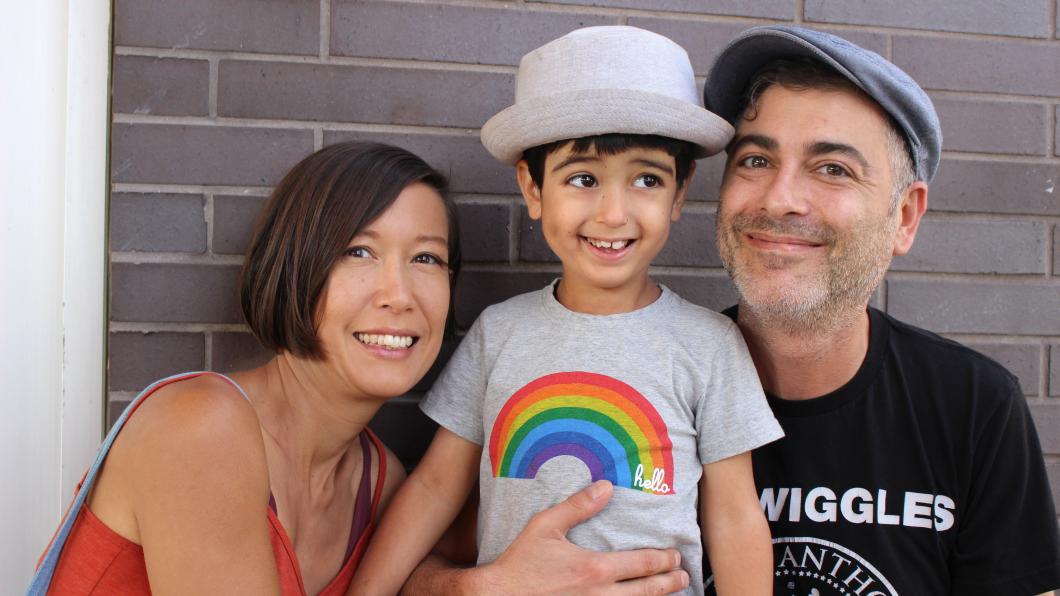 Story
Holland Bloorview programming helps a little boy make big strides
"I just gotta tell you something!"
To say that Jasper is excited to share his world with those around him is an understatement. This lively, chatty boy is so full of passion for his favourite people and things, it's impossible not to share his enthusiasm when listening to his stories.
Like many seven-year-olds, Jasper loves the Minions, music, eating pizza, and spinning jokes.
"Knock knock!" he says.
"Who's there?"
"Boo!" says Jasper.
"Boo who?
"Don't cry, it's only a joke!" (smiling broadly)
These days, Jasper is preoccupied with thoughts about robots – and requested a robot baby for Christmas. To new guests over Zoom, he excitedly shows off his magformer construction pieces, with which he (of course) builds robots. And his love of music shines through as he sings his current favourite tune – a Daft Punk song – before proudly presenting his otamatone, a Japanese instrument shaped like an eighth note. 
In his short life, Jasper has come far. His mother Nicola and dad Nick explain that he's had a complex medical history since birth, including a brain tumor and hydrocephalus. He has global developmental delay, and physically his gross motor skills are behind – he started walking at four years old.
"As long as he can be independent, confident and happy, I'm happy," says Nicola. "He is very sociable and fun-loving."
Holland Bloorview has been instrumental in helping Jasper achieve important milestones. In fact, it was in the hospital's snoezelen pool that he took his first independent steps.
His love for songs and instruments also flourished through both 1:1 and group music therapy at Holland Bloorview with instructor Eunice Kang.
"He really loved Eunice and it was a great introduction to music," says Nicola. "She let him strum her guitar and he always had a great time with her."
Jasper attended preschool before transitioning for junior kindergarten to integrated education and therapy (IET), a partnership between Holland Bloorview and the Bloorview School Authority. This therapy model focuses on accessibility for all students to support safety, inclusion and health while helping kids learn how to participate and perform in a class setting.
Now in grade one, Jasper is thriving, with physiotherapy, occupational therapy and speech therapy all integrated into his daily schedule by the friendly expert team at Holland Bloorview.
"Bloorview has been amazing for Jasper – IET makes therapy feel much more like school rather than hard work," says Nicola. "With just eight students in the class, he also gets a lot of individual support from the talented staff."
Jasper can now run, jump and dance, which his parents credit to the physical education program at Bloorview.
"He shied away from traditional physiotherapy, and was always very nervous about mobility-related activities," explains Nicola. "Now he has so much confidence, going up stairs, climbing things, achieving plenty of new development milestones at the school."
The family is also celebrating Jasper's recent progress in his reading skills.
"All of a sudden he can sound out words and put letters together," says Nicola. "We were never sure of what he would be able to do, so when we see progress like this, it's so exciting."
Jasper will graduate from Bloorview in spring 2022, marking the end of an important chapter for this family.
"I'm so grateful that Holland Bloorview has proven to be a safe space for him these last few years, Nicola says. "And the strides we've seen in Jasper have been incredible."