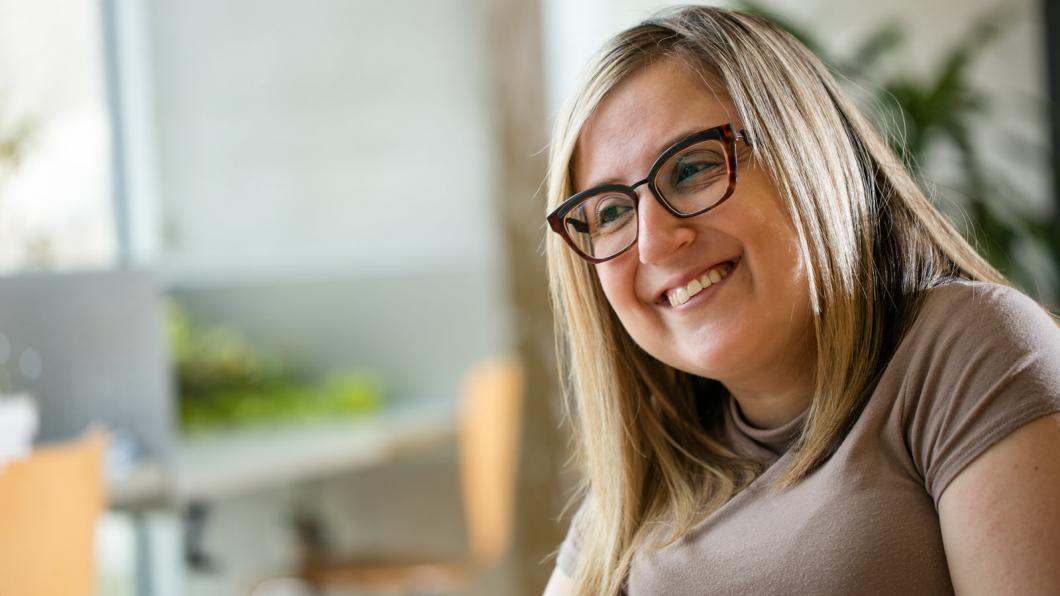 Story
Gabriella's journey from client to caring Social Worker
Though it was ten years ago, Holland Bloorview Social Worker Gabriella Carafa can still remember hearing the door close in her apartment, and the feeling of sheer panic that followed.
"I remember thinking, 'Okay, I'll go home soon,'" she said. "And then I realized, 'Wait, this is my place. Oh my god…What do I do now?'"
That was Gabriella's first night of living on her own. The next few days and nights weren't easy either.
There were moments of anxiety but they soon passed. At the time, she was a busy university student juggling homework and volunteering so there was little time to stew.
Living on her own hasn't been perfect. There were definitely mistakes along the way.
"I almost lit my apartment on fire," said Gabriella, who uses a power wheelchair for mobility. "I put in a frozen bagel, pressed some buttons, rolled away and was talking on the phone, forgot all about it. The firemen came, I had smoke everywhere. I never made that mistake again."
Fast forward to today and it's Gabriella's career that's on fire. As a busy Social Worker, she's helping youth with disabilities and their families make similar transitions to adult health services as well as living independently.
She's very good at what she does, in part, because she's lived through it.
Not so hot on therapy
She first came to Holland Bloorview when she was two years old. She spent a lot of time in the hospital's neuromuscular clinic, and often met with a developmental pediatrician. She also took part in occupational therapy.
"As a kid, I just thought it was an annoying long day at the hospital. I was bribed with Timbits and coffee a lot. I started drinking coffee at a very young age!" she admitted.
But when Gabriella hit her teens and started to think about her future, she no longer needed Timbits.
"That's when it started to be meaningful for me," she said. "I got support transitioning to university. I worked with the post-secondary transition services here and that was really helpful."
Learning to live on her own
In 2006 she took part in The Independence Program (TIP) where she lived in a Ryerson University residence for 19 days and took part in life skills workshops. She learned valuable skills like how to buy groceries and manage money.
"I got to see that I could live on my own and saw there were options for individuals with disabilities," said Gabriella. "It also let my parents know it was possible for me."
She learned how to navigate the city's transit system and learned to map out destinations and get there safely. Again, there were mistakes along the way, but she learned from them.
"I went the wrong way on the subway because it's so confusing with the arrows, but I figured it out," she said. "It's fine to get lost, everybody gets lost. It doesn't mean you can't be independent, you just ask."
Career crossroads
When it came to mapping out a career, Gabriella thought about becoming a child psychologist. But she asked herself what she really loved about working with kids and families.
"Social Work had a broader scope," she said. "It was more about counselling and advocacy…I could work one-on-one, in groups or on a systemic level. It felt like I could do more."
With her mind set, she completed her Masters in Social Work at U of T, and has been with Holland Bloorview for the past four years.
What does she love about her job? "You get to see the resiliency of children and families," she said.
"One of my biggest roles is helping youth with CP and other neuromotor diagnoses and their families transition to adult services. Getting to be on that journey and being able to support them in various aspects of that transition, I really enjoy it."
She also loves encouraging clients and families to imagine what's possible.
"I try to have them express what they want their future to look like," she said. "I ask, 'What does independence mean to you?' And I get them to tell me what's important to them and what they value."
And for added inspiration, they have the perfect role model right in front of them.