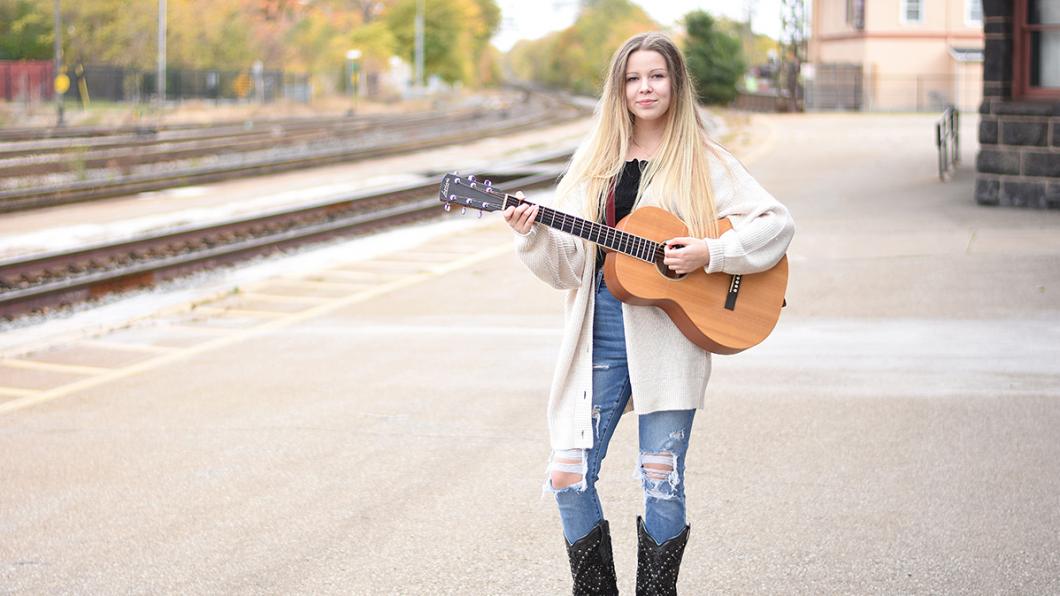 Story
Em's House of Cards is standing tall
"I'm like a soldier, brave, fierce and strong, since I was a baby, just a kid versus world." 
It may be the bridge to 14-year-old Em Jordan's hit "House of Cards," but it's also an accurate definition of who the teenager is.
Em, who has spina bifida—a condition impacting the spine's development—doesn't need a mobility device, but has still spent most of her childhood misunderstood or bullied by peers. 
"I have a learning disability and no one believes me because I look "normal" to them," she says.
Similarly, because of her weak legs Em has spent most of her life unable to participate in recreational sports.
"It's made it hard for me to form friendships because all of my classmates participate in sports," she says. "I often feel like I'm not included because I can't do it."
It's one reason Em's lyrics hit quite close to home when she talks about feeling like she doesn't belong. 
And her mentor and manager, Danny Lamb knows that feeling too well. 
Danny has spina bifida occulta and hydrocephalus, and found Em through the spina bifida community in Ontario. Together, the duo have worked together to share the story of spina bifida through a new medium.
"We started working together in the realm of music lessons, singing, performing and growing into songwriting and crafting the artistic message," he says. 
"It's rapidly growing into a platform embraced by people locally and globally. It speaks to the power of somebody with an incredible story and the power of a young person, to create community and empower people."
Since she was a baby
Em's foray into singing, jokes her mother Charlene, started at the age of two when Em would loudly showcase the power in her lungs.
"When she was a baby she had lots of procedures and MRIs done, and she had a lot of sleep under general anesthesia. When she'd wake up she would scream at the top of her lungs and wake everyone up," says her mom, with a laugh.
By the age of six, Em was singing along to songs by Whitney Houston and Celine Dion, often belting out "The Power of Love."
That's when her mother decided to put her in singing lessons. Eventually Em dabbled in creating original songs, spending most afternoons strumming her guitar while her cat Doodlebug snuggled up beside her.
"From a young age, I've always had to do long daily procedures because of my spina bifida and to pass the time, I would listen and sing to music," says Em. "Music has always been there for me. It truly is what saved me from feeling sorry for myself."
To date, Em has won a number of awards and has performed at various festivals, restaurants, and retirement homes, across North America.
"It's technically my entire life," says Em. "I wouldn't know what I would be doing without it."
Her next big break comes at the end of November, at a National Playdate hosted by My Spina Bifida Community in Kansas City, when she'll be on the same line up as America's Got Talent Winner, Kodi Lee, in the USA.
Charlene admits, it's a long way from the days when Em would hide away at recess, and she credits her daughter's positivity and Holland Bloorview for that change.
"Holland Bloorview is just a completely different atmosphere, with all the support," says Charlene. "One of the doctors was telling Em a story of how at a young age she was being bullied—she also has spina bifida—and Em just completely lit up and thought, 'Maybe I'm going to be somebody too.'"
And somebody she is
Inspired by her favourite artists, like Luke Bryan, Dan + Shay, and Kelsea Ballerini, Em always tries to infuse meaning into her lyrics, something she believes the country genre is filled with. 
But Em isn't doing it, with her own pair of cowboy boots and all, for the fame. 
"I want people to know that they're not alone, to just keep trying, and never give up," she says.
"I want to be a voice for people with disabilities through music. As a young person, I think it's important to use the gifts that you have to create a positive impact in people's lives."
Since "House of Cards," Em has written 12 more songs, having recently recorded two in studio. 
Her newest—which debuted on Spina Bifida Day—titled "Don't Give Up on Me" is meant to inspire and encourage parents of children with spina bifida, to stay positive even through the hard days.
"I could have let all the negativity get to me, but instead I found my passion and I want to encourage everyone that they can find their passion too," says Em.
"We can't dwell on what we can't do. We have to remain positive no matter what, keep pushing on, and never, never give up."