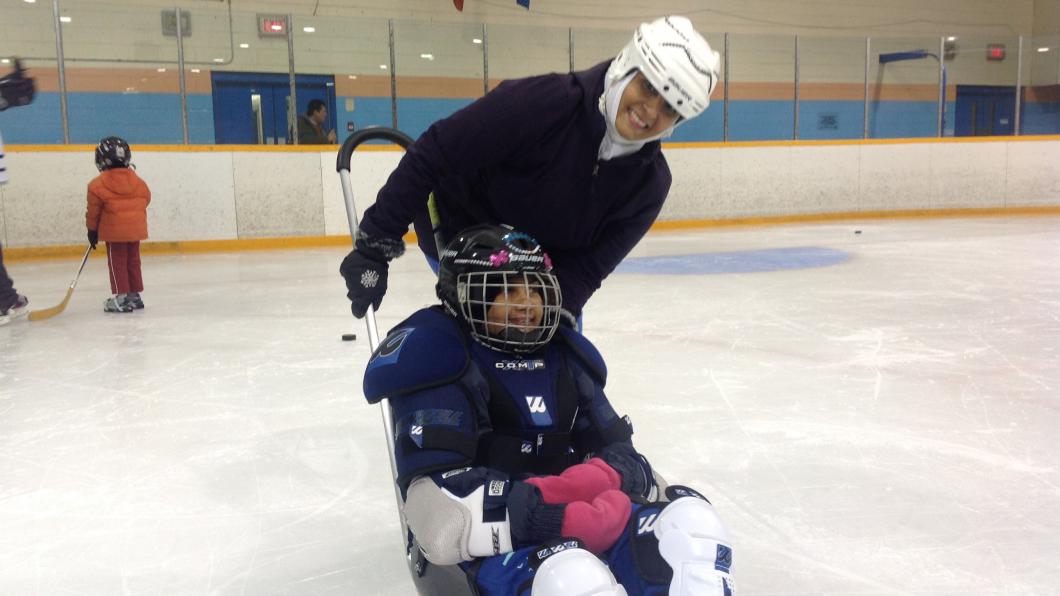 Story
Crossing borders and cultures for a daughter's care
How far would you go to get your child the help she needed?
Would you travel 1,000 kilometres? How about 2,000?
Sharda Ali-Ramjattan and her husband Danny traveled more than 4,000 kilometres. That's the distance between Toronto and their homeland, Trinidad.
"We had a fantastic life, we had our own business back home in Trinidad," said Sharda.
"It was a really a tough change in culture and in climate," said Danny, admitting he found it hard to trade sandals and shorts for winter coats. "Our lifestyle at home was so easy going, we didn't have the same stress."
But there was no hesitation in their decision. The couple uprooted their lives, leaving careers and family behind to move to Toronto to access the services and programs at Holland Bloorview for their daughter, Selina.
Holland Bloorview bound
Selina was born with a rare genetic disorder that involves the mutation of the TUBB3 gene. Her condition is so rare, there are only a few known cases in Canada.
Now 12 years old, Selina is non-verbal, uses a mobility device, suffers from seizures and has a developmental disability.
Sharda and Selina headed north in the summer of 2013. The following year Selina met with a Holland Bloorview pediatric development specialist who connected her with services like physiotherapy and occupational therapy.
"My biggest hope was for Selina to be more independent and increase her quality of life," said Sharda.
Sensational services
"When we started the services here, I was blown away by the attention to detail," continued Sharda. "I know that at any point in time I can pick up the phone and talk about Selina's treatment."
She loves the fact that she can raise concerns, ask questions and get any information she wants. She finds the staff accessible, approachable and transparent.
Though relieved she was getting excellent care, those first two years were tough. Sharda and Selina were alone in Toronto, while Danny and her two sons were still in Trinidad.
"When we came here, we just applied for our residency, we didn't know what was going to happen," she said.
"We had one foot in Trinidad and one foot here," said Danny. "We didn't know which place we were going to be. I would come up every three months but then I had to go back and it was hard….it was like ripping your heart out."
A family unites
Eventually Sharda was granted permanent residency and Danny and her son, Saeed, joined her in the spring of 2015.
Grateful for the care Selina has received, Sharda wanted to give back.
"We had just come here, we weren't contributing to this country because we weren't allowed to work," she said. "So the only way that I could give back was by volunteering and by donating my time.
"I wanted to make a difference, not just for Selina's sake, but for other families and other children."
And boy did she ever.
No longer a newcomer
Sharda joined Holland Bloorview's Family Leadership Program, sharing her experiences with other families and ensuring a parent's voice is heard with respect to the hospital's program planning and care.
She is also on the welcoming committee for Syrian refugee families that have come to Canada and need access to Holland Bloorview's programs and services.
And she has served on the Research Family Engagement Committee for the past year.
"I liked coming to the meetings and meeting different people, but at first I was intimidated because all of these people are great scientific minds," she said.
But then she realized that she is the expert of her child, and that a parent's perspective is very valuable to this committee.
"You realize how much input you have, and how much of a difference you can make," she said.
For Lori Beesley, a Family-Centred Care Specialist at Holland Bloorview, Sharda's contribution has been immeasurable.
"She has lent her voice to a video about family engagement in research and been involved in other work including a welcome committee," said Lori.
"Sharda is always enthusiastic and eager to draw on her lived experience as a way to improve all aspects of care across Holland Bloorview and the Bloorview Research Institute. We're lucky to have her!"