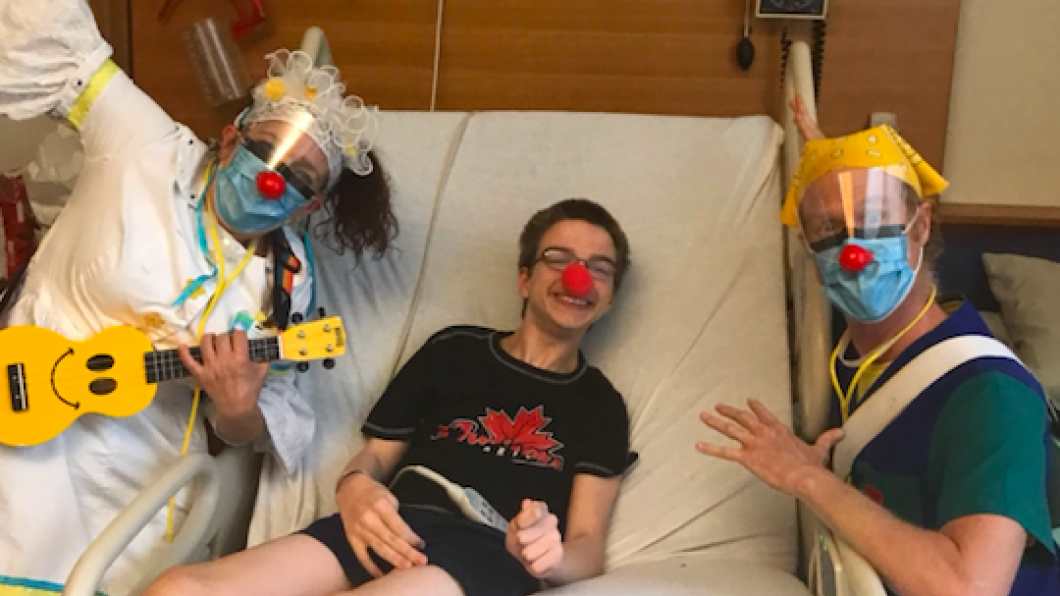 Story
Clowning around: relieving stress one smile at a time
When Andrew came back to Holland Bloorview for an outpatient appointment this October, he was barely in the door before he heard therapeutic clowns Doc Hopper and Nurse Flutter singing this familiar tune:
"Father, Father, he's our Father! Father, Father, he's our Dad!"
To anyone who doesn't know Andrew, this song may sound a little strange. But it only made the 15-year-old laugh.
"I'm not sure who was happier to see whom!" says Andrew's mom, Keri.
The Toilet Paper Fight of '16
Andrew, who has spastic quadriplegic cerebral palsy, first met the therapeutic clowns in 2016, when he was an inpatient at Holland Bloorview following a major hip surgery.
At first, Andrew was nervous about being away from home and sometimes felt overwhelmed by all of the new people that he met at his appointments. But therapeutic clowns Nurse Flutter and Dr. Flapp quickly made Andrew feel comfortable in his new environment.
In fact, the first time that the clowns walked into Andrew's hospital room was the first time he smiled since before his surgery.
During his stay, the clowns and Andrew looked forward to their weekly visits.
In fact, Andrew still remembers the Epic Toilet Paper Fight, when Dr. Flapp and Nurse Flutter danced around his room tossing toilet paper everywhere. And when Andrew's nurse saw that they were running out of toilet paper, she made sure to return with more supplies to keep the laughter going.
And, when they weren't "re-decorating" Andrew's room with toilet paper, Andrew and the clowns loved to play some music. The therapeutic clowns often make songs personalized to clients. These jam sessions were the highlight of Andrew's hospital stay.
Finding Joy During COVID-19
When Andrew returned to Holland Bloorview this year following a double foot surgery, he was excited to see the clowns once more. But Andrew and his family were also struggling with the visitation restrictions caused by COVID-19 and an unexpected second surgery.
With all of these changes, he looked to the clowns for support.
Each week, Andrew would wait eagerly with his door open wide to be sure he didn't miss their visit. To Andrew the clowns were like family, and, the more time he spent at the hospital, that's exactly what they became.
Nurse Flutter and Doc Hopper declared that Andrew was their long-lost dad and they affectionately called him "Father," frequently fighting for his attention. Doc Hopper and Nurse Flutter even made up the "Father" song and would sing it every week.
The therapeutic clowns also helped Keri cope with some of the unexpected challenges of an inpatient stay during COVID-19, with Doc Hopper and Nurse Flutter often chatting with "Grandma," as they affectionately called her.
It's unsurprising that Andrew and his mom will tell you that the therapeutic clowns are the best part about Holland Bloorview.
They connect with every client and their family no matter how difficult their day has been. They bring smiles, laughter—and, don't forget the toilet paper!
Call to action Text
Support our therapeutic clowns and bring joy to kids and youth with disabilities, every single day.
Donate Now