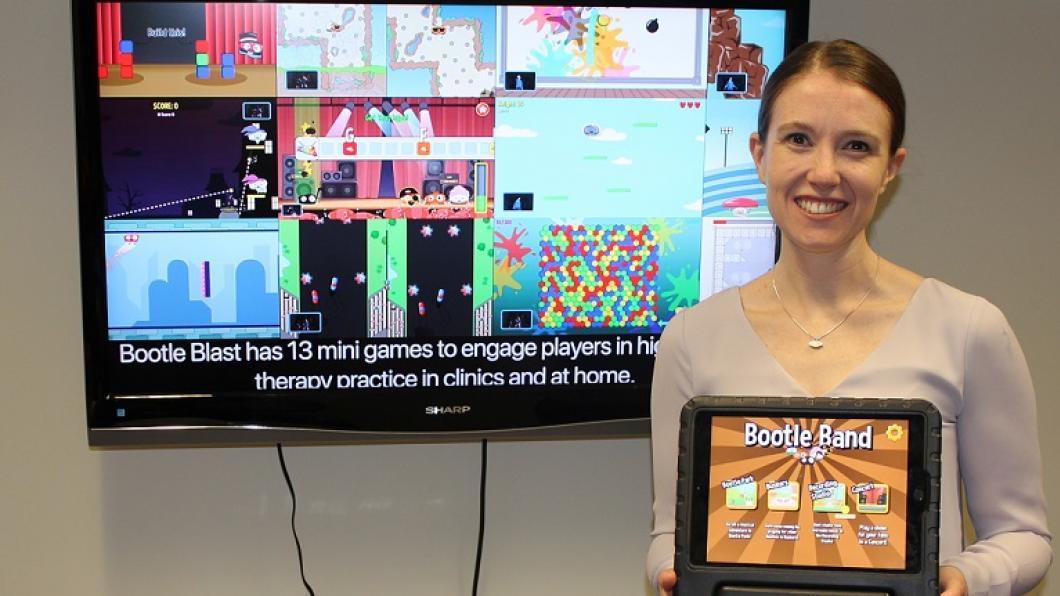 Story
From the workspace to the marketplace
Dr. Elaine Biddiss readily admits she isn't an avid gamer, but that hasn't stopped her from combining her research with video games to help kids with cerebral palsy and brain or spinal cord injuries.
Together with her team they developed Botley's Bootle Blast: a mixed-reality, immersive video game to help kids achieve their upper body physiotherapy and occupational therapy goals.
"The kids have been playing and their reactions are really positive," says Dr. Biddiss.
The game works by tracking the movement of players with a sensor camera as they try to catch the mini robots that the game's main character, Botley, accidentally cloned. Bootle Blast gives kids a fun way to practice their fine-motor skills, shoulder rotations, or wrist extensions or flexions.
Since 2017, Bootle Blast has been used in more than 300 on-site therapy sessions allowing researchers to pull the data to see what works and what doesn't.
"Bootle Blast has mini sports games, music games, puzzle games, competitive games, and cooperative games," she says. "We're trying to provide a lot of variety because different kids have different interests."
A feature Dr. Biddiss also loves is the game's multiplayer mode, which allows kids—regardless of their abilities—to play together.
The team is excited to work with hospitals in the United States, Israel, and France in the future to evaluate Bootle Blast's impact on their patient populations and health systems. And in fall of 2020, Bootle Blast will be trialed in Costa Rica to demonstrate its impact on children with limited access to therapy services.
Soon, children beyond Holland Bloorview and trial sites will be able play the games. With plans for commercialization underway, Bootle Blast will be the flagship offering by Holland Bloorview start-up company, Pearl Interactives, to empower children of all abilities in their rehabilitation.
Call to action Text
Support disability research today.
Donate Now