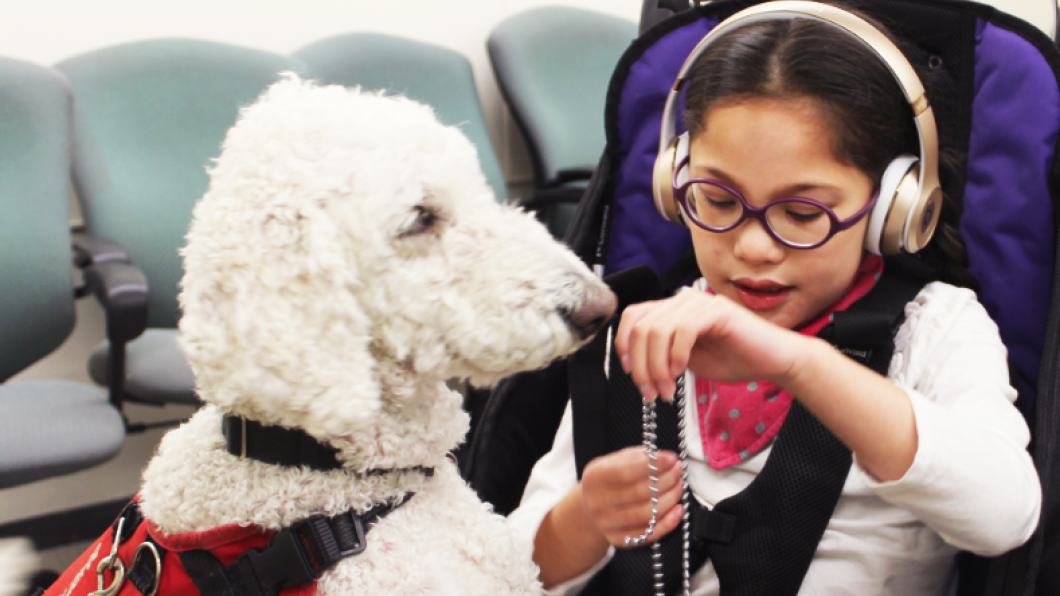 Story
The Carol of the Bella
It's rare to see Bella without her headphones, dancing along to her favourite pop songs.
That's why it's no surprise, come Christmas, you'll often find the active 10-year-old singing and laughing along to Christmas classics like "Jingle Bells."
If the melody has bells or whistles, Bella is a fan.
Her mother Andrea adds that on top of the family time together, and occasional vacations to Florida, for the most part Bella truly enjoys getting a break from therapy and school.
"The holiday season is a great time for her to just be a kid, to hang out with her younger brother, and to just play with her friends," says Andrea.
 
Celebrating the baby steps
When Bella was a year old, she was diagnosed with a global developmental delay. A couple years after that, she was then diagnosed with autism spectrum disorder.
"Many people predicted that she wouldn't be able to walk. And we worked with many physiotherapists and occupational therapists to help with her physical well-being," says Andrea.
"When she was almost three, she took her first few steps and being able to experience that moment where she took her first steps was very exciting."
But, at the age of six, after genetic and blood testing via the Rett's Clinic at Holland Bloorview she was diagnosed with Pitt-Hopkins Syndrome—a rare genetic condition impacting intellectual development. 
Since then, Bella has been a client of the Rett's Clinic for support on her physical, mental, and social well-being.
"It has really helped us realize we're not alone and they've helped us build a support system of community partnerships, with meeting other families, and even being involved in activities that we can engage for Bella and our son, Petie."
While Bella and Petie can often be found playing, swimming, and spending time together with Petie's ukulele, Bella's brother will now be joining her in the hospital's Ambulatory Soccer program.
As a sibling, Petie has also gotten a chance to meet other siblings like him who are growing up with siblings with disabilities.
"He's able to get the physical and emotional social support to help him learn how to navigate the system while caring for a sibling like Bella," she says.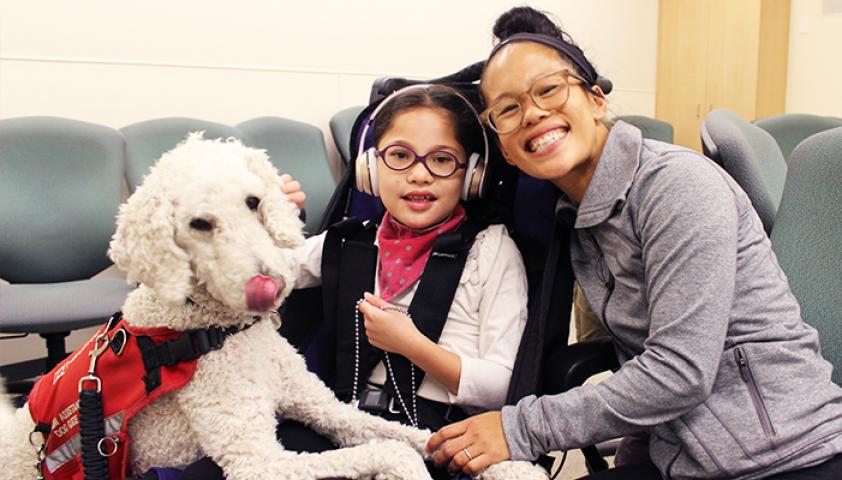 Bella's best friend
For Bella, one of the biggest challenges she continues to face is going into new environments like a new playground, going grocery shopping, or the mall. 
But four years ago, that got a little easier, thanks to her autism assistance service dog guide, Kadence.
"I couldn't even explain the feeling I had when I saw Bella squeal when she first met Kadence," says Andrea.
"They've created such a strong bond with each other. And it's nice knowing that when I'm not with her during school time or therapy time, Kadence is there as emotional support for her."
For Andrea, she's ecstatic that Kadence has allowed Bella to find her independence.
Recently, the family of four started go to restaurants to eat.
"It's really allowed us to give her the independence to do these simple things in life and we get to enjoy it with her as a family," says Andrea.
And when they're not eating at a restaurant together, you'll often find the mother-daughter duo running.
"This past year, we ran a few 10K races together. We got an adult sized jogging stroller, and we were able to start right at the front pack with all the other able-bodied athletes. I think that's really powerful because running is one of my passions and she's able to experience it with me," says Andrea.
"And it really is a huge blessing being part of Holland Bloorview, because we're able to celebrate Bella's differences and be proud of it."
If you'd like to follow along with Andrea and Bella's journey, visit her blog Mom Behind the Label.
Call to action Text
Help more kids like Bella this holiday season.
DONATE NOW