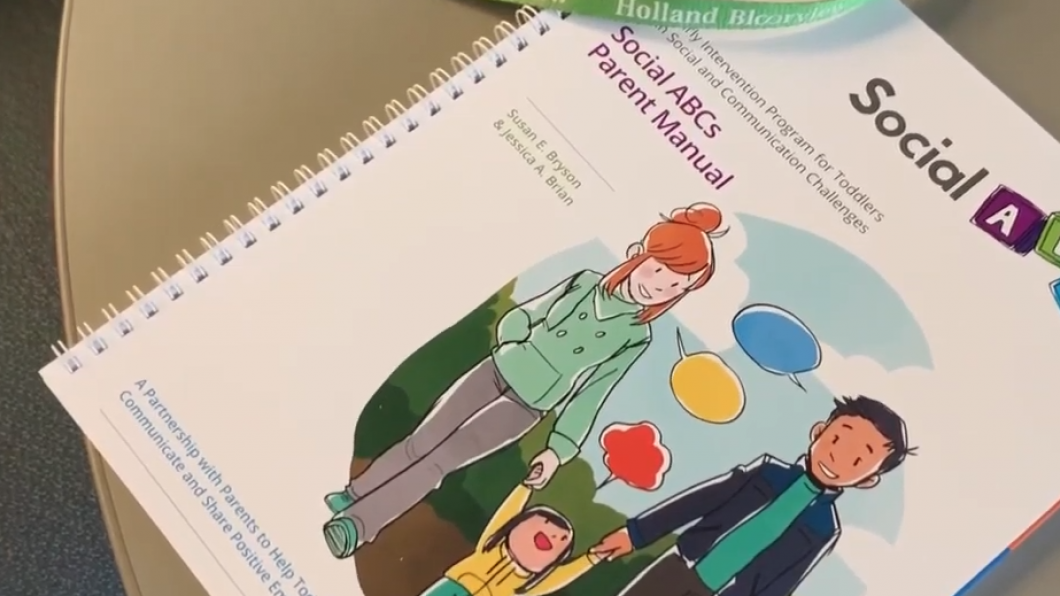 Story
Back to basics with the ABCs
An important part of a child's growth is using words and sounds to communicate with caregivers. Yet, for children with Autism Spectrum Disorder (ASD) that doesn't always come as easily.
That's why, to help as early as possible, Dr. Jessica Brian and her team developed the Social ABCs coaching program.
The program involves visits from trained coaches to families' homes for 12 weeks. During these one-on-one training sessions, techniques are taught to parents to help develop their child's verbal communication skills and to strengthen relationships between the child and caregivers. Specifically, families are coached on how to engage their children in their daily routines like mealtime, bath time, and play.
"We were really pleased to hear from the parents they felt empowered by the skills we were teaching them," says Dr. Brian.
Children who were part of the Social ABCs program became almost three times more responsive to their caregivers, making more words and sounds without being prompted.
And thanks to the success of the Social ABCs study and program, the team went on to develop an extension of the program: Group Social ABCs.
"It started with us taking what we know from the one-to-one home-based Social ABCs program and revamping it so it would work in a group context," says Dr. Brian. "We wanted to provide access to the Social ABCs to more families more quickly, so that a coach may be able to work with 3 or 4 families in a day."
Compared to the Social ABCs, Group Social ABCs runs for six weeks, where families meet in groups at the hospital to learn specific techniques. And in just such a short time, the team has already seen some astounding results.
"We're seeing kids go from not being particularly responsive at all to extremely responsive, and parents are overjoyed," says Ian Roth, a speech-language pathologist and parent coach for the program.
And like any new study, the program is not without its challenges.
"Transitioning from a child's natural home environment to a more clinical environment is obviously very different. We have different toys, different activities, everything looks, sounds, and smells different, so the kids are naturally going to be a bit more apprehensive in the beginning," says Kate Bernardi, a research coordinator.
"We hope the strategies we're teaching parents here can transfer to their home environment naturally."
The pilot program is now into its third year thanks to funding from the Alva Foundation, CIBC, the Kids Brain Health Network, and donations granted through Holland Bloorview's Centre for Leadership in 2018.
While the program is currently only available at Holland Bloorview, plans to expand are in the works.
Sessions are presented through a PowerPoint, but the team is looking to create resources that appeal to all different learning styles. The team is currently working on creating videos, which parents and caregivers can use to enhance their learning and access information outside the group setting.
"The long-term goal is to have more online components so that families, who may not be able to access us in person, can participate in some of the training, within Canada and globally," says Dr. Brian.
Want to learn more about the original Social ABCs study that kick-started this expanding program? Read the research summary here.
Call to action Text
Support programs that help kids and youth with disabilities.
Donate Now