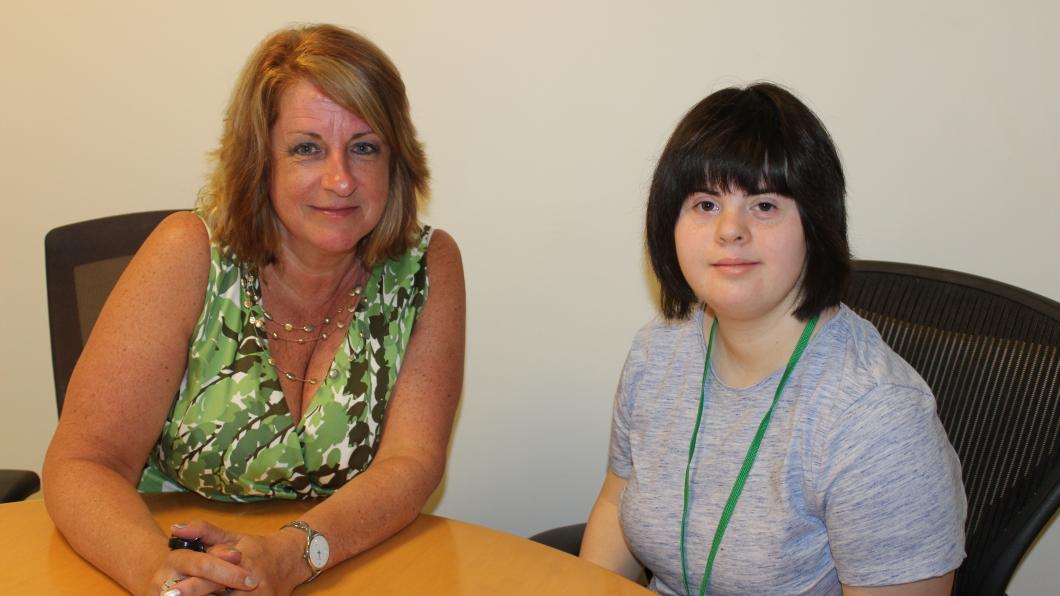 Story
Amanda aims for independence thanks to Fidelity and Ready to Work
Amanda aims for independence thanks to Fidelity and Ready to Work
Four days a week Amanda gets up for work and crams herself into a packed subway heading downtown.
The 21-year-old who has Down syndrome maneuvers her way through the fast-moving crowds to reach a high-rise on Bay Street. Thousands of people make their way to that bustling area every morning but chances are none of them are as excited as Amanda.
"I feel I have an important job to do and that people rely on me," said Amanda, who is also a student at Humber College's CICE (Community Integration Co-operative Education) program.
Amanda is working this summer at Fidelity Canada as part of Holland Bloorview's Ready to Work program, and she couldn't be happier.
This hospital employment program is for youth ages 16-26 who want to work. Holland Bloorview connects them with a Toronto employer and arranges a paid summer job. For many young adults like Amanda, Ready to Work is a launching pad for growth, both professionally and personally.
Fidelity finds Holland Bloorview
Diana Godfrey, Fidelity's Senior VP of Human Resources learned of the program last year and a light bulb went off.
"I thought it sounded like a wonderful opportunity for us," said Diana. "We have a number of employees whose children have used Holland Bloorview."
Thanks to Diana leading the charge, Fidelity worked with the hospital and welcomed its first two Ready to Work students last summer, one of whom was Amanda.
When Amanda's seven-week placement in the company's HR department began, she was initially joined by a Holland Bloorview job coach who shadowed her to help her adjust and become comfortable.
Job coaches provide a range of services – from suggesting workplace accommodations, to identifying tasks that are a good fit for an individual's strengths, to providing onsite job support, to adapting training to accommodate different learning styles.
That support lasted the first few weeks and then Holland Bloorview and Fidelity determined that Amanda was ready to work on her own.
Amanda rolls up her sleeves
Amanda helped identify which employees were missing ID photos for the company directory; sorted and delivered mail to HR employees; sorted and filed employee documents; prepared offer and new hire welcome packages; and helped prepare candidate assessment forms
Along the way, Amanda was touched by the warmth, friendliness and acceptance of her co-workers. She also learned that to be effective at her job, she needed to be a little more social and not be so shy.
Her mother, Gayle, quickly noticed her being a little more outgoing.
"Amanda has developed basic office etiquette, particularly how to communicate with her co-workers," said Gayle, who also noted Amanda seems a little more sure of herself.
"Fidelity has definitely played an important role contributing to Amanda's confidence and growth," she said.
Socially, Amanda enjoyed events outside the office like the annual holiday party and Fidelity Day at Canada's Wonderland, as well as invitations to an office baby shower, and lunches with co-workers
A mutually beneficial work experience
Amanda wasn't the only one learning. Diana and Fidelity also feel richer for the experience.
"I think (Ready to Work) demonstrated to our employees that there are a lot of different people who need work, and we're an organization who can help with that," said Diana.
"It helps employees understand the importance of inclusion," she continued. "We do a lot of community outreach, but most of it is in the form of giving or participating in an event. This is something that brings it into the workplace and creates a different environment.
And it wasn't only Amanda experiencing an elevated feeling of pride.
"I've had employees come up to me and say, 'I go home and tell my husband or my wife how proud I am to work at Fidelity', specifically because of having Amanda in the office last year," said Diana.
Wanting to build on both this momentum and on Amanda's fine work, she was asked to return for this summer and will be taking that crowded subway until school starts again in the fall
"I was so proud of being offered this summer job," said Amanda, who added with a hint of determination, "I want to be independent."