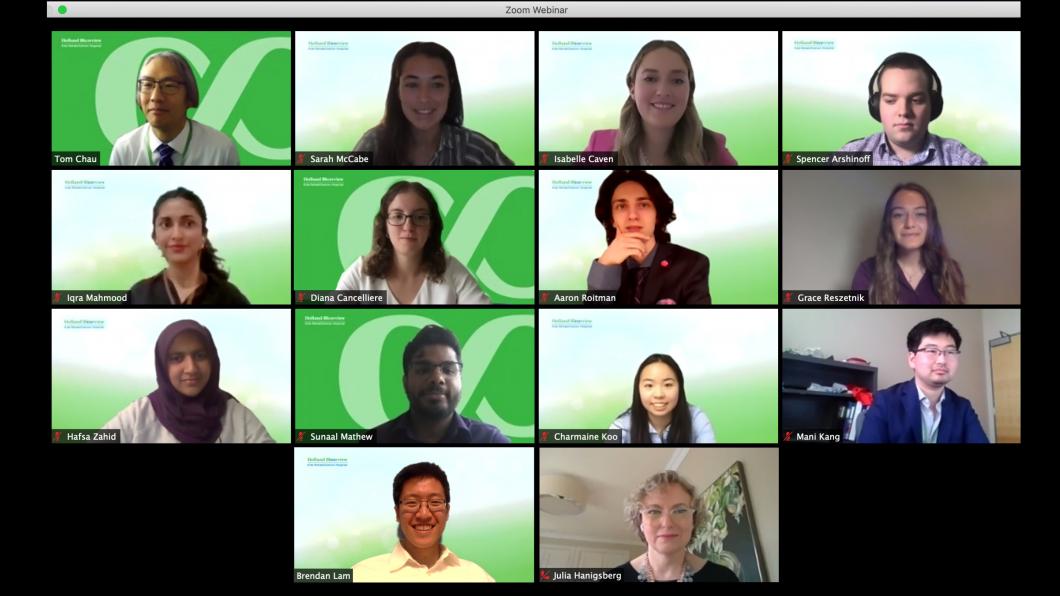 Ward Summer Students and scientists celebrate collaboration— this time online
Students celebrate their research successes at the 14th Ward Summer Student Research Day
By Emma Evans
When the Ward Summer Students applied to the Ward Family Summer Student Research program earlier this year, they envisioned three months of hands-on discovery with scientists at the Bloorview Research Institute (BRI). Despite the challenges of a global pandemic, the 2020 Ward Summer Students relied on video conferencing— and a strong Internet connection— to virtually participate in this meaningful research opportunity.
Beginning in May, the 11 Ward Summer Students, chosen from over 2,000 applicants, logged online to help researchers at the BRI inform evidence-based care for kids with disabilities. These Ward Summer Students spent three months engaged in a myriad of life-transforming research projects including brain-computer interfaces, support groups for caregivers of children with persistent post-concussion symptoms and play-based therapies for children with disabilities at Holland Bloorview.
The program culminated in the 14th Annual Ward Summer Student Research Day, where students showcased their work to a panel of expert judges. This year, the judges included Dr. Elaine Biddiss, senior scientist and Director of the PEARL Lab, Anna Tendera, post-doctoral fellow, Sean Peacocke, Centre for Leadership manager, and Suzanne Jorisch, Family Leader.
"As a Family Leader, I was thrilled at the thoughtful appreciation from the group toward family engagement in research," said Jorisch. "I was blown away with the amount of great work that they managed to accomplish in such a short period of time." 
The Research Day is often the highlight of the summer for students, scientists and the 100 attendees of the event. This year proved no exception, even as the presentations went virtual.
"Every year, I am so impressed with the ingenuity, enthusiasm and poise of the students involved in the Research Day," recalled Dr. Biddiss. "This is a day of hope where we have the opportunity to meet and be inspired by the emerging young researchers who may be the leaders of pediatric rehabilitation in the future."
After oral presentations with a question-and-answer period from the judges, attendees browsed the selection of research posters online and engaged in virtual live-chats with the budding scientists behind those projects. 
Charmaine Koo is a third-year student at Waterloo University. Her poster, titled: "Modelling grand averaging in EEG signals for individuals with brain-computer interface control," earned her the accolades of Best Research Poster and Best Oral Presentation at this year's Research Day. Koo's winning project explored how EEG signals can be read more accurately by suppressing background noise. Moving forward, this research could be used to help kids with cerebral palsy, spinal cord injuries or other complex needs to interact with their environment using computers that track brain activity.
"The research world has always been an interesting but relatively unknown area for me," said the biomedical engineering student. "The Ward Summer Student program has helped me look into that world and appreciate its innovations and impact at a much higher level. Being surrounded by researchers and students that are also passionate in research allowed me to learn and explore my passion, as well."
For many students like Koo, the program enables them to explore their career interests in a real-world context. Not only does the Ward Summer Student program encourage these aspiring scientists, the program also supports researchers at the BRI as they help kids with disabilities discover new possibilities for movement, communication and play.
"These students' contributions across many of BRI's labs and their work with our scientists will help further their evidenced-based research to create a world of possibilities for children with disabilities," said Mani Kang, director of operations at BRI.
With such a successful Research Day, we can't wait to see what these talented undergraduate students do next!
Related story: Nothing's Stopping These Ward Summer Students