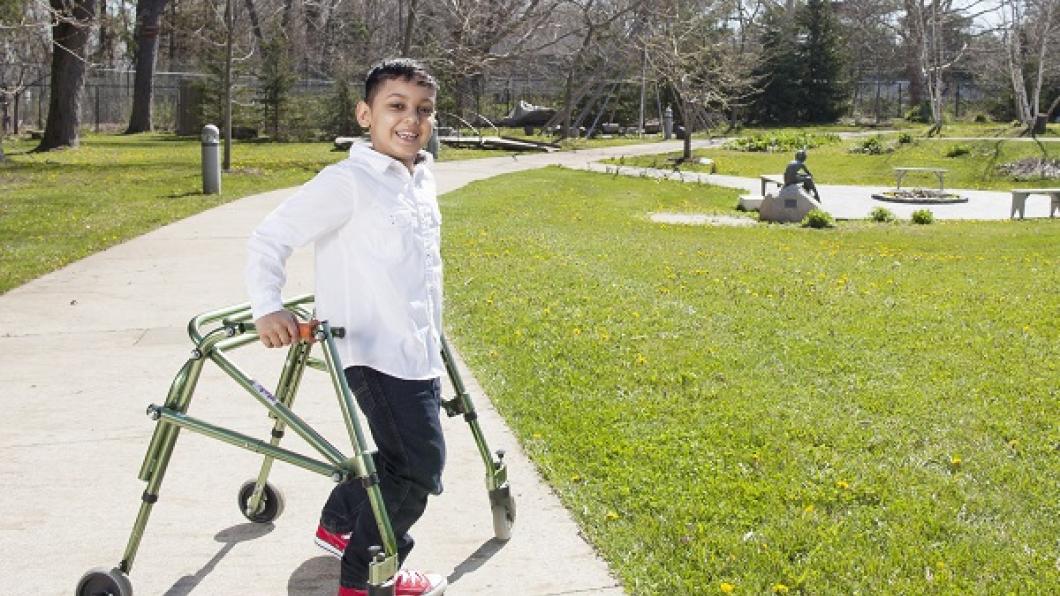 Shaping the future: Strategy Blog #3
The feedback received was powerful, poignant and remarkably consistent with fascinating nuances through each session and conversation. We heard that staff, clients and families value so much about what we do here and how we already create a better world for kids and we also heard bold aspirations around ensuring care, services, research and teaching address not just function and fitness but also friendship, fun, family and a future for kids with disabilities.
As we distilled all of the aspirations expressed in the process, it is clear that there is overwhelming hope to dramatically expand access to Holland Bloorview's expertise, models of care, research, education, family centredness and inclusivity to enhance the lives of kids, youth, young adults and their families locally and around the world. There is also tremendous passion to create a world where every child and family gets "meaningful help, immediately" based upon their needs and where there is universal global understanding of physical and cognitive ability as integrated aspects of valued diversity.
Here are a few interesting quotes and ideas from the process:
"Involve patients in the co-creation of their ability solutions. Imbue a sense of wonder & delight into the design of objects that are usually seen as purely functional."
"Prepare families for how damn hard it's going to get when their kids age out. There is NO support for families with young adults at home... and no one cares."
"Invent Star Trek transporters! Remove accessibility barriers."
"Massage therapy before OT and PT sessions. 10 minutes to loosen the muscles without medication."
"Make it seamless 'one stop shopping' and none of this as a separate referral. One referral will get you in the door!"
"(Like most parents), my wish would be for an electronic mind reader. All joking aside, my son is non-verbal but can communicate. My dream would be that the electronic mind reader could read his mind and vocalize his thoughts/feelings/answers to me."
"Zero waitlist for all services because we would have enough money to hire staff and give families immediate assistance.
Up Next: The Strategy Hives
The pollination conversations have helped us identify eight core aspirational topics that we would like to explore more deeply in collaboration with a cross-section of frontline staff, Holland Bloorview leaders, kids and families, and external experts and innovators to help us set focus for our strategic efforts in the next five years. The emerging hive topics are:
1. Expanding services and partnering to provide services for kids with neurodevelopmental conditions (including Autism) and their families
2. Reorganizing care and services according to individual needs and life goals
3. Pushing the boundaries for care and support using innovation, technology and virtual care
4. Building capacity for highest quality, family informed care and services for kids and families outside of Holland Bloorview
5. Building a movement for a more just and inclusive society for people with disabilities
6. Improving the transitional age experience and extending the connection for clients into adult life
7. Accelerating our academic mandate (discovery, development, implementation, dissemination and teaching of world leading knowledge that improves the lives of children and families)
8. "No Waiting" for access to something meaningful -- Supporting family resilience and wellness, navigation and coaching
These hive sessions will be taking place in late January and early February 2017 and, in just a few weeks, we will be opening enrolment to these sessions and encouraging those who want to make a meaningful contribution to sign up. We do have space limitations so we will be working to have the largest diversity of perspectives at each session. Stay tuned over the next few weeks for more information.
For all those who attended pollination sessions, answered the big questions or contributed their input in other ways we are most grateful. The process has already mobilized powerful energy in our organization and we are looking forward to channeling that energy in bold ways as we look the the future.