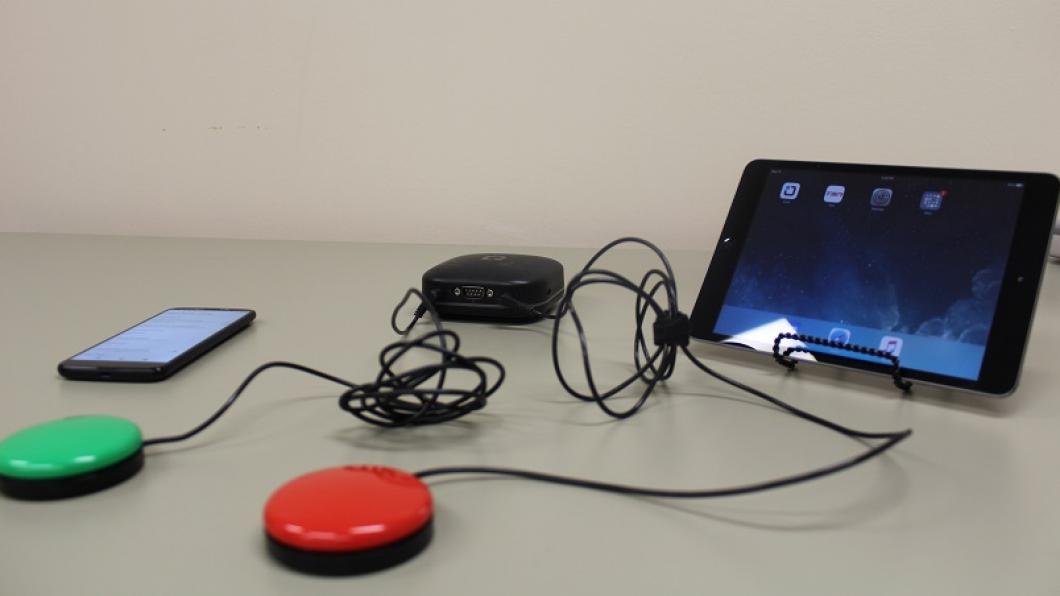 Researchers investigate tech designed to promote independence
Holland Bloorview investigates Canadian technology designed to promote independence – with life-changing results
For adults and children with a severe disability such as cerebral palsy, everyday activities such as using a smartphone and laptop simultaneously, or even adjusting the thermostat can be difficult or impossible. As a result, their ability to live full, independent lives is diminished, as they need additional support to accomplish tasks that many would take for granted.
Yet a local invention shows early promise in unlocking new levels of freedom for these families. "Tecla-e", developed by Komodo OpenLab Inc., is a special Bluetooth interface that allows someone with a disability to seamlessly connect up to eight devices – giving users the instant ability to operate and alternate between them.
Now, researchers at Holland Bloorview's PRISM Lab are leading a collaborative study to investigate if Tecla-e can live up to its claims – and early returns point to dramatic results.
"This has proven to be a life-changing technology for some of our study participants," says Fanny Hotzé, pediatric assistive technology specialist at Bloorview Research Institute and lead researcher of the project. "It's really demonstrated that Tecla-e has the capacity to empower individuals with severe disabilities to achieve greater freedom and control over their day-to-day lives."
Individuals with disabilities face the challenge of "technology fragmentation" when trying to perform routine tasks. Their computer may require one interface, their tablet another, their smart home technology another – which can also quickly become a financial burden. Through a single universal interface such as Tecla-e, these individuals can independently access and control the kinds of modern technology that make their lives easier.
Importantly, with accessibility features still an emerging area for mobile devices, Tecla-e is believed to be the first interface to facilitate smartphone access.
Collaborative study led by Holland Bloorview
Holland Bloorview researchers sought to validate Tecla-e's capabilities in real-life situations among 20 families in Toronto, Windsor and Hamilton (via collaborations with John McGivney Children's Centre and McMaster University, respectively.)
Participants between the ages of 10 and 30, with varying levels of disability who were not able to use regular interfaces such as a mouse or a keyboard were provided with Tecla-e technology and trained on its use.
The research team measured each person's quality of life at the start and again after three months, as well as their satisfaction and experience with the interface. They are also running an economic analysis to judge Tecla-e's cost effectiveness.
While the study is ongoing, albeit delayed by COVID-19, Dr. Tom Chau, who oversees the PRISM Lab, says that early results show that for most participants, the device is very impactful.
"We've witnessed some very special experiences that really demonstrate the difference this technology can bring to people's lives," says Dr. Chau, who is also the vice president of research at Holland Bloorview and director of the BRI. "Achieving greater control over your environment, your communication and your everyday decisions could pave the way to more independence and broader participation in personally meaningful activities."
Hotzé recalls one young adult who independently placed a call for the first time from a smartphone and then seamlessly switched to her communication device to speak to her father. The subject was hockey, her passion. Another participant was able to make her own arrangements for transportation, without assistance.
It is these moments, inconsequential to so many of us, which are life-altering to others. All participants in the study are keeping Tecla-e, and researchers hope the interface will soon be covered under the Ontario Assisted Devices Program. About 3,500 people use Tecla-e around the world. 
The study is funded through Holland Bloorview Kids Rehabilitation Hospital, Ontario Centres of Excellence, Komodo OpenLab and the John McGivney Children's Centre. Bell Mobility has generously supported this project by providing smartphones and funding so study participants can keep the Tecla-e devices.