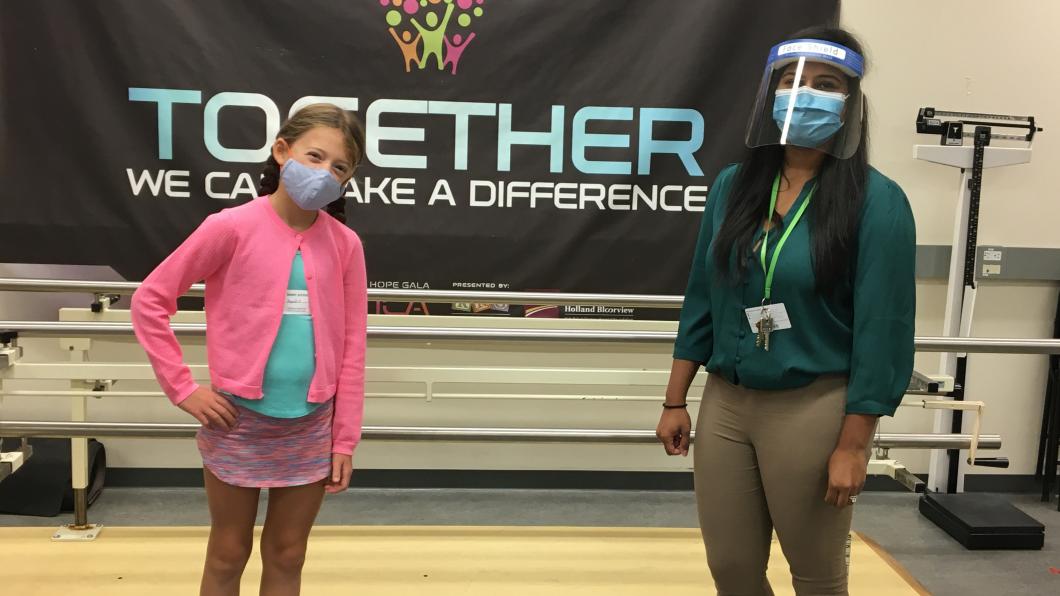 Research and Safety Go Hand-in-Hand
How BRI's safe, onsite research visits helps one little girl learn more about her 'superpowers', nurtures her passions to be a scientist
Amira Zarem is playing a fun game of catch with a bright yellow tennis ball. Her eyes twinkle in delight behind her mask as she bounces the ball towards her partner.
No, the precocious nine-year-old isn't hanging out with a friend in a park. She's actually in the Gait Lab at the Bloorview Research Institute with Dr. Teenu Sanjeevan, a research fellow in the institute's Autism Research Centre.
Zarem is one of Sanjeevan's research participants who came to Holland Bloorview to participate in an ongoing study examining the language and motor abilities of children with ASD and those who have language impairments, as well as kids who are typically developing.
If there are similarities between the two groups, says Sanjeevan, the two disorders may be related in some way.
The research fellow, who is leading the study under the supervision of Dr. Evdokia Anagnostou, started recruiting for her study last July and has conducted nearly 60 onsite research visits so far -- the majority, however, before the global pandemic ground much of the research at BRI to a halt in March.
"We weren't active between March and June because of COVID [and BRI research being put on pause]," recalls Sanjeevan. "So when I began recruiting for participants to come back in July, there was some hesitation. But now, I'm seeing that parents are more comfortable having their kids come and participate, especially those who see the value in research."
Amira's mom, Adrienne, is one such parent. Since her younger daughter was diagnosed with autism at the tender age of two, she has been turning to research for clues to help answer her questions about her daughter's diagnosis.
"I think as a family, we were always curious to know more about Amira," says Zarem. "We're always excited to work with scientists to discover new things that can better help Amira and other kids with ASD."
Zarem knows the value of research. In addition to taking her daughter to the hospital for various appointments, she has been bringing Amira as well as her older daughter, who was recently diagnosed with ADHD, to participate in various studies through the POND network as well as other hospital-based research studies.
Even now with the global pandemic, she continues to encourage her kids to "give back" by participating in research.
"We feel that of all the places in the community, Holland Bloorview takes safety very seriously and puts a lot of effort into making sure kids and families are safe," says Zarem, who is a family leader at the hospital. "Researchers are also very flexible and will make sure families feel safe based on their needs."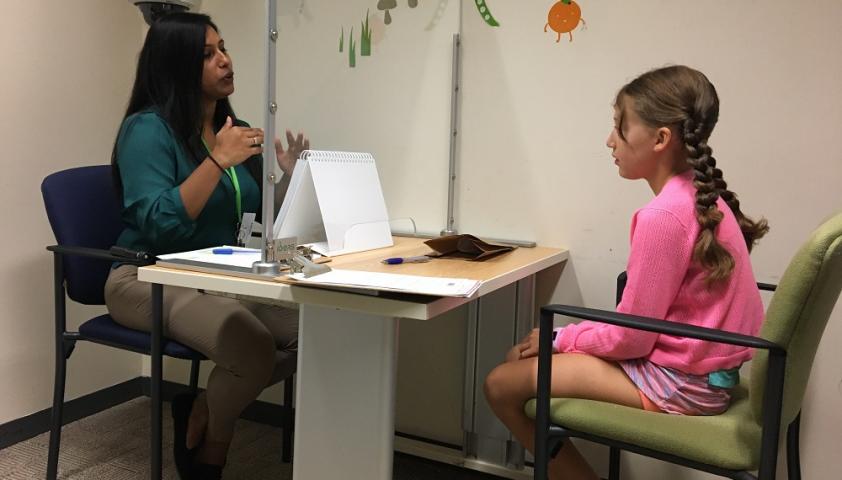 Indeed, the hospital has taken extra precautions during the pandemic to ensure the safety for all clients, families, staff and volunteers. This includes screening, masking, physical distancing as well as disinfection of high-touch surfaces. In addition, there are laminate barriers throughout the hospital and in various parts of the research institute where researchers interact with study participants.
Sajeevan agrees. "I can't say enough about the lengths that Holland Bloorview has gone to make this place safe for clients and their families to come onsite to participate in our research studies so we can move our research discoveries forward. On top of that, parents are seeing how much fun their kids are having when they're here. It's a win-win situation for everyone."
Zarem also sees participating in research as a learning opportunity that can teach her daughter about her special 'super powers' and nurture her passion to becoming a scientist one day.
"It's not just fun for her, but also really neat for her to learn about scientific methods and learn about the scientific process."
For Amira, spending the day at the research institute and getting to play fun games like balancing on a beam or doing brain-count activities, is the best thing in the world.
"I like doing research because it helps other kids," says the young girl with a shy smile. "I hope a lot of other kids want to be a part of research too because it'll help a lot of people especially during this pandemic.
"Plus", she whispers, "I like getting the gift card in the end."
 Ways to Participate in Research
Interested in participating in a research study? If you're a client at Holland Bloorview, you are automatically enrolled in Connect2Research, an initiative co-designed with families for clients and their families to learn more about new research happening at the Bloorview Research Institute.
Families will receive notifications about upcoming research studies that they may be eligible to participate in. Participation in a research study or project is voluntary and can be decided on a study-by-study basis. To learn more about the ground-breaking, needs-based research studies that are actively looking for participants, visit: Participate in Research.
You are helping our researchers open up a world of possibilities for all children and youth living with different abilities.
Tips for Researchers: How to Engage with Clients on On-site Research Visits