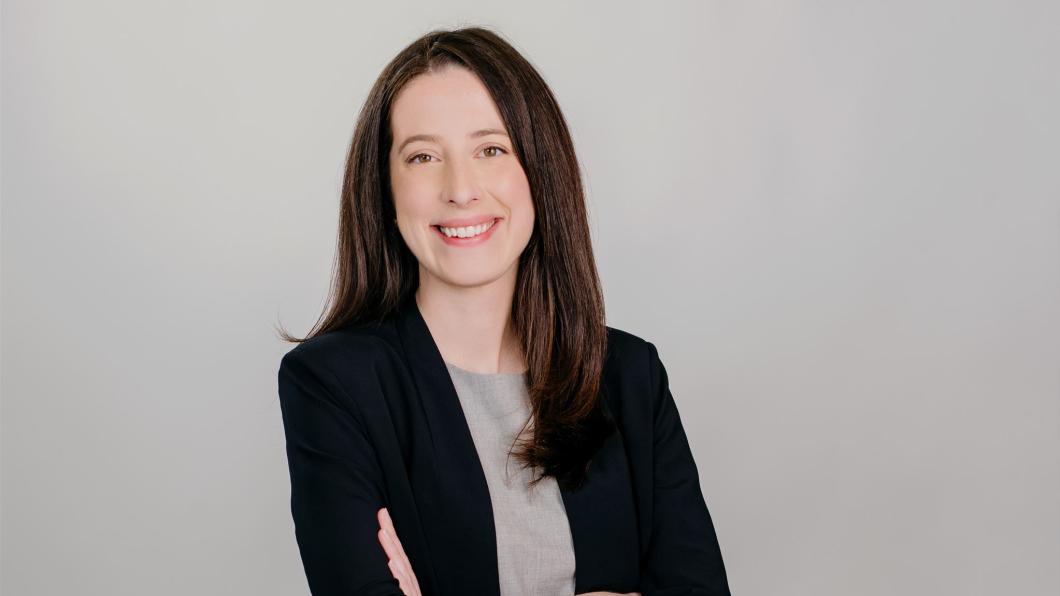 New psychiatrist, clinician scientist joins Holland Bloorview and Bloorview Research Institute
Child psychiatrist to join Child Development team, lead research program on childhood mental health
Dr. Danielle Baribeau will join Holland Bloorview Kids Rehabilitation Hospital's medical staff as a child psychiatrist and the Bloorview Research Institute (BRI) as a clinician scientist. Her new appointment will begin on July 4th, 2022.
"We're delighted with this announcement," says Dr. Golda Milo Manson, Vice President of Medicine and Academic Affairs. "Dr. Baribeau's experience in autism and mental health will add to the excellence of our clinical and research teams."
"Dr. Baribeau will introduce a new discipline (psychiatry) to our uniquely diverse interdisciplinary mix of scientists," adds Dr. Tom Chau, Vice President of Research and Director of the BRI. "The pandemic has taken a heavy toll on the mental health of children and youth, particularly those living with disabilities. With Dr. Baribeau on board, we can tackle some of the most pressing mental health challenges facing children and youth with neurodevelopmental differences."
Dr. Baribeau was drawn to the field of child and adolescent psychiatry from her previous experiences working with children and youth with physical and developmental disabilities through recreational and therapeutic programs before she started medical school and during her training at the University of Toronto.
From there, Dr. Baribeau focused increasingly in the field of areas of autism, neurodevelopmental disorders and psychopharmacology while completing her residency in adult and child psychiatry and a PhD in clinical epidemiology. Over the past two years while working at SickKids in a clinical research fellowship, she developed expertise in neurogenetic disorders associated with autism and intellectual disabilities.
Thus far, Dr. Baribeau has published over two dozen papers, and her research has been cited more than 800 times. She has been the recipient of several prestigious awards including the Frederick Banting and Charles Best CIHR Doctoral Award.
Along the way, Dr. Baribeau notes she has been 'fortunate to have received outstanding mentorship' from several exceptional scientists and clinicians throughout her training. One of her mentors that she recalls is Dr. Evdokia Anagnostou, Assistant Director of the BRI and co-lead of the research institute's Autism Research Centre (ARC).
"Dr. Anagnostou has inspired both my intellectual and academic interests in understanding neurodevelopment and mental health, and has been an excellent role model of family-centered research and care," says the child psychiatrist who had previously collaborated with ARC during her training.
Dr. Baribeau will divide her clinical time between the Child Development Program's psychopharmacology clinic and the Autism Communication, Learning and Behaviour program. As a clinician scientist at the BRI, she will develop a research program to understand predictors of treatment benefits and side effects in children with neurodevelopmental disorders and who have mental health symptoms. She also plans to develop and pilot clinical trials for those with rare conditions as well as strengthening BRI's brain imaging research.

"I'm excited to work with Holland Bloorview's fantastic clinical teams and build collaborations with BRI scientists to study mental health in children with disabilities, medical complexities and rare conditions. I am also looking forward to officially joining the outstanding research team at ARC."
---
Full Biography
Dr. Danielle Baribeau is a child and adolescent psychiatrist with a clinical focus in autism, neurogenetic disorders, and psychopharmacology. She completed her PhD in clinical epidemiology and health-care research at the University of Toronto (U of T) in 2022, which focused on understanding anxiety in autism. She completed her clinical residency training in adult and subsequently child and adolescent psychiatry at U of T in 2019.  This was followed by a two-year fellowship at SickKids in consultation-liaison psychiatry, neurodevelopmental assessment, and rare neurogenetic conditions associated with psychiatric and neurodevelopmental outcomes. She has also worked clinically at Holland Bloorview in the psychopharmacology clinic since 2020.
As a clinician scientist at the Bloorview Research Institute, she will lead a research program focused on clinically translating genetic advances into improved mental health care in autism and neurodevelopmental disorders.   Dr. Baribeau will also work as a child psychiatrist at the Child Development program's psychopharmacology clinic and the Autism Communication, Learning and Behaviour program.
Positions and Honours
Positions
2012-2019                   Resident Physician -University of Toronto, Department of Psychiatry, Toronto, ON, Canada
2019-2022                   Clinical Research Fellow -The Hospital for Sick Children, Department of Psychiatry
2020-2022                   Child Psychiatrist -Holland Bloorview Kids Rehabilitation Hospital, Toronto
Honors (select)
2015         Robinson Cunningham Award - For Best Paper in Child Psychiatry by a Resident, American Academy of Child and Adolescent Psychiatry
2015         Dan Offord Resident Research Award - Association of Professors of Child Psychiatry of Canada
2015         Undergraduate Teaching Excellence Award - University Health Network, Toronto, ON
2015        Liz Gillespie Award - For best paper in child psychiatry by a resident, University of Toronto
2016         Postgraduate Medical Education Leadership Award - University of Toronto, Toronto, ON
2016         Clinician Scientist Program - Graduate Award, University of Toronto, Psychiatry
2017         Association of Chairs of Psychiatry Annual Research Award - Canadian Psychiatric Association
2018        Liz Gillespie Award - For best paper in child psychiatry by a resident, University of Toronto
2018         Queen Elizabeth II Ontario Graduate Scholarship - University of Toronto, Toronto, ON
2019         Clinician Investigator Program – Royal College of Physicians and Surgeons of Canada, and Ontario Ministry of Health, University of Toronto ($87,000)
2019         O'Brien Scholars Award - Sick Kids and the Centre for Addiction and Mental Health
2020         CIHR Doctoral Award - Frederick Banting and Charles Best Canada Graduate Scholarship (ranked 3rd out of 418), University of Toronto
Papers:
PubMed: https://www.ncbi.nlm.nih.gov/myncbi/danielle.baribeau.1/bibliography/public/
Google Scholar: https://scholar.google.com/citations?user=SIlrD3AAAAAJ&hl=en&oi=sra