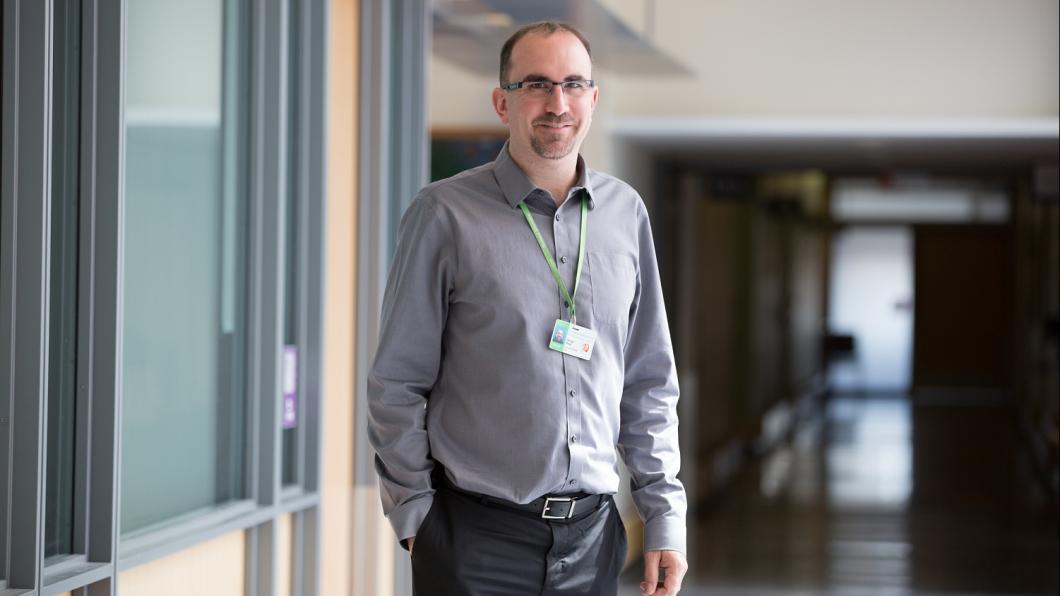 'My students keep me young at heart'
Clinician scientist recognized for making an impact on research trainees in the lab, classroom – and beyond to improve clinical care through research
Whether he's standing in front of a classroom packed with attentive clinical training students, or working with one of his research trainees in the CONNECT Lab, Dr. Deryk Beal is always inspired to do one thing: find ways to improve clinical care through research.
In recognition of his dedication to teaching the next generation of scientists and his passion for advancing the relatively nascent field of speech language pathology research, the clinician scientist has been promoted to associate professor starting July 1, 2022.
This drive to improve evidenced-based clinical care for clients and families has motivated the clinician scientist and speech language pathologist to instill this passion in the students he has mentored and taught over the years – from his work as a clinician, as head of the CONNECT Lab and as a professor in the University of Toronto's Department of Speech Language Pathology.
 "It's seeing the trainees and their energy, spirit and motivation to ask the really challenging questions. That's what inspires me to keep writing grants to move our work forward."
From understanding the neurobiology of developmental diversity to innovating new ways to evaluate novel treatments for childhood brain-based disorders, he and his multidisciplinary team of research trainees – from biomedical engineers to speech language pathologists – are charting a path to creating best rehabilitation practices. Why? So neurodiverse children and youth can lead more meaningful and healthy futures.
"Dr. Beal creates a supportive, collaborative and stimulating learning environment for his students in the CONNECT lab. He has been an exemplary mentor by challenging my intellectual capacity and providing me with the encouragement, confidence and opportunities necessary to grow as both a researcher and clinician," says Christine Muscat, a current research trainee who graduated from U of T's speech language pathology clinical program and is now working on her PhD with Dr. Beal.
The seed to improve clinical care was planted during Dr. Beal's clinical work in the Hospital for Sick Children's neuro trauma and neuro oncology unit while he was a newly graduated clinician. "I realized that there was a lot we needed to learn about swallowing and speech language disorders in children who have acquired brain injuries and other neurodevelopmental disorders."
That experience changed his career trajectory to one that was more research focused. After finishing his PhD in speech language pathology and cognitive neurosciences at the University of Toronto, Dr. Beal pursued a CIHR funded postdoctoral training at Boston University and Massachusetts General Hospital and later directed a clinic for children with speech and language disorders at the University of Alberta. From there, he was recruited to take up a position as clinician scientist at the Bloorview Research Institute and as an assistant professor at U of T's Department of Speech Language Pathology in 2015.
Dr. Beal has authored more than 40 papers in top-tier cognitive neuroscience and clinical neuroscience journals and has presented at over 150 conference presentations and abstracts. His work has attracted more than $1.5 million in research funding over the years from prestigious federal funding agencies including Canadian Institutes of Health Research, Natural Sciences and Engineering Research Council and Canada Foundation for Innovation. The clinician scientist has won four prestigious service and teaching awards from U of T including a Speech Language Pathology Alumni Association Distinguished Service Award and a 2020 – 2021 Faculty of Medicine Graduate Teaching Award for Early Career Excellence in Graduate Teaching and Mentorship
As a clinician scientist and chair of the hospital's research ethics board, Dr. Beal recognizes he may not have gotten to where he is now without his support networks – mentors, professors, colleagues – to pull him up.
And he's paying it forward in so many ways - through his work as a co-site leader of a national training program for child health clinicians, as a professor guiding students in both the clinical and research training programs, and as head scientist of a research lab aimed at understanding and advancing the neurobiology of developmental diversity and change.
Dr. Anna Tendera, a scientist at Microsoft and adjunct scientist at the BRI, says she 'cannot overemphasize the impact of Dr. Beal's mentorship and support for her career development' during her time as a postdoctoral fellow in his CONNECT Lab.
"Dr. Beal has always been committed to training all of us, his trainees, through his unparalleled accessibility and knowledge he selflessly and regularly offers, which has prepared us to be prolific professionals outside of his direct supervision. I sincerely congratulate Dr. Beal with the rightfully deserved promotion to associate professor and strongly believe that his expertise and visionary work will continue to contribute to the speech language pathology program and the University of Toronto overall."