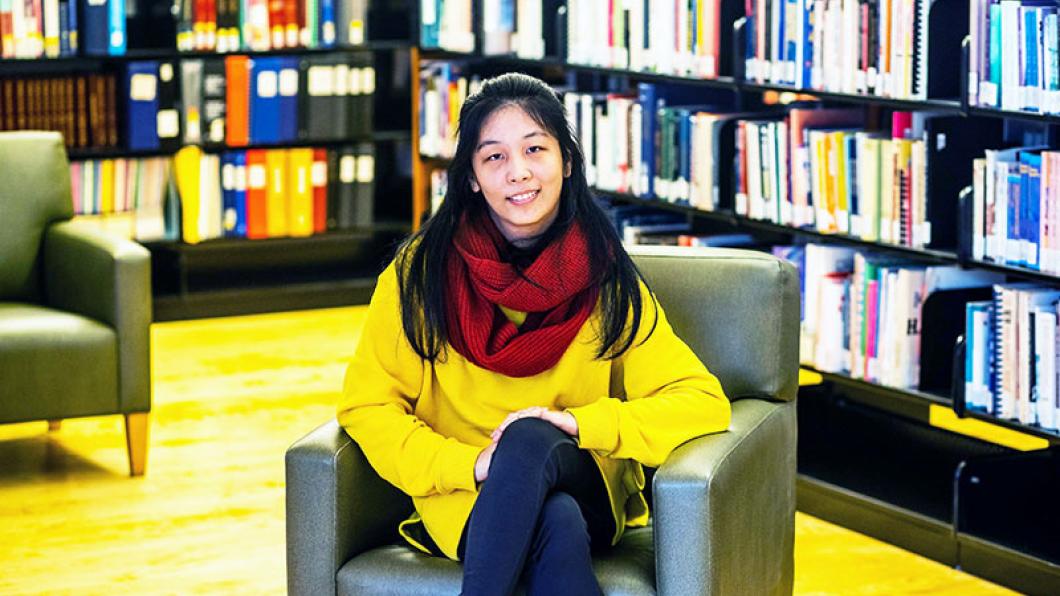 Holland Bloorview youth leaders share their experience with disability in short story collection
In alignment with International Day of Persons with Disabilities, a selection of Holland Bloorview's youth leaders were invited to share their stories based on their lived experience with disability. As I Live and Breathe features stories from nine youth leaders ranging in topics from self-esteem, cultural identity, romance and parenting. We sat down with Lexin, youth leader, artist and short story author, and Mary, program manager and artist facilitator, to discuss their insight on this project. 
What was it like working on the project and what was your process?
Lexin: I loved it. Ever since I started post-secondary school and began maintaining a job, I haven't had many opportunities for creative projects like this. I loved that I was able to work on something where I could express myself and know that it would reach people on some sort of level – which is always the hope. There were times that were very stressful, but overall it was really worth the experience.
The process wasn't easy because I hadn't been writing as much as I used to in the past, it was a 'get back on the horse' kind of deal. It was shaky in the beginning and I wasn't sure where I wanted to go with the story. I'm an outliner. I like to outline to see where the story goes, discover the motifs and ask myself what themes I want to get across. Then I go into drafting.
For the illustrations, I read each of the stories, and I gathered images of traditional and classical art, photos and graphic designs to reference from. I made thumbnail sketches before starting the full illustration, but unlike my writing process, I followed my intuition for the most part. It was a really enjoyable and fulfilling process.
Mary: It's been almost a year since we started this and we are finally coming together to experience the fruition of the project. The experience has been very intense, but it's also been very valuable and educational which makes it worth it. The entire process has really played out in a very beautiful way and we've all learned a lot about writing, working on creative projects and each other.
Where did the inspiration for your story come from?
Lexin: It's hard to pinpoint one thing that was my inspiration. I like to write on my free time so I always have a running list of small phrases or ideas that I pull from. Specifically, I've started to explore more of my Chinese-Canadian experience in my writing. I have also been wanting to explore the idea of filial piety. I wondered how those aspects could intersect with a disabled experience. That's where the theme and main idea really came from for my short story. 
I'm also an avid reader and various writers have influenced my work. I drew inspiration for this story from a book called On Earth We're Briefly Gorgeous by Ocean Vuong. He is a poet and writer of Vietnamese descent. The book is fiction, but a lot of it is based on his real life experiences as an Asian American. I got to understand how to represent myself in a story but at the same time not have it be a memoir. It was really a guiding light for where to even begin in my approach to my story.
Is there anything you want folks to know about you or your piece? What is the key takeaway message you want readers to leave with?
Lexin: Firstly, my story is completely fiction. I ultimately wanted to represent the intergenerational, cross-cultural, familial relationship between two individuals and the points of disconnect that are experienced as a result. Disability is a pivotal factor of the story, but it isn't necessarily the main point.
In general, I would want folks to come away with a deepened and widened understanding of the diverse experiences of youth with disabilities. I hope that it encourages people to explore and support more art and stories from disabled artists. I believe that there is great power in including more disabled voices in the narrative. Personally, it makes me feel seen and valued. Stories like the ones in this project say 'I'm here, and I am also in this narrative humanity is writing.'
Mary: My big message is to encourage organizations to prioritize creative projects and programs like this. It's such an important space for the youth involved and for the broader public. My takeaway message is creative projects need to be supported as they are an important aspect in helping to enlighten and educate society's perspectives surrounding disability.
For more information on the short story project, to read Lexin's Story For the Turtle; For You or to purchase a copy of As I Live and Breathe, visit our web page.