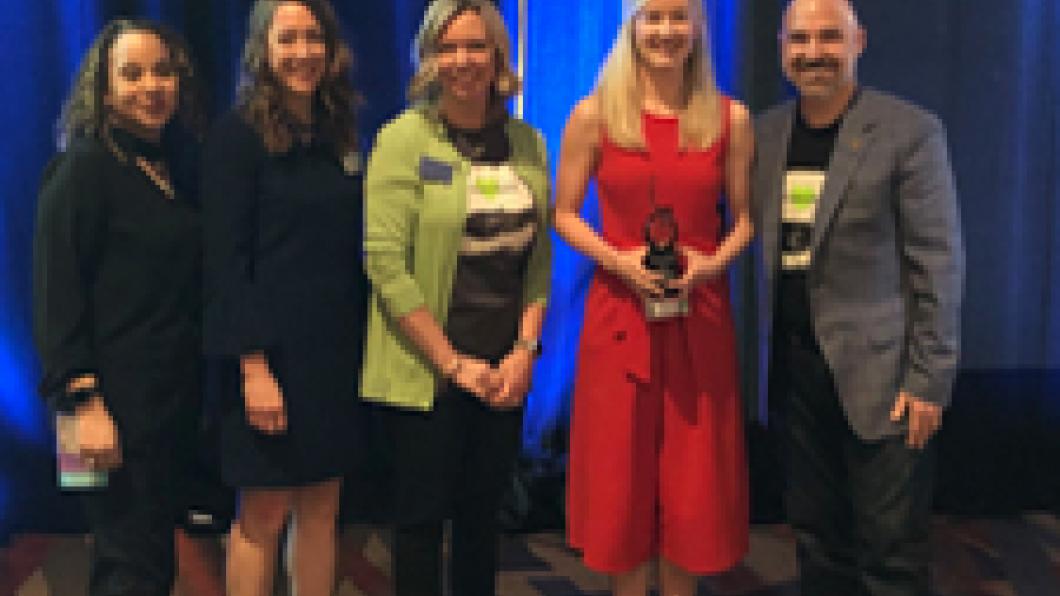 Holland Bloorview wins The Beryl Institute's Innovative Team Award
Holland Bloorview Kids Rehabilitation Hospital received the Innovative Team Award from The Beryl Institute, part of an award series that recognizes work being done across the globe to improve the human experience in healthcare.
The award recognized the quality, safety and performance (QSP) team at Holland Bloorview and their leadership in creating the Family Leader Accreditation Group (FLAG). The QSP team created FLAG to improve quality across Holland Bloorview by bringing clients and families together as full and equal partners.
A total of 17 family and youth leaders came together in steering committees and working groups as part of the hospital's accreditation process that took place in late 2017. Accreditation is a voluntary review that evaluates quality and safety practices against national standards. Holland Bloorview achieved exemplary standing during accreditation, the highest level that can be earned.
FLAG members co-designed, led, or advised on 47 unique quality and safety improvement initiatives at Holland Bloorview. Some of these include:
expanding hours of service for clinical appointments
developing an integrated coordinated care plan to support how clients and families inform clinicians about what is most important to them.
creating an initiative to support hand hygiene in the community
providing pressure ulcer prevention education to inpatient families
"It is an honour to receive the Innovative Team Patient Experience Award from the Beryl Institute for the Family Leader Accreditation Group," says Adrienne Zarem, family leader and chair of FLAG. "The commitment to authentic partnerships from Holland Bloorview staff, clients and families underscores the success of this initiative. By investing time and resources to teach staff and family leaders the necessary skills to partner meaningfully we were able to truly work together to find innovative ways to drive quality and safety, both within the hospital and beyond."
"It is an honour to share this recognition with the highly dedicated clients and families on the Family Leader Accreditation Group who Holland Bloorview has the privilege to partner with to evolve client and family centred quality," says Laura Oxenham-Murphy, interim director, quality, safety and performance. "The active collaboration, input and leadership of family leaders have helped the hospital to innovate and improve care and advance client-centred quality and safety nationwide."
About the award:
The Beryl Institute's PX Innovation Awards provide a platform for sharing and celebrating some of the great work being done across the globe to improve the human experience in healthcare.
The Innovative Team Award is given to a team working in healthcare that developed and implemented innovative methods to improve teamwork. Dimensions evaluated include:
Workflow: how a unit, department or team does its work, positively impacting efficiency and culture
Team engagement: how the innovation was designed with the team to impact safety, quality and experience
Transferable: how the innovation can adapted and spread beyond the team for which is was created