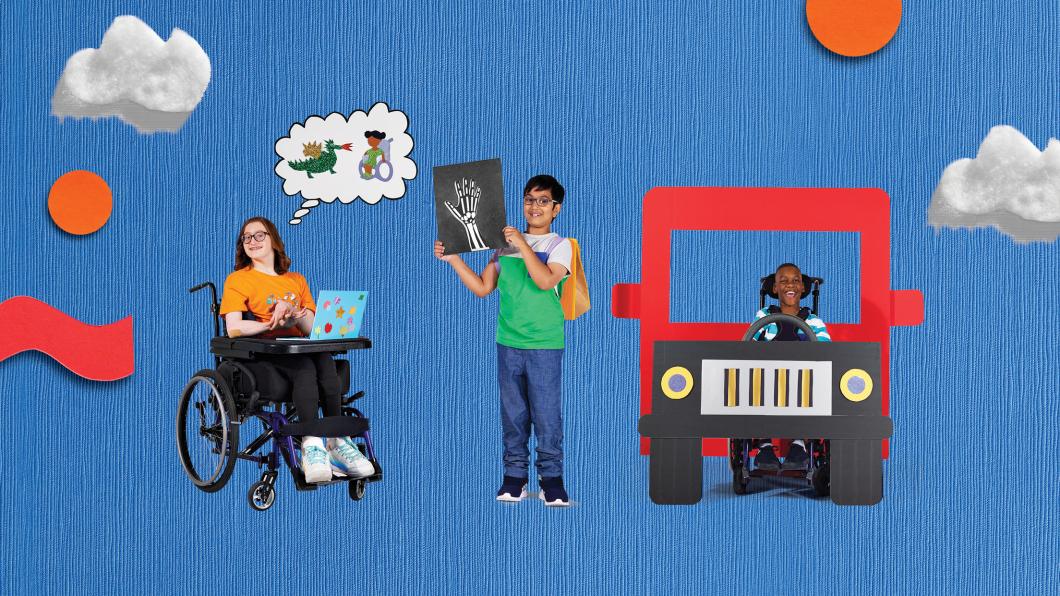 Holland Bloorview urges Canadians to imagine a world where disability is included
TORONTO, ON (August 30, 2022) – Holland Bloorview Kids Rehabilitation Hospital (Holland Bloorview) launches its Imagine Everybody anti-stigma campaign for kids and youth with disabilities by urging Canadians to shape a future where disability is included.
According to a recent survey by Canadian polling firm Leger, only about one in 10 respondents have seen examples of technological, social or systemic disability inclusion in their most recent school or educational institution. This includes things such as the use of voice recognition technology, disability inclusion training or inclusive policy design.  Physical accommodations fared better with about 25 per cent of respondents seeing at least one example of disability inclusion in their school or workplace such as physically-accessible classrooms or washrooms.
"Disability inclusion is about understanding the relationship between the way people function and how they participate in society. It's about removing physical, social and systemic barriers to inclusion for people with disabilities and making sure everybody has the same opportunities to participate in every aspect of life to the best of their abilities and desires," said Julia Hanigsberg, president and CEO, Holland Bloorview. "For this year's campaign, we went directly to the experts—our children and youth—to ask them what a future that is inclusive and accessible looks like. Our kids are already imagining and dreaming big when it comes to their hopes and dreams for the future. Now it's time for you to join them."  
Three of the kids and youth featured in this year's Imagine Everybody campaign include:
Carson, nine, loves riding public transportation and saying 'hello' to everyone who gets on and off. As a child with cerebral palsy, he knows it's not always easy getting from A to B. He dreams of getting his driver's license one day—but says it can be frustrating because "not all transportation is accessible." Carson loves coming to Holland Bloorview where he receives speech therapy and is learning to get around the hospital in a power wheelchair. Inclusion is important to him and Carson says he imagines living in a "cool, accessible house" when he grows up with a big washroom and a pool that's easy for him to get in and out of.

 
Rehan, eight, who loves all things math and science, imagines becoming a doctor in space to help kids on other planets. Rehan, who has Autism Spectrum Disorder and cerebral palsy, wants the world to know that his disability shouldn't get in the way of his dream job—or just being a kid! He believes children of all abilities should think big when it comes to their future and says kids with disabilities need to be included in all spaces and places (including the playground and even outer space!)
 
Yemina, 17, imagines being the voice of a generation through her writing and art. She loves reading, science and drawing and wants to travel the world! As a teen with cerebral palsy, she also knows that people with disabilities aren't always represented in books or on screens. She wants to change that—and dreams of writing a fantasy novel featuring characters with disabilities. Speech-to-text technology helps Yemina share her big ideas and she imagines a world where she can use adaptive technology to write an essay or do her homework.
Imagine Everybody aims to create a world that embraces disability and possibility. It sends a powerful message that kids and youth with disabilities and medical complexity deserve to live in a world that gives them everything they need to participate meaningfully, and fully, in every aspect of society while removing physical, social and systemic barriers along the way.
Holland Bloorview is ready to challenge the world's imagination to create, and embrace, a world that is inclusive and accessible beyond one's wildest imagination.  One example? Imagine a world where a child with limited verbal communication could turn on a light switch, or power a motorized wheelchair, using just the thoughts in their mind.  Holland Bloorview technology is making this possible, today.
"This campaign is another expression of Holland Bloorview's leadership and desire to create change both in ourselves and the system," said Sandra Hawken, president and CEO, Holland Bloorview Foundation. "We want to break down barriers to inclusion for kids and youth. In the longer term, we hope to see shifts in attitude and behaviour that reflect this new reality. This means, for example, more classrooms that are inclusive, better employment rates and accessible workplaces for people with disabilities, more accessible public spaces and more authentic and anti-ableist representation of disability in media."
The Imagination Fund, new this year, will help fund essential programs, services and transformational research at Holland Bloorview. Thanks to a matching gift from EY Canada, gifts will be doubled.* Donations to the fund will:
Invest in world-class, specialized care for kids and youth with disabilities that opens up a future of possibilities
Bring out-of-this-world research to life, changing the future of disability as we know it
Help kids find what makes them smile, with programs like music and art, robotics and summer camp
Encourage youth with disabilities to envision a future of independence through life skills, friendship and employment programs
Boost tailored mental health supports for kids and youth with disabilities
Offer much-needed support for families, siblings and caregivers in the form of funding, programs and community connection
Develop the next generation of leaders in pediatric disability healthcare
*Up to $25,000 between August 30 and October 31, 2022
Imagine Everybody builds on the success of our award-winning Dear Everybody campaign that brought widespread attention to the importance of disability inclusion. The Toronto-based arm of global agency, Forsman & Bodenfors, has been the lead on the creative for the campaign since Dear Everybody launched in 2017.
For more information about the campaign, and to donate, visit http://www.imagineeverybody.ca/.
-30-
About Holland Bloorview Kids Rehabilitation Hospital
Holland Bloorview Kids Rehabilitation Hospital believes in creating a world where all youth and children belong. We are the only children's rehabilitation hospital in Canada focused on combining world-class care, transformational research and academic leadership in the field of pediatric disability. Holland Bloorview is a top 40 Canadian research hospital that is fully affiliated with the University of Toronto and serves over 8,000 families annually. Providing both inpatient and outpatient services, Holland Bloorview is renowned for its expertise in co-creating with clients and families to provide world-class care and is the only organization to ever achieve 100 per cent in three successive quality surveys by Accreditation Canada. Holland Bloorview is a founding member of Kids Health Alliance, a network of partners working to create a high quality, consistent and coordinated approach to pediatric health care that is centred around children, youth and their families. For more information or to donate, please visit hollandbloorview.ca or connect on Twitter, Facebook, Instagram, LinkedIn and parent-blog BLOOM.

About the survey
From July 29-31, 2022, Canadian polling firm Leger conducted a survey among a randomly selected representative sample of over 1,500 Canadians aged 18 and older using its online panel. The margin of error for the total sample is ±2.5%, 19 times out of 20.
 
For media inquiries, please contact:
Erin Pooley
Senior Media Relations Specialist
Holland Bloorview Kids Rehabilitation Hospital
epooley@hollandbloorview.ca  
C: 647-406-3567