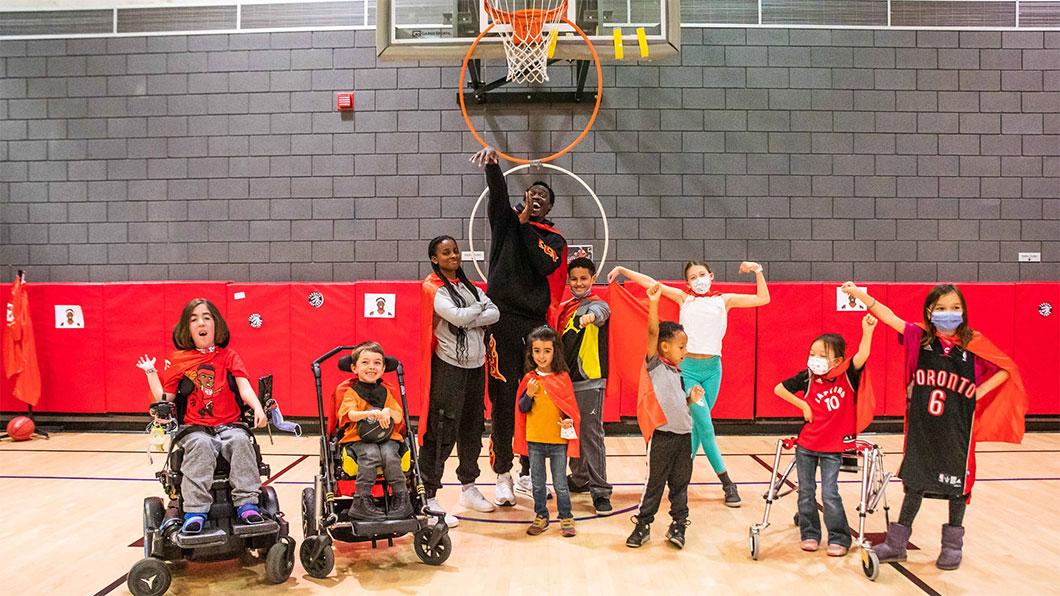 Holland Bloorview sets GUINNESS WORLD RECORDS™ title for largest gathering of people wearing capes
Capes for Kids Night with The Raptors 905 made history with more than 2,854 people donning red capes in support of children with disabilities and Pascal Siakam's PS43 Foundation Canada announces $100,000 match
TORONTO, ON (February 6, 2023) Holland Bloorview Kids Rehabilitation Hospital has set a GUINNESS WORLD RECORDS title for the 'Largest Gathering of People Wearing Capes.' More than 2,854 supporters donning red Capes for Kids packed an arena at the Paramount Fine Foods Centre in Mississauga, Ont., on February 6, for a game between the Raptors 905 and the Maine Celtics. The previous GUINNESS WORLD RECORDS title for the largest gathering of people wearing capes was 2,266.
Toronto Raptor Pascal Siakam also attended the event and announced that he, and his PS43 Foundation Canada, were joining forces to support Holland Bloorview —Canada's largest pediatric rehabilitation hospital — with a match of up to $100,000 for any donations made to his personal Capes for Kids fundraising team from February 6 – March 10, 2023. This is the PS43 Foundation's second gift to Holland Bloorview following a $100,000 pledge made in 2021. 
"Holland Bloorview was absolutely thrilled to celebrate this incredible, record-setting moment with everyone here tonight! It was a magical night filled with cape-themed fun, big energy and excitement," said Sandra Hawken, President and CEO, Holland Bloorview Foundation. We are incredibly grateful to Pascal and his PS43 Foundation for this generous support that will continue to make a real difference for children and youth with disabilities. Thank you as well to all the attendees, donors, community members and our Raptors 905 hosts, who came out tonight and helped us make history and spread the word about the hospital's largest, annual fundraising campaign." 
A GUINNESS WORLD RECORDS team and more than 100 volunteers were on hand to count every single person in a cape between the first and second quarters of the game. The official GUINNESS WORLD RECORDS announcement was made during the half-time show. Several celebrities and friends of Holland Bloorview—including Arkells frontman Max Kerman, Canadian Paralympic medalist Marissa Papaconstantinou and Raptors superfan Nav Bhatia—also attended, helping to generate excitement amongst the crowd of cheering supporters that included nearly 30 Holland Bloorview client ambassadors and families. 
"I'm a huge Raptors fan and I also love Capes for Kids!" said Zion Resendes, 11, a Holland Bloorview outpatient ambassador who attended the game and had the chance to join Siakam and other players on the court during the pre-game and half-time shows. "I'm so happy I got to be part of breaking a GUINNESS WORLD RECORDS record and I hope that even more people sign up and fundraise for Capes for Kids to help children and youth with disabilities thrive." Resendes contracted acute flaccid myelitis, a rare, polio-type virus that results in paralysis in children, when he was two-years-old and has been coming to Holland Bloorview ever since where he receives occupational and physiotherapy and other services. 
A portion of proceeds from each game ticket was donated to Capes for Kids and funds will be used to support Holland Bloorview's innovative programs and services and cutting-edge research. Capes for Kids, currently in its seventh year, has raised more than $4.3 million to date and helps children with disabilities move, explore, play, learn and grow. 
This year, Capes for Kids week happens from March 3 - 10, 2023, and participants will join together like never before to raise funds to help kids and youth with disabilities and complex medical needs access care that focuses on their physical, mental and emotional well-being.
About Holland Bloorview Kids Rehabilitation Hospital
Holland Bloorview Kids Rehabilitation Hospital believes in creating a world where all youth and children belong. We are the only children's rehabilitation hospital in Canada focused on combining world-class care, transformational research and academic leadership in the field of child and youth rehabilitation and disability. Holland Bloorview is a top 40 Canadian research hospital that is fully affiliated with the University of Toronto and serves over 8,000 families annually. Providing both inpatient and outpatient services, Holland Bloorview is renowned for its expertise in co-creating with clients and families to provide world-class care and is the only organization to ever achieve 100 per cent in three successive quality surveys by Accreditation Canada. Holland Bloorview is a founding member of Kids Health Alliance, a network of partners working to create a high quality, consistent and coordinated approach to pediatric health care that is centred around children, youth and their families. For more information or to donate, please visit hollandbloorview.ca or connect on Twitter, Facebook, Instagram, LinkedIn and parent-blog BLOOM.
For media inquiries, please contact:
Erin Pooley
Senior Media Relations Specialist
Holland Bloorview Kids Rehabilitation Hospital
epooley@hollandbloorview.ca 
C: 647-406-3567