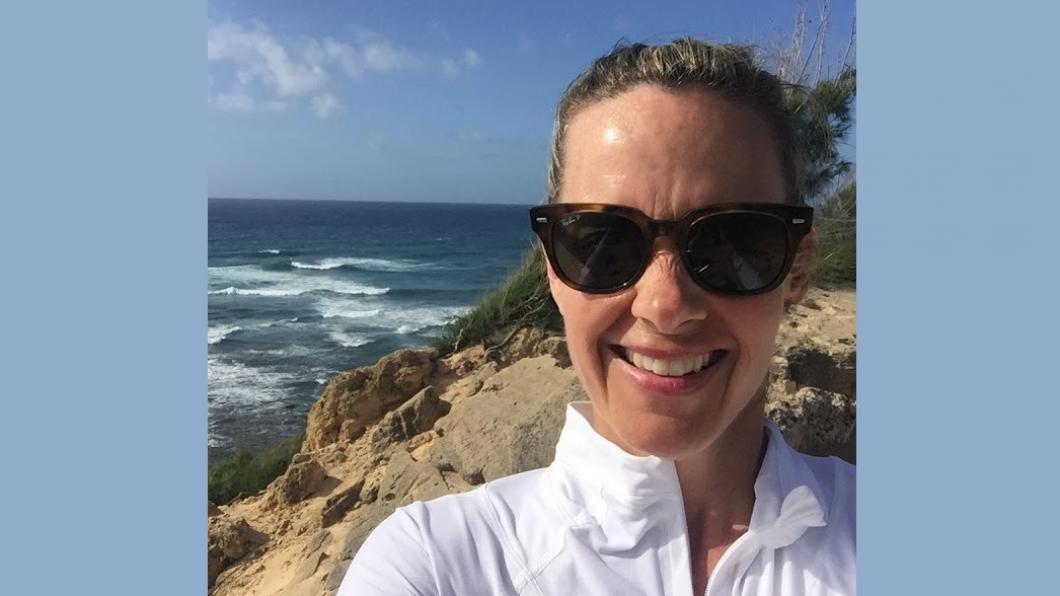 Holland Bloorview pediatrician wins Top 100 Award from Women's Executive Network
Q&A with Paige Church, honoured in Intact Professionals category
Dr. Paige Church, a developmental pediatrician at Holland Bloorview Kids Rehabilitation Hospital, has been selected as one of Canada's 100 most powerful women by Women's Executive Network (WXN). Church, also a neonatologist at Sunnybrook Health Sciences Centre, was recognized alongside 13 other women in the Intact Professionals category, which celebrates women who are professionals in practice and play a leadership role within their respective organizations.
Here, Church discusses the award, the leaders in her life and what has changed since she publicly revealed in 2017 that she has spina bifida. A birth defect that hinders the development of the neural tube, spina bifida can cause bladder and bowel control issues, as well as full or partial paralysis, among other challenges.
How do you feel about this recognition?
It's tremendous. To be amidst this group, and to have listened to who they are and what they've accomplished at the virtual meeting [in early December], I started to feel like an impostor, like somehow I was there by accident. I was so excited. Some of the women I most admire either received this award this year or did in years prior. I feel very honoured and flattered—but still a bit like an impostor, to be clear.
Who have been significant leaders in your life, and why?
From a medical standpoint, my father was a huge role model. He was a physician. He had a firm belief that it is our job to be available to our patients and to make the healthcare system work, not to make our patients work for healthcare. That is a message I lived with—his patients knew where we lived, they were part of our community, and I think that really shaped who I wanted to be as a provider.
In terms of women, I'm very lucky because there have been some real women trailblazers ahead of me that carved out the role of a female academic physician, and did so by working hard and establishing that you could have a family and an academic career. I've had the benefit of being able to pull from many different role models and mentors. You've got Darcy Fehlings [developmental pediatrician]; you've got Golda Milo-Manson [vice president, medicine and academic affairs]. Darcy and Golda are my two go-tos when I have questions or want professional guidance. They are models for providing better support of women coming up behind them, with integrity, strength and respect, both for what they do and what their teams do, but also through mentoring others so they can contribute in a way that is profound.
What are your thoughts on being included alongside Julia [Hanigsberg, president and CEO of Holland Bloorview, honoured this year as one of Canada's most powerful CEOs]?
I'm a huge fan of Julia's. I follow her on social media, I love looking at what she's posting, and I have loved the leadership she provides at Holland Bloorview. It was a huge honour, although I was terrified because, again, the impostor syndrome kicked in. I have no business being next to Julia at any table right now, but it was a huge honour. It certainly personalized it in a way that I didn't expect.
In an October 2017 JAMA Pediatrics editorial, you revealed you have spina bifida. How has your life changed, personally or professionally, since that was published?
Louise [Kinross, BLOOM editor] has an interesting piece of this story in that she approached me prior to that JAMA article. She wanted to write something about physicians' experiences in clinics. At that point, I hadn't disclosed that I had spina bifida, but it came up. She was asking some provocative questions that were incredibly on point and sensitive, but I wasn't ready to go there. She sort of gave the nudge to the ball that started rolling down the hill.
When the editorial was released, it was natural that Louise would be one of the first people I wanted to interview with, because that paper was an answer to all the questions she'd asked me. Louise started the process that I would say has been one of the most liberating things I've ever done. I'm no longer thinking about how to cover up or get by without people hearing about it or knowing about it, or how do I keep the gig—I used to call it 'the gig'—going? Once it came out, it felt like there was no more lying, there were no more stories, no more cover-ups. In some ways it's been hard. I don't think all of my colleagues necessarily appreciate it. I think some do see me differently, not at Sunnybrook or Bloorview, but across a broader sense of the institution. I would say for the people who matter to me, it has been great. I feel much calmer and much more comfortable in my own skin than I did for many, many years prior to this.
In the editorial, you said you felt for a long time the need to appear normal. Do you still feel that way?
No. Maybe I realized that there is no 'normal'. The peace of this realization has been transformative. I don't have to pretend anymore. I can admit when I have something going on.
Very few people knew everything. My husband was probably the only person who knew the extent of it. I feel so much more calm and balanced to not have to do that dance anymore, and to not have that leverage with some people but not others.
You see children with spina bifida at the Holland Bloorview clinic. What does it mean to interact with kids who have the same disability as you?
I went into medicine to make it better for children with spina bifida who are coming behind me. The healthcare system may always have flaws of some sort, but I wanted to make sure it is accessible. I knew I had opportunities that not everybody was going to have with a father who was a physician. I wanted to try to destigmatize the conversations that I knew I needed to have with people, but that I couldn't have because I was so horrified. Some of my kids know [I have spina bifida], some of my kids don't. What I try to do is use the lived experience to make their lives as positive and functional as they can be. I make myself as available as I can to the families so they, too, have access to healthcare, and so the system works for them in the same way my dad navigated it for me.
For the kids who know you have spina bifida, do you think they feel a connection to you they may not feel with other pediatricians?
If they do know, then yes. The conversations become much more honest and less humiliating, because anything that we're talking about, I'm like, "OK, listen, I've had it happen. Don't worry. Nothing you're going to say hasn't happened to me." It's like anything else in life; it becomes so much less horrifying when someone else has gone through it as well. You can sometimes find a little humour in what's gone on because you've shared it. When you're alone with it, it becomes more and more isolating and debilitating.
Going back to the award, why is it important for young girls with spina bifida to see you recognized this way?
Growing up, I knew of a physician in Michigan with spina bifida. I could count on one hand—probably two or three fingers—the amount of physicians who had spina bifida who were my role models from afar. Because of them, I knew I could do it. They proved to me that because they were doing it, it was possible. What I hope is that those few role models are now becoming more and more in number, because there are more and more of us getting through and making it into the medical system. It shows children or young adults that there are people who have done it and that the path has been cleared to some degree. It helps them believe they can reach and aspire to do something with their lives, whatever it is that they may want, and not feel that their disability will be the anchor keeping them from doing that.
Your award is an acknowledgement of all you've done to date. Looking ahead, what are your goals?
World domination [laughs]. That's what Amy McPherson, a dear research collaborator of mine, would say. We joke around that we'll go for world domination with the power of our research contributions.
I would love to see a healthcare system that works for families, and one that doesn't only work for the families that are educated and know how to navigate it. I realize that's a huge goal that will be so challenging to meet, but I'm trying to make small chips in that system and make it available to people in a way that it wasn't available yesterday or the day before. I hope over time those small steps will add up, and a whole wave of children and parents will come out of that being more informed and more educated, and parents better advocates for their children. I hope they're more demanding of the healthcare system to deliver, because that's our job. We're not just supposed to move people through and get them to the other side of the doorway; our job is to help them.
I'd also like to teach the medical system that our goal isn't to fix people—our goal is to offer people the best we have, and to offer them the opportunity to have a life that is as successful as it can be without being fixed. When it can't be fixed, we can't give up. Maybe it's OK not to be fixed. In fact, I'm pretty sure it is OK not to be fixed. I think this focus on fixing is a huge distraction from where we need to go.
Read more on this year's WXN winners.