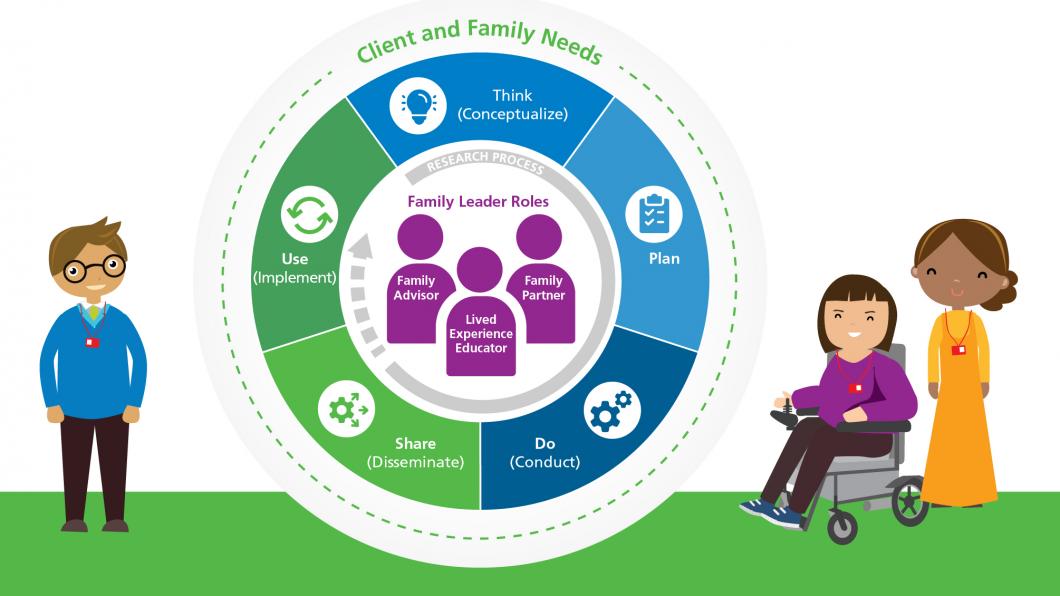 Holland Bloorview launches new Family Engagement in Research framework
New framework helps researchers and families to co-create studies grounded in family engagement
The Bloorview Research Institute has launched its new Family Engagement in Research framework.
The framework is the result of a strong partnership between the hospital and the research institute that is eight years in the making, and is housed within the hospital's Family Leadership Program.
"We designed this framework to support authentic and meaningful engagement of clients and families in the research process as true partners, and not just the role of a study participant," says Dr. Shannon Scratch, co-chair of the Research Family Engagement Committee (RFEC)  and the clinician scientist who heads up the NOvEL Lab at the Bloorview Research Institute (BRI).
To be sure, countless families and researchers, supported by staff, have collaborated on studies and research innovations – with many of these presented at events such as the annual BRI research symposium. Dr. Gillian King's new measure to assess parent engagement in children's therapy and Dr. Scratch's iSibS research project are just a few of the many examples of family-co-created research at the BRI.
However, this new framework provides a more cohesive way to bring clients and families, researchers and staff together to create better outcomes for children and youth living with all abilities.
The framework is co-led by BRI's Research Operations and the hospital's Client and Family-Centred Care, in collaboration with the RFEC. Guided by the principles of transparency, co-design, support, inclusiveness and mutual respect, the framework's objective is to enable family engagement in all aspects of the research process, from conceptualization to dissemination of results.
There are three key roles in the new framework that families can play in throughout the research process, all with different time commitments:
Family Advisor: provide advice or insight at a single point during the research process (i.e.: review a grant application or review study material and providing feedback)
Family Partner: becomes a member of the research team throughout the research process as a co-investigator, collaborator or content expert.
Lived Experience Educator: use their lived experience to educate individuals involved in the research process. This can include sharing their family story at meetings or communicating research results at a workshop or presentation.
"Thanks to the new Family Engagement in Research framework, families and clients can bring their perspective and lived experience to research by being an active contributor throughout the research process," says Manuela Comito,  co-chair of the RFEC and a family leader for more than seven years. "This incredible collaboration between families and researchers can ensure research is asking questions that make sense for the people involved, is being designed according to families' needs and priorities, and that its findings can impact families' quality of life in the short and long term."
In addition to the new framework, a user guide has also been developed to guide families, researchers and support staff through the program. This guide provides users an in-depth overview of the framework, its guiding principles and roles, as well as detailed information on how researchers can successfully tailor the framework to enable them to conduct meaningful client- and family-centred research.
"This bold new framework co-developed by our dedicated team of family leaders, staff and researchers at the BRI will serve as a prototype from which other research institutes can develop their own program of meaningfully engaging with clients and their families throughout the research process," says Tom Chau, vice-president of research at Holland Bloorview and director of the Bloorview Research Institute.
Learn more about the new Family Engagement in Research Framework or contact familypartner@hollandbloorview.ca