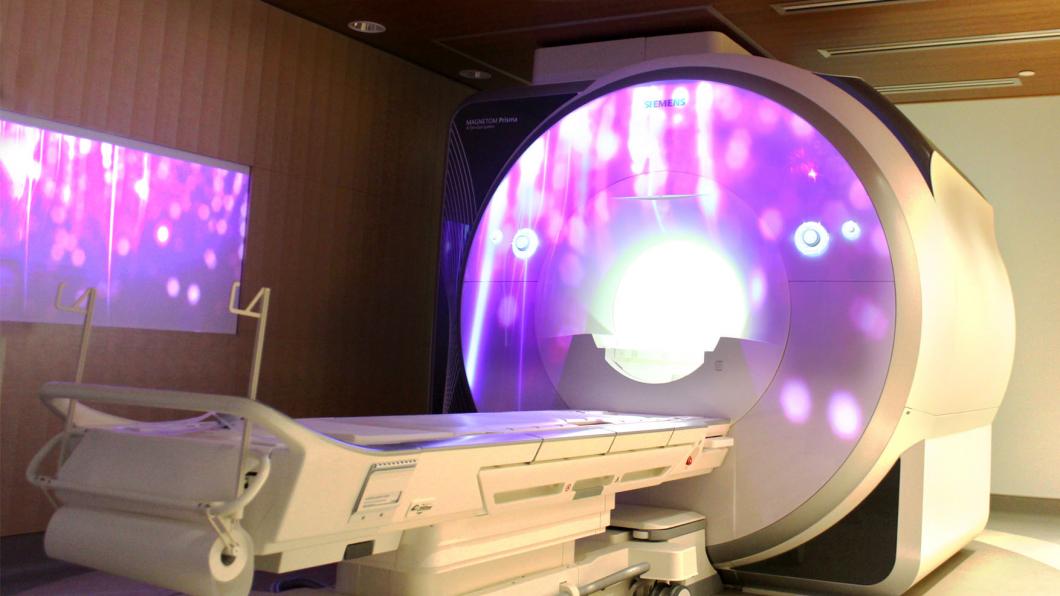 Holland Bloorview launches Canada's first child-friendly research MRI suite
Co-designed by kids, families and scientists, the research MRI suite is first in Canada to be child-friendly, customizable, immersive and fully accessible
Today, Holland Bloorview Kids Rehabilitation Hospital (Holland Bloorview) is launching Canada's first research MRI suite that is immersive, customizable, child-friendly and fully accessible.
Funded entirely by individual and corporate donors to the Holland Bloorview Foundation, the research MRI will enable scientists to study all areas of the human body. This includes the ability to study the brain as it develops over time in both children and youth, especially those with autism, cerebral palsy and acquired brain injury.
"At Holland Bloorview, the majority of our clients have one or more brain-based conditions," says Julia Hanigsberg, President and CEO of Holland Bloorview Kids Rehabilitation Hospital. "Outcomes from this research will have the potential to guide development of treatments for children with disabilities in Canada and across the globe."
"Holland Bloorview's new research MRI will open new frontiers where we can better understand the brain structure and function of children with developmental differences. We can see how different parts of the brain "talk" to each other when a child is resting or active," says Dr. Evdokia Anagnostou, Canada Research Chair in Translational Therapeutics in Autism and co-lead of the Bloorview Research Institute's Autism Research Centre. "With this new research tool at our disposal, we can develop personal, customized treatments to unlock a world of new possibilities for kids and youth with disabilities."
Co-designed by researchers, clients and families, the child-friendly, fully accessible research MRI suite is tailored to create a calm yet immersive experience before, during and after a MRI scan. All of its features – from an interactive mobile designed by Toronto artist Dennis Lin and children from the hospital, to adjustable lighting, images and projections – were specifically designed with children in mind.
Once inside the MRI scanner room, a research participant, child or adult, can transform the room -- and even the scanner itself -- into an entirely new environment, such as the ocean, outer space, or a field of flowers. This is done by just a few taps on an iPad to project images on the walls, ceiling and on the MRI magnet, creating an entirely immersive experience for a research participant with state-of-the-art technology.
During the scan, the participant can also wear MRI-compatible goggles to watch a movie and headphones to block out the noise from the magnet. Parents and caregivers can watch their loved one through an electric "smart" glass door to maintain visual contact during the entire procedure from the control room just outside the scanner room.
"Having the new research MRI suite will make participating in research not just more accessible for families like mine – but also much more relaxing," says Fabiana Bacchini whose son, Gabriel, goes to Holland Bloorview to receive ongoing care for cerebral palsy. "The concept and design behind the suite were created together with families and has all of the little touches to make the experience enjoyable for kids and youth undergoing a scan." 
 "The hospital came together to make our research MRI child- and youth-friendly," says Melissa Thorne, a former client at Holland Bloorview and now hospital employee and youth leader on the hospital`s research MRI committee. 
Thorne advocated for the research MRI to create the most comfortable experience for both families and clients that is customized to their needs. Since she was a child, Thorne, who has spina bifida and hydrocephalus, has participated in MRI scans, experiences she finds claustrophobic and daunting.

"With Holland Bloorview's mission, they're trying to make the research MRI experience a little less medicalized. Being able to introduce features to make the experience a pleasant and calm one is really important."
 "The community is so fortunate to have access to this research MRI suite, right in its own backyard," says Janis Rotman, a lead donor to the MRI. "Brain research is vital in improving the quality of health care for all and this knowledge will better the lives of everyone. To me, there is nothing more crucial than helping children in need. It's a responsibility I take very seriously."
The MRI suite is part of the hospital's Grow Holland Bloorview Research campaign designed to spark investment in infrastructure, technology and people as a means to transform the future of childhood disability research.  Funded entirely by donors, the capital expansion project will begin as early as this fall, pending city approval, with an expected completion date of 2023. Once completed, Holland Bloorview will have the highest concentration of childhood disability researchers in the world.
Learn more about the new research MRI and the research expansion at GrowHBResearch.ca
View the research MRI virtual launch here.