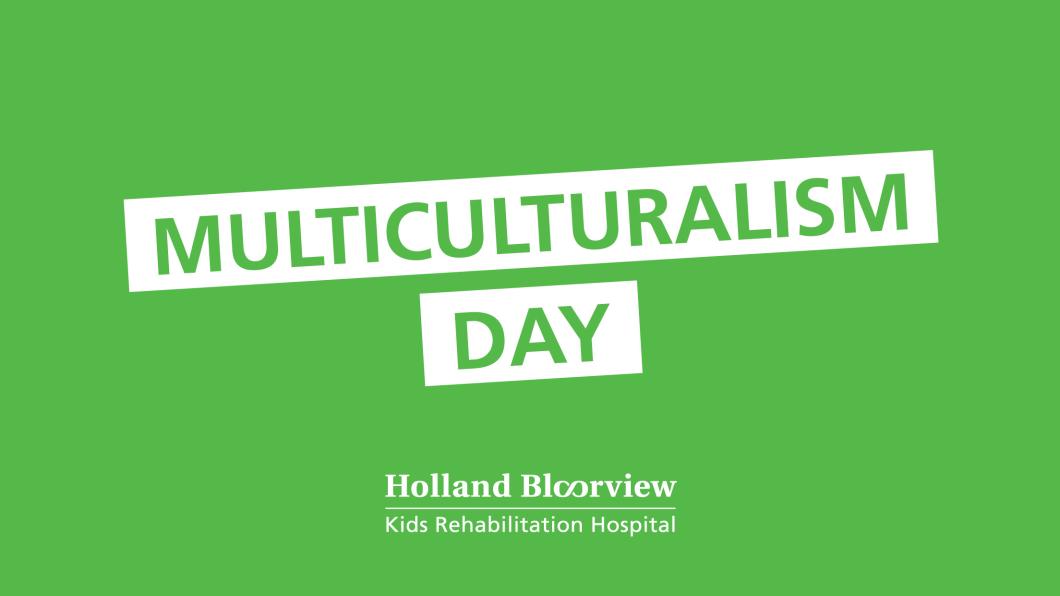 Holland Bloorview celebrates Canadian Multiculturalism Day
Canadian Multiculturalism Day
Every June 27, Canada celebrates Multiculturalism Day, to honour the many cultural communities that help build a strong and vibrant Canadian society. It is an opportunity for Canadians to discover and celebrate the diverse cultures that call this country home.
At Holland Bloorview Kids Rehabilitation Hospital, we take this opportunity to celebrate the cultural diversity of our clients, families and staff that enriches our commitment to equity, diversity and inclusion. For the Equity, Diversity, and Inclusion (EDI) Office especially, the day is an occasion to refresh our team's commitment to fostering a warm and inclusive environment, where clients, families and staff feel welcome and a sense of belonging.  
Over fifty years ago, multiculturalism was enshrined as official policy of Canada's government. This policy officially became law in 1988 as the Canadian Multiculturalism Act.  Canada was the first country in the world to legally cement such as position.  
Facts at a glance:  The ways multiculturalism impact Canadian society
Canada is set to receive 1.3 million permanent resident newcomers over the next three years.
Canada's population rose by 5.2 per cent between years 2016-2021 due largely to immigration.

Ontario's growth outpaced that of the national rate.

Over one-third of Canadians live in the three largest census metropolitan areas (CMA):  Toronto, Montreal and Vancouver.

More than 90 per cent new permanent immigrants live in CMA. 

Newcomers bring $5 billion to the Canadian economy every year.
International students spend $21 billion annually.
Data on diversity in the GTA, circa 2016
51.5 per cent of the Toronto population identifies as a visible minority.

29 per cent of Ontario and 22 per cent of Canadians

Highest proportion of diversity (above 50 per cent) are clustered in the suburbs of Scarborough, North York and Etobicoke
Suburban cities around Toronto with populations mostly comprised of visible minorities include Ajax, Mississauga, Richmond Hill, Brampton and Markham
17 per cent of the Toronto population came from the Philippines, 12 per cent from China and 11 per cent from India. 
Data on diversity in Canadian healthcare
20.7 per cent of health-care executives in Ontario are described as racialized
In 2017, 41 per cent of Canadian physicians were female
Black Canadians compose 2.3 per cent of total physicians
20 per cent of Canadian physicians are immigrants
24 per cent of the health-care system itself is comprised of immigrants.
Holland Bloorview Kids Rehabilitation Hospital and the Government of Canada, as well as various localities, will be scheduling and posting cultural events to honour the day, with special focus on Indigenous peoples.
Visit this interactive map for more information on events near you.