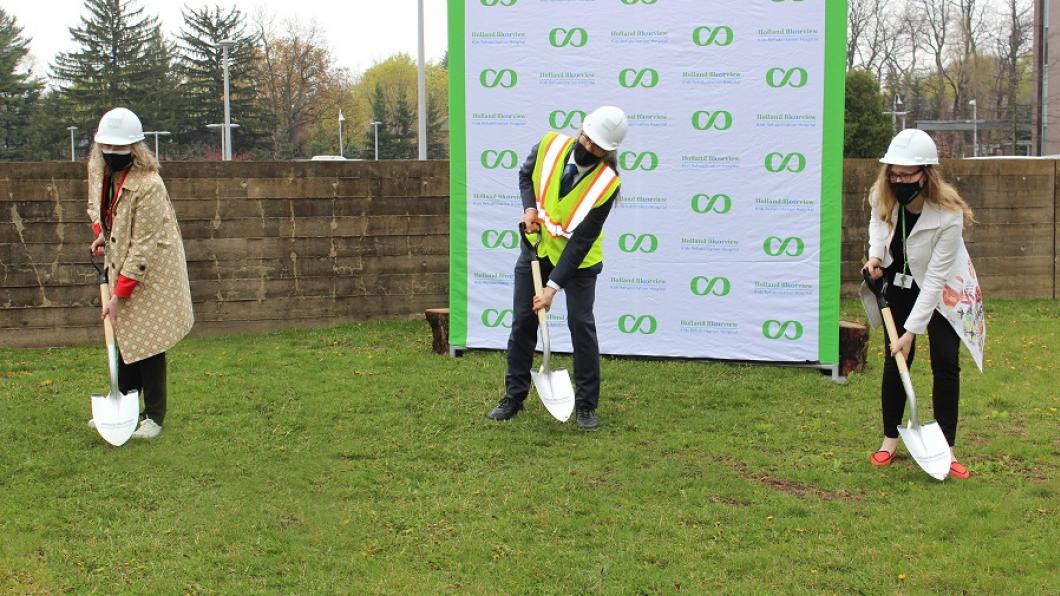 Holland Bloorview to break ground on largest research expansion in its history
Funded entirely by donors, the two-storey addition and renovated research facility will scale up Bloorview Research Institute's work as a world leader in childhood disability research
Holland Bloorview Kids Rehabilitation Hospital's Bloorview Research Institute (BRI) is excited to begin construction on the final phase of its largest research expansion in its history.
"We are at the forefront of radical change in the way childhood disability research is being conducted," says Tom Chau, vice president of research at Holland Bloorview and director of the BRI. "Thanks to our generous donors and supporters of the Grow Holland Bloorview Research campaign, this research expansion will unlock a world of new possibilities so we can impact more kids and families around the globe."
The expansion is entirely funded by an ongoing bold $32-million fundraising campaign, a journey that started in 2018, thanks to a $4-million launch donation from Jason Smith and Heather Smith.
"Holland Bloorview has made a tremendous impact in our family's life. Giving back helps ensure that all kids with disabilities and medical complexities have access to the latest research and technology and can live their fullest lives," says the donors. Jason is executive chair of Real Matters and incoming chair of the Holland Bloorview Kids Rehabilitation Hospital Foundation Board of Directors. Heather has made an impact across the hospital as a volunteer for nearly 10 years.
"Holland Bloorview is poised to have the largest concentration of disability research in the globe working on real solutions to the challenges kids and families face. We are proud to support Holland Bloorview's research institute's growth and urge others to do the same."
The two-storey 11,000 square foot addition will create critical space for new discovery hubs as well as space for additional research scientists and state-of-the-art research equipment.
"The renovation unites different research disciplines into one open and accessible work environment, showcased through a three-storey internal courtyard," says Philip Hastings, partner at Gow Hastings Architects, the architectural firm that has been hired to design the research expansion. "The colourful and elevated two-storey addition expands the research space towards the ravine, raising the profile of the hospital within the community."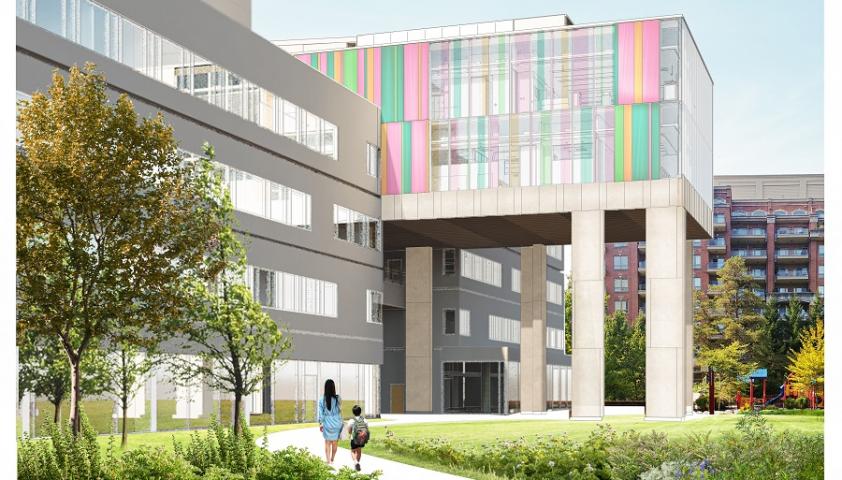 The elevated wing will overlook the surrounding ravine, optimizing views of the landscape and access to natural light. The exterior will be decorated with multi-coloured glazing that follow a natural and uplifting gradient from green to purple. Raised three-stories into the air, the underside of the addition will form a brightly lit canopy. An energizing outdoor space will be created underneath for clients, families and the Holland Bloorview community to enjoy.
The wing will connect to the fourth floor of the BRI by a 'front porch' – a welcoming area where researchers, clients, families and staff can mingle.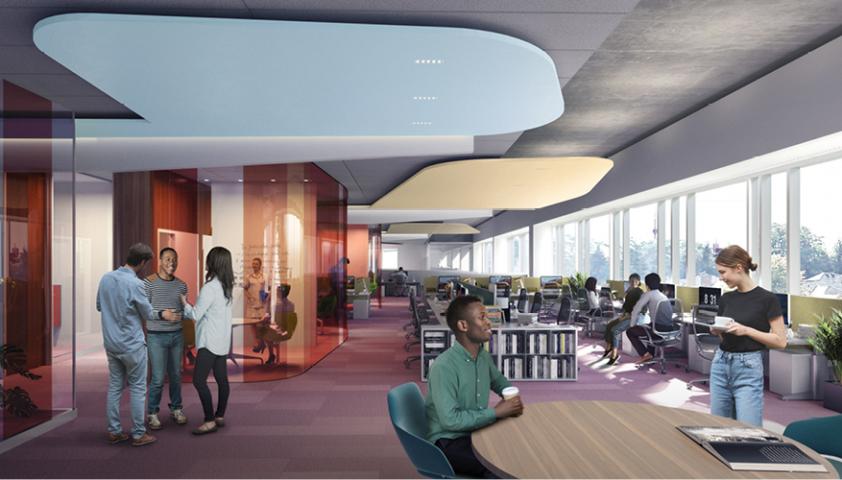 As part of the second phase of the expansion that is currently underway, the 17,000 square foot space on the hospital's fourth floor (south-west side) will re-imagine BRI's research space, creating a modern work environment with fewer hallways and walls. Researchers will work in an innovative, open layout that provides ample opportunities for both concentration and collaboration.
In addition to private and team working spaces, there will be larger, collaborative discovery hubs –interdisciplinary work areas that support research in critical areas including machine learning, music and arts, neuromodulation and rapid prototyping. Mobile technology will enable researchers to work in any area.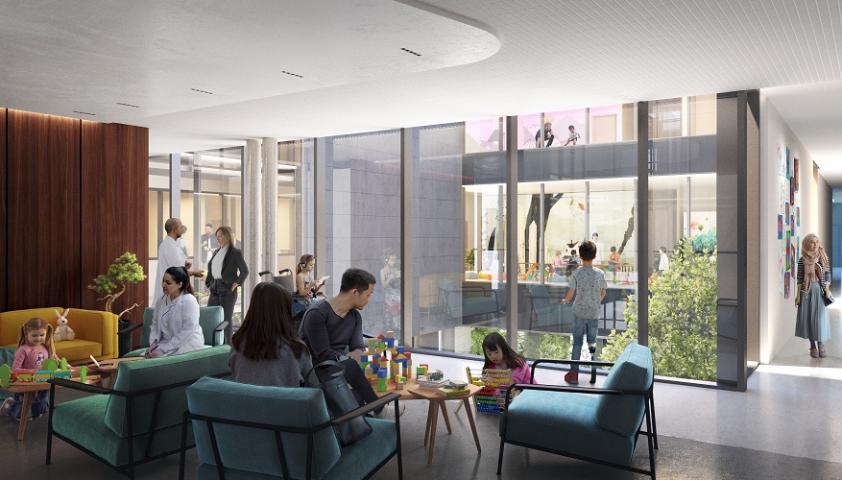 Sustainable features will include using solar-shading devices to reduce thermal gain, minimizing excavation and impact on the landscape, maximizing the amount of landscaped outdoor space, and whenever possible, using natural materials with a low energy footprint.
Accessible design features have been incorporated including extra wide doors and hallways, door-operating devices along busy pathways, colour contrast between walls, floors and doors to assist with navigation for the visually impaired, and height-adjustable desks in work spaces.
Pandemic readiness:
This addition has been designed to be fully pandemic-ready. The nature of clinical and applied research requires on site access and close interaction with research participants. The new research space will enable staff and participants to work and participate in research in a safe and effective manner, reducing the spread of infection and complying with the new infection control requirements.
In addition to the elevated wing, core elements of the three-phase research expansion include:
installation of Canada's first research MRI suite that is immersive, customizable, child-friendly and fully accessible. This, in turn, will support  the growth of a world-class developmental neuroscience program;
attracting top scientific talent – resulting in the most significant concentration of childhood disability research in the world;
creation of nine new discovery hubs; and
acceleration of commercialization activity that will unleash the potential of BRI's scientific discoveries, bringing it into the hands of children, youth and families worldwide.
As part of the first phase of the project, a fully accessible playground was also built last fall on the west side of the hospital to give access to the construction crew to begin site preparations for the addition.
Construction to the addition will start later this month and be completed by summer 2022.
Once complete, the research expansion will enable the BRI to reach critical mass in childhood disability research, diversifying the depth and breadth of our research enterprise to benefit every child and family living with disability.