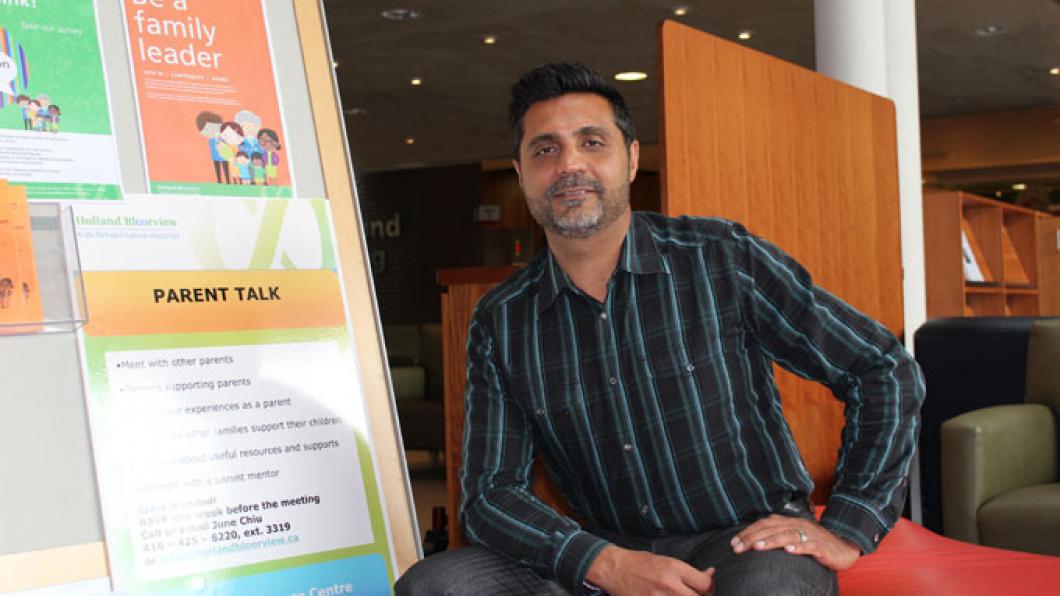 Growing as a father: Amir's journey
Amir Karmali, father of Kaylum and Alia, was a successful business man with a vision of what fatherhood meant. Two years ago, an accident changed everything.
After more than 25 years in the hospitality industry, where he focused mainly on the front of the house, Amir became co-owner and operator of his own restaurant in 2007. Situated at Yonge and Eglinton, Coquine was one of the most lucrative, successful restaurants in Toronto.
"We ran a 2.5 million-dollar-a-year operation," says Amir. "The people loved us, the media loved us, the city loved us."
But Amir felt he had another role to play. His twins, a boy and girl, were six when Amir decided to leave the hospitality industry for a more settled, nine-to-five job. He had a specific vision of what fatherhood meant, and working 16-hour days did not fit into that vision. He is the kind of father who read stories and played music to his wife's belly in the third trimester. He wanted to spend time with his children every night, bring them to their sports game, have dinner with them most evenings and tuck them into bed.
After the career change, Amir seized the opportunity to be family-focused. His main activity with his kids was soccer, coaching them and developing their skills as high performing young athletes. Amir was proud of their accomplishments and proud to witness them. He felt that, as a father, he had made all the right decisions and these decisions were paying off.
Then things changed.
When the twins were eight, his son Kaylum injured his head during a soccer game. Later that day, Kaylum suffered a stroke. Three months following the accident, Amir found himself unemployed.
It was a devastating time for his family, but Amir knew that they had to move forward. He came to the conclusion that this challenge had to be part of a bigger plan, and could not be an end in itself. As Kaylum came to Holland Bloorview for therapy, Amir discovered a wealth of resources at the Family Resource Centre. He felt relieved to finally have access to the help he knew he needed, but did not know where to find. This made him want to give back and he started volunteering for the Family Leadership Program.
Eventually, volunteering became a part-time job, which evolved into a full-time job as a Family-Centred Care Specialist for Holland Bloorview. Amir draws from his personal and professional experiences to help our clients and families get involved in hospital initiatives and committees and bring to life our hospital's core value of Client and Family-Centred Care.
Amir is still adapting to the changes that his family went through. He knows however, that his family is stronger for it.
"My son reads to a class of children with special needs three times a week. He sees potential in them that other kids may not."
Through their experience, Kaylum and Alia have become more accepting and aware of other children with disabilities. In addition to reading to children with disabilities, Kaylum is involved in fundraising for other organizations.
Amir also emphasized how his wife is responsible for moving their family forward: "She is so incredible and supportive," says Amir. "She is my rock and it's with her help that I pulled through."
The twins are now 10, and Amir is still looking for the bigger plan. He does know one thing though: he has made every possible decision he could to be the best father. From the moment Kaylum and Alia could hear his voice and his music, until now. His number one priority will forever be his family.