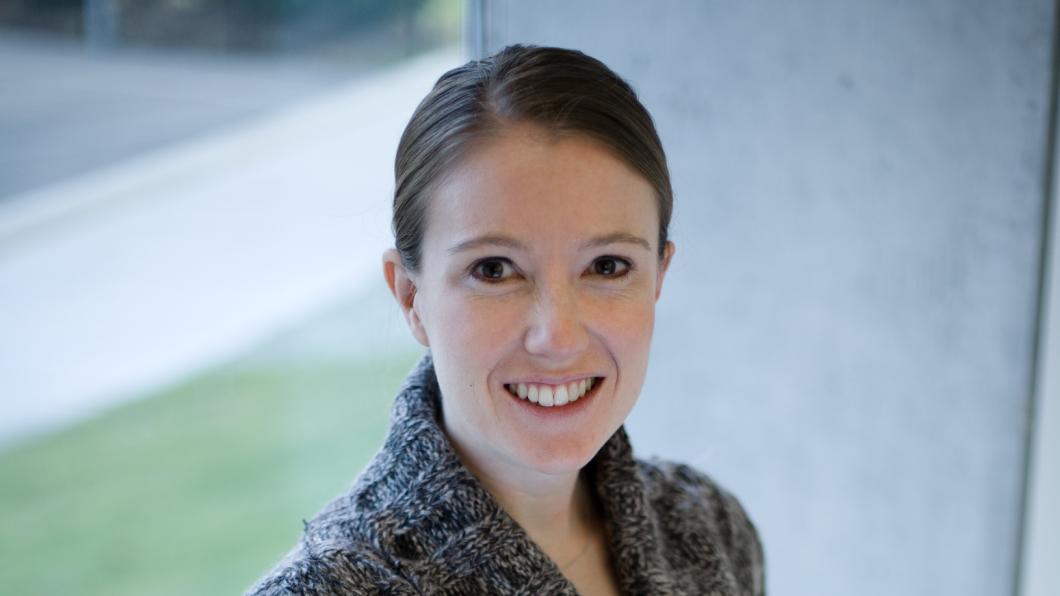 Dr. Elaine Biddiss named Bloorview Childrens Hospital Foundation Chair in Pediatric Rehabilitation
Senior scientist creates new pathways to improve kids' wellness through play using affordable, accessible technologies
Little did Dr. Elaine Biddiss know that a fortuitous tour of Holland Bloorview 20 years ago would change the course of her life.
She was an undergraduate student back in 2002 pursuing a degree in mechanical engineering at the University of Toronto and was walking through the hospital's hallways as part of her biomechanics class.
Years later when it came to deciding whether or not to pursue a PhD, she thought of Holland Bloorview again.
"It was a calling - a community that I could imagine dedicating a lifetime of work to," recalls Dr. Biddiss. "All the pieces fell into place."
That pivotal decision launched her research career, first as a PhD student working alongside Dr. Tom Chau, her supervisor at the time; then as a scientist, before eventually rising to the level of senior scientist, head of PEARL Lab overseeing 10 staff and students with a start-up company – Pearl Interactives – to add to the mix.
Throughout her research trajectory, Dr. Biddiss worked with clinicians, kids and families to evolve her research vision: to create affordable, accessible technologies to improve kids' wellness through play.
And now as the new Bloorview Childrens Hospital Foundation Chair in Pediatric Rehabilitation, the senior scientist has secured funding resources, thanks to Holland Bloorview's generous supporters, to carry out her vision over the next five years: to equalize access to research, healthcare, play and learning opportunities for young people with disabilities and their families through low-cost technology.
"It's such an honour and a privilege to be trusted with this appointment," says Dr. Biddiss, who also teaches at the University of Toronto's Institute of Biomedical Engineering as an associate professor (status). "With this chair position, I can help fuel what I like to think of as the sparks of innovation, those exciting opportunities that arise when the right team of people - families, clinicians, trainees and researchers - mobilize around a shared and need-driven vision."
"I am so thrilled with Dr. Biddiss as our new chair," says Dr. Virginia Wright, interim vice president of research and former holder of this university-hospital endowed chair from 2012 to March 2022. "With her commitment through her research to envision a healthy future where there are no boundaries for all children and youth, her impact on the lives of families across Canada and around the world will be felt immensely."
This $2-million endowed-named chair is established in partnership with the University of Toronto, with which Holland Bloorview is a fully affiliated teaching hospital. "Congratulations to Dr. Biddiss for this well-deserved award," says Professor Warren Chan, director of University of Toronto's Institute of Biomedical Engineering and Canada Research Chair in Nanobioengineering. "With her extensive knowledge and research experience as a biomedical engineer in a pediatric rehabilitation setting, she continues to forge new innovations and build bridges between these two important fields."
The hospital-university endowed named chair not only will enable Dr. Biddiss to nurture new research projects with seed money, but she can also bring on new talent – both research trainees as well as technology experts.
"It's people that innovate, not technologies and research equipment on their own. With this chair, I can support students, especially those with lived experiences, which, in turn, brings more diverse voices to the research table. Also, clinicians can help co-create these projects with their expertise with technical staff to create games and apps to support the projects' development phase."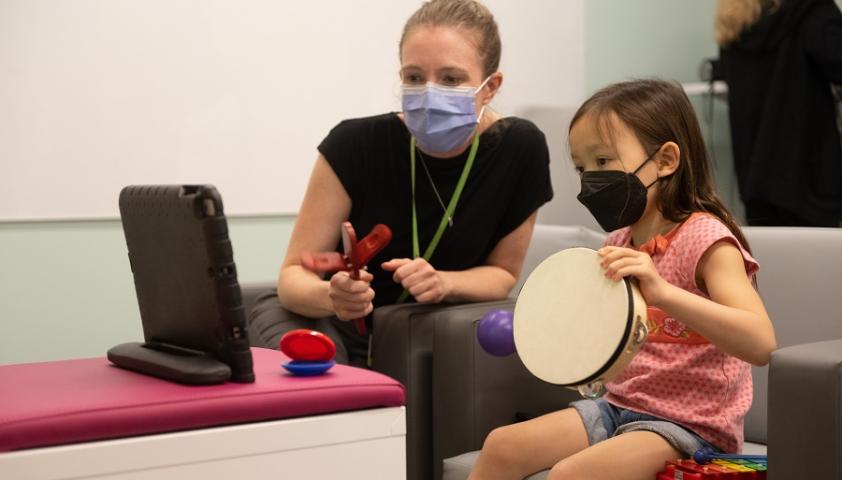 Dr. Biddiss's lab is hopping with activity with many current research projects on the go, such as expanding their game offerings with Bootle Bootcamp, an app to enables therapists to prescribe home exercise programs to clients in a fun way, and Bootle Voice, another app to support voice therapies for kids (controlling the pitch or turning their voices on or off). A study is also underway in Costa Rica where 15 families are trialling a movement-tracking, mixed reality game, Bootle Blast, at home and providing feedback and completing research assessments through Zoom. Lastly, plans are in the works to make the popular, mixed-reality game available through Holland Bloorview's resource centre for in-patient clients to borrow before branching out to other libraries across Ontario.
But when Dr. Biddiss reflects on her work and the accomplishments she has garnered thus far, it's not the number of papers she's published or the grants she's received, it's the impact she's been able to make on families worldwide.
"It brings me so much happiness if we can create an app or a game that takes a potentially difficult activity, like daily therapy exercises, and makes it a little bit more fun and meaningful for kids, while also fitting into a family's daily lives."